Our Final Anchorage
The weather was also on brand, being wet and thick, the most authentic shade of grey that blanketed the bay as far as our eyes could see. Avocet was cutting through the dark waters with a bone in her teeth, her sails full and her crew hungry for more. Chris and I both layered up, covering whatever skin was vulnerable to the elements to make our transit to our next and final anchorage bearable. It seemed almost poetic that our final night in the San Francisco Bay was spent anchored next to the iconic Golden Gate Bridge.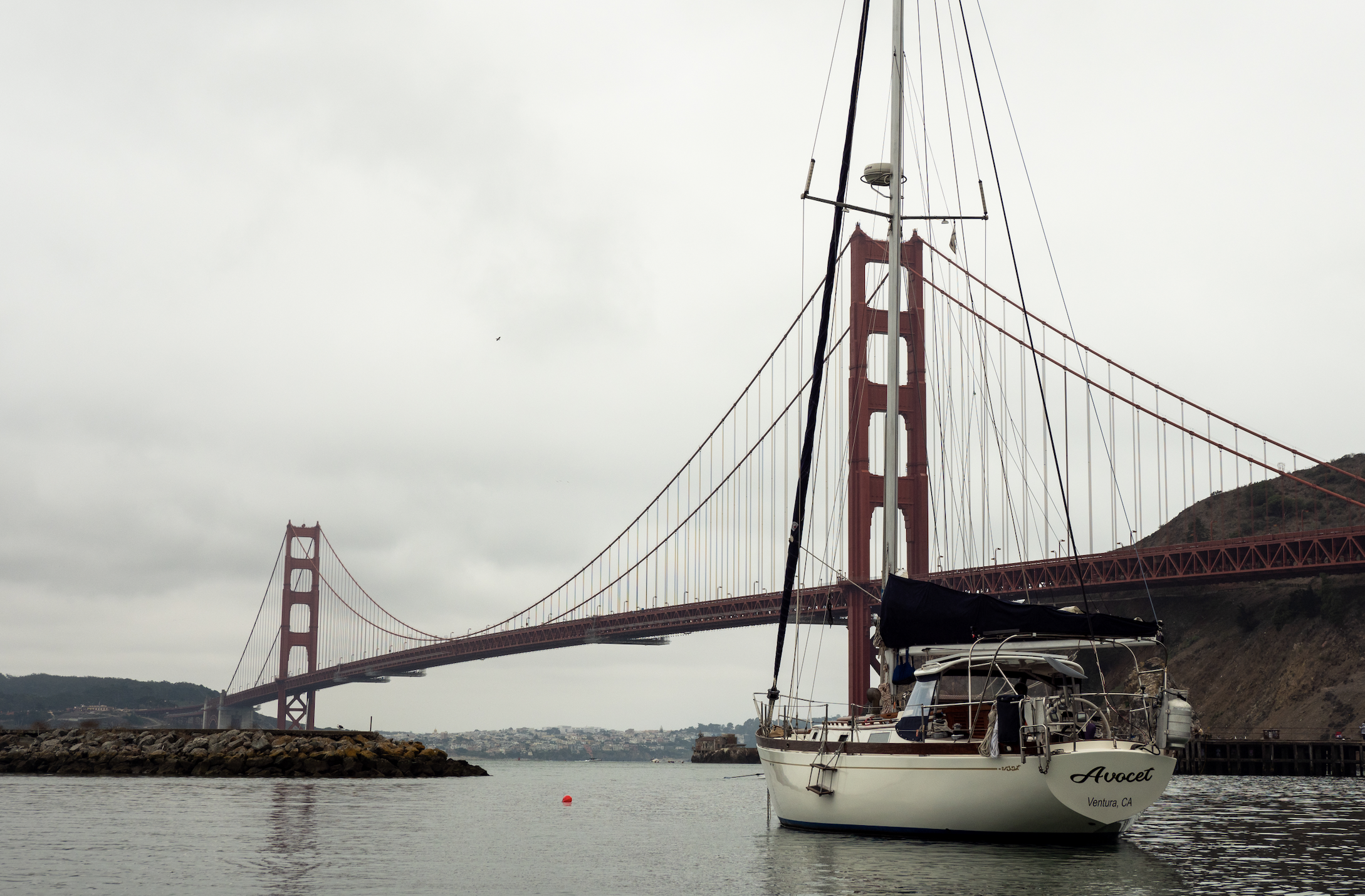 Horseshoe Bay
"This seems good" I said as we completed our second revolution around the anchorage. It didn't take long, considering the cove was really only big enough for two or three boats, sharing the space with the very small Travis Marina. "Ten feet!" I called to Chris on the bow who was waiting to deploy our Vulcan 55lbs anchor. The chain paid out into the dark sea, Chris carefully counting out the scope to ensure our 5:1 set would take. Fortunately, it did, and we both scrambled below deck, eager to get out of the bitter October cold.
Horseshoe Bay makes for the perfect "welcome" or "departure" anchorage considering its proximity to the gate, with good holding and depths of 10' – 20' feet. Since it is relatively far from the regular ferry traffic, there is virtually no wake in comparison to anchorages like Richardson Bay or Aquatic Cove, however since it is vulnerable to the southwest it would not be ideal during any southwest or west swell that makes it through the gate. Additionally,  southwesterly or westerly winds can push wind-driven chop into the cove, making the anchorage uncomfortable/unsafe. You can access the shore using the Presidio Yacht Club Dinghy Dock, located on the north end of the Travis Marina.
Last Day in the Bay
After anchoring we spent our night below deck where our diesel heater earned its keep, watching movies and enjoying our final dinner in the San Francisco Bay. The Golden Gate glowed bright in the night, the sound of cars in transit echoed across the airspace to where we temporarily called home, but surprisingly did not distract or tarnish the grandeur of our "front yard" view.
The following morning brought a false sense of warmth with sunny skies, but the brisk autumn air remained. It was 7:00 in the morning and we had woken up with the light, a joyous new routine we adopted while cruising that resulted in better nights of sleep and more energy throughout the day. After coffee Chris was quick to launch the dinghy and invite me to join him to spend the morning exploring on shore. Our transit to the dinghy dock was quick and we felt safe with it tied up there, but locked it for peace of mind. "I think I remember coming here with my parents" I said as we walked across the gravel path towards the Coast Guard's Station. If only 8 year old me had known that years later I would be walking along the same path with my husband, having traveled there via my own boat! Greenery surrounded us as the gravel path turned to a paved road, lined with historic homes managed by Cavello Point resort. 
Cavallo Point resort is situated in one of the largest and most popular urban national parks in the world: the Golden Gate National Recreation Area. It was established in 1972, as part of efforts to make national parks more accessible to city dwellers and bring "parks to the people". 
After wandering around the resort, we eventually found a trailhead for one of the Battery's, but instead of actually walking to the Battery Chris decided to literally take the trail less traveled which brought us to a chain link fence that we just so happened to be able to squeeze under. From there we walked along the road, sharing the narrow lane with bikers and other travelers on-foot until we reached the Golden Gate Lookout – the same one we had biked to weeks prior. Having not expected to embark on a full-on hike, I didn't pack snacks or enough water and was dangerously close to becoming hangry so we succumbed to the mouth watering smell of hot dogs, or "danger dogs", and enjoyed the onion-and-pepper-covered frank as we watched the fog roll in. 
"Long time no see!" Ben said as he welcomed us through the gate. The last time we saw our Podcast-host-friend was when we were anchored in Richardson Bay. He had mentioned that his family's boat was in Travis Marina, and invited us to link up on our way out… it was wild to think that the time had finally come. He welcomed us aboard his beautiful Hallberg Rassy that was truly the queen of the dock as he carefully prepared her for his upcoming sailing trip. I was impressed with her comfortable interior and spacious aft cabin, we could tell that Ben had poured a lot of love into the boat as he retold family sailing memories. We visited in the salon for a while before we eventually let him get back to his pre-departure checklist… a reminder that we needed to tend to our own. 
Sometime during our absence the access to the dinghy dock had transformed into the site of a wedding, but fortunately for us it was just the rehearsal. Chris and I waited patiently for the crowd of happy humans to disperse so we could quickly walk down the aisle and make it aboard Winglet who waited for us in front of the ceremony site where we left her. "And then you will say I do, and we will head to the bar" the officiant said as the couple smiled ear to ear in anticipation of their big day. It was a small party, but a beautiful venue. When the yacht club bar isn't rented out for a private event, we hear it is a place sailors shouldn't miss during their time in the cove. Sometimes referred to as "Mike's Place" after a former member who ran the marina, it is a clubhouse style lodge with a varnished wood interior, comfortable seating, and military and yachting decor from around the world. The full service bar features draft and bottled beer, a wide range of liquors and wines, and a kitchen with standard pub fare. There is usually live music every Friday and Saturday night and an unbeatable view of the Gate. "We will have to visit in the summer I guess" I said to Chris as we motored away from shore. If we ever did make it back to this spot, it would be in the summertime via car since Avocet would (hopefully) be somewhere warm south of the border while we would be back in the states with family during hurricane season.
Goodbye San Francisco – Vini, Vidi, Vici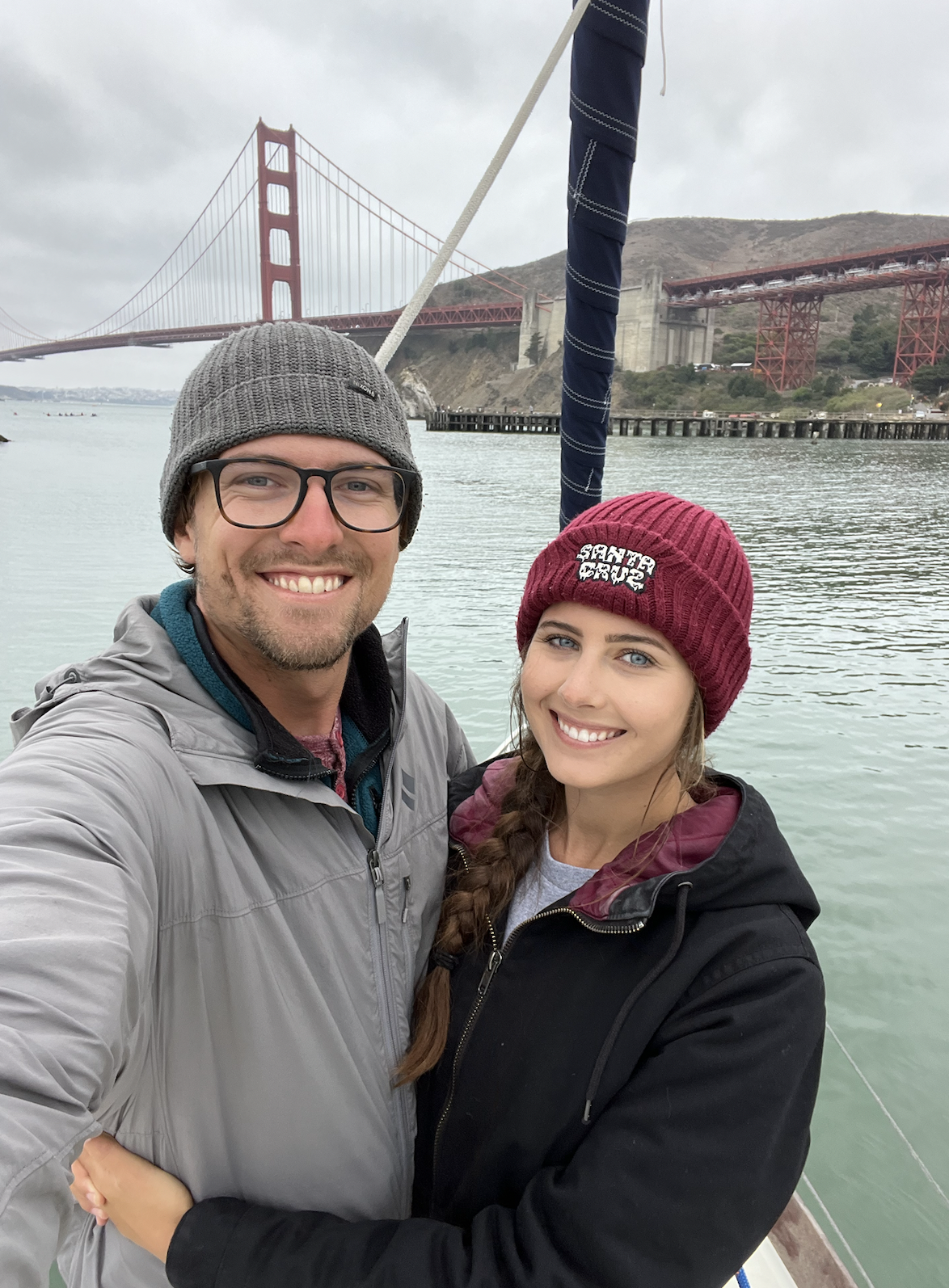 I'm not sure how it happened so quickly, but our time in the bay had come to an end after three wonderful weeks exploring, reminiscing, and visiting with friends old and new. We were ready to sail south, once again waving the comfort that we had come to know goodbye as we left the safety and reliability of the bay's lack of swell and consistent winds for the wild unknowns that waited outside the gate. 
*Thump* I slid the cupboard door shut after placing our morning coffee cups inside, squeaky clean as I had transferred the remains of the medium roast bean juice into our tumblers, graciously gifted to us by none other than our pal Ryan the Metal God. The fog lingered above us, a promise of cold in the hours to come – a direct contrast to the warm sunny days we experienced during our first few days in the Bay. "Ready?" Chris called from the helm. I took a last look around the cabin to make sure everything was where it should be, and then made my way to my station outside so we could pull up the hook. "I definitely will not miss this" I heard Chris say as he angrily scrubbed the bay area muck off our chain. Before I knew it we were free and making our way out of the cove towards the Gate where we would finally turn left – the "right" way towards adventure.
Sailing under the Golden Gate has been a goal for many San Francisco Bay sailors over the years, and it was finally our turn. It's a rite of passage, a bucket list milestone, a before-leaving-the-U.S.A-must-do, and we were about to cross it off our list. Of course we had done this aboard Mama Neely's Sea Castle back in 2020, but trust me when I say it's just different on your own boat. We came, we saw, we conquered… and it was time to make our grand exit. 
The Bridge grew in size the closer we got, and I took it all in. We had sailed under, biked across and flown over the engineering Icon in the weeks we spent bobbing about, and I would do my best to never forget the memories made. The sails were set, and as I looked up at the arguably-orange splendor of this fabled bridge the funneled blast of bitter Pacific wind numbed my exposed cheeks and ears. Tears welled in my eyes as the overwhelming feelings of accomplishment and fear battled internally. Chris was blissfully unaware of my silent emotions duking it out in my brain as he grinned from ear to ear at the mast, staring up at our patched main and reefed head sail, at me, and at the gate. As I write this he assures me that he shared in the whirlwind of emotions, and I believe him. 
Cars rumbled overhead as the wave of accomplishment unties the knot inside my stomach, replacing it with a sensation of goosebumps across my arms and down my neck. The salt from my tears paired well with the salty splashes from the sea that kissed my cheeks, as if it were Poseidon's way of assuring me that this was all meant to be. Chris returned to the cockpit to take in this special moment together – we were a southbound boat at last.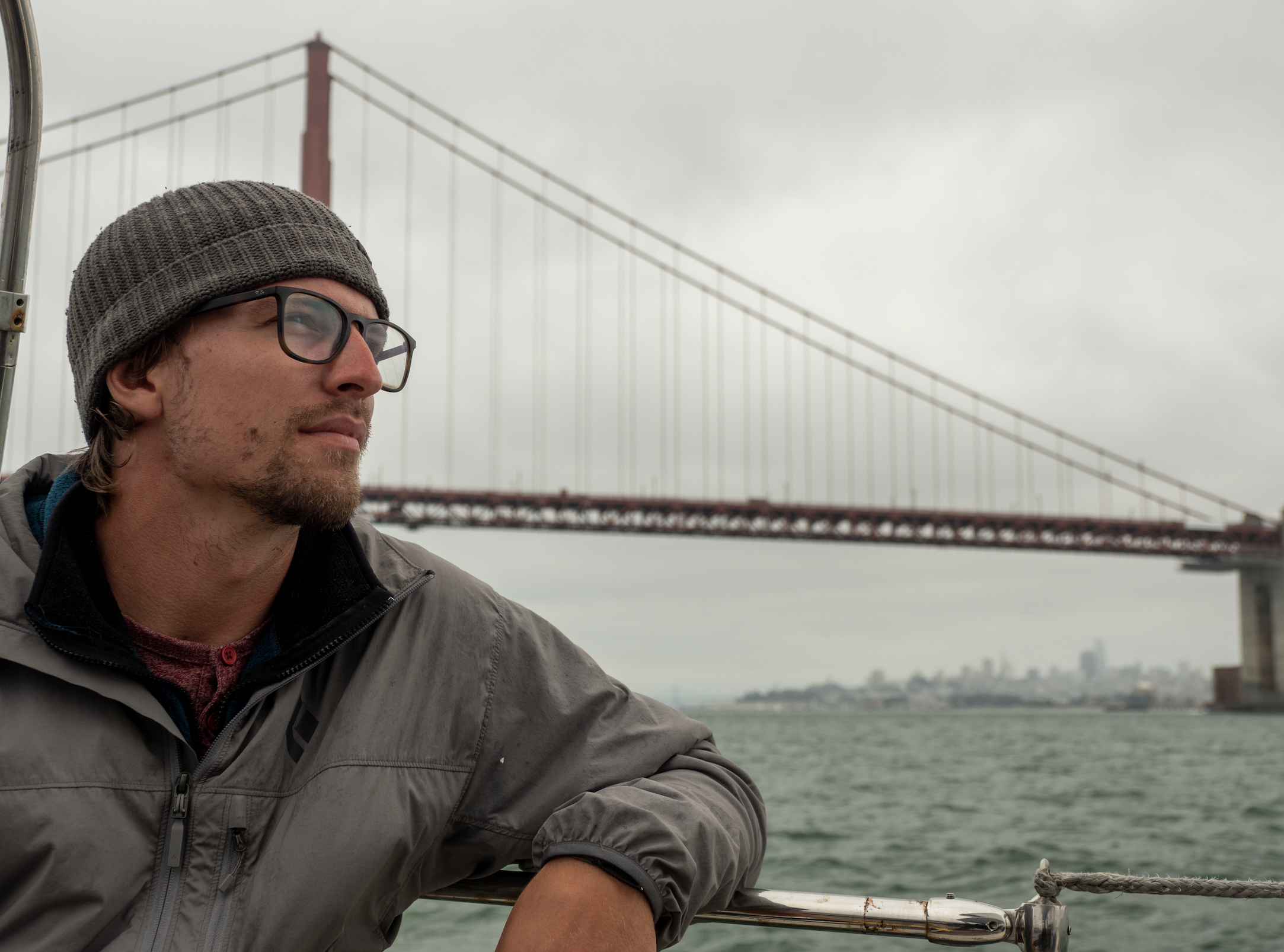 Thank you, San Francisco Bay. For everything. 
Fair winds, 
Marissa, Chris and Cleocatra