Planes, Pals and Memories
"It was fun while it lasted," Chris said through a half smile. I was at the helm guiding us through the Berkeley Breakwater while he walked around the boat preparing our dock lines and fenders. After three weeks of anchoring we decided to flex our yacht club reciprocal privileges and visit the Neely family's old stomping – or sailing – grounds, replenish our tanks, and pick up some day crew for Fleet Week… but first we had some work to do. 
Berkeley Yacht Club
The familiar sound of the train's horn boomed in the distance while the echoing symphony of city life found its way to our boat that was nestled along a side tie at the Berkeley Yacht Club. We had just finished settling into dock life; plugging into electrical, topping off our water tanks, and taking down our shelves'  lee clothes that keep our books and belongings (mostly) in their place while sailing. "I know you!" a friendly voice sounded dockside.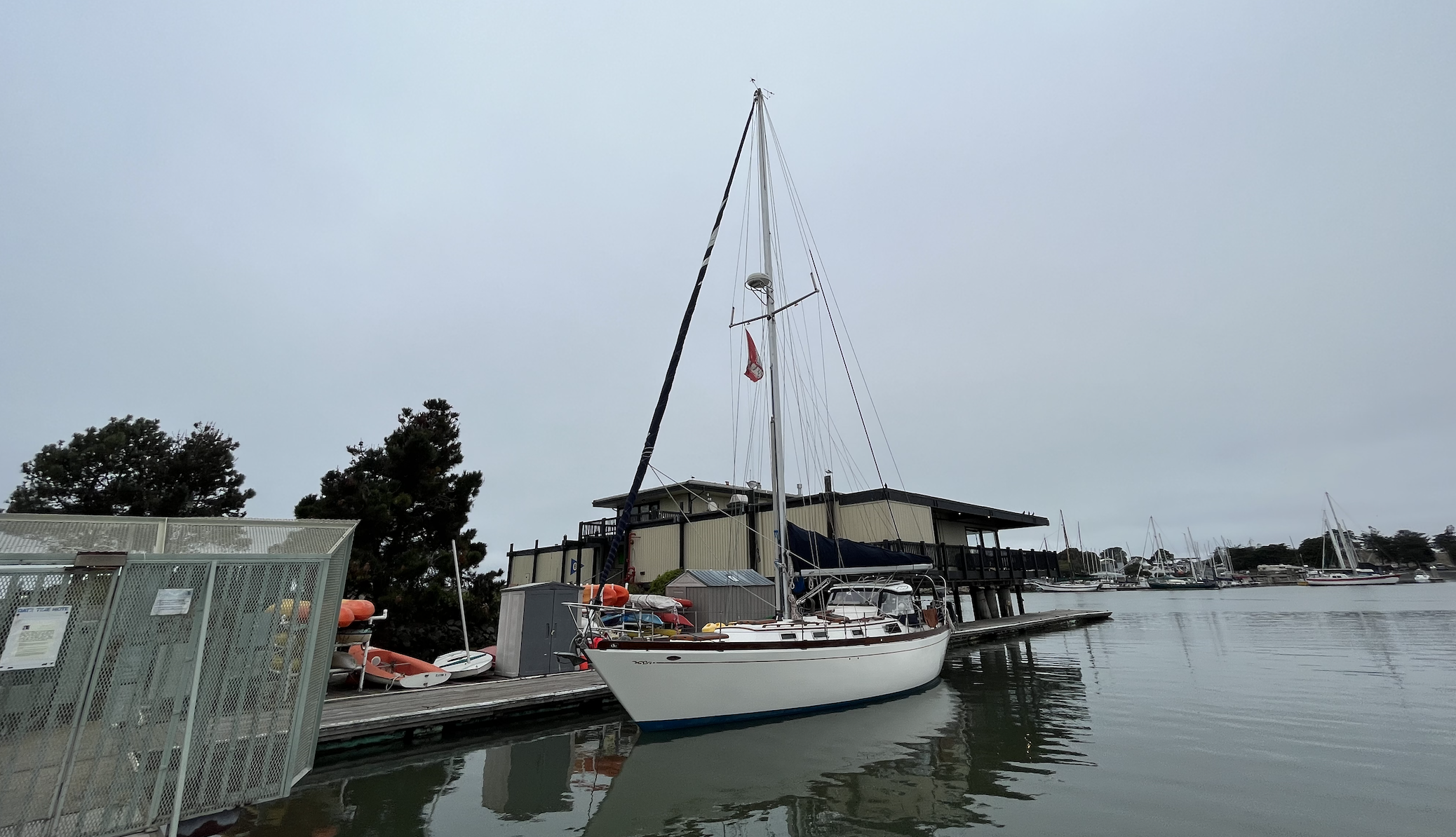 I joined Chris above deck to greet our long time friend Bob, for whom the voice belonged to. He had once been a dock neighbor of Chris's family's boat Sea Castle but more directly a neighbor of our pals boat Esprit. Even though both Sea Castle and Esprit sailed south to Ventura, we still had a lot of friends that remained in Berkeley and Bob was just the first of many we had the joy of catching up with. After exchanging sea stories and sharing our upcoming plans Bob biked off back to the beautiful Tayana he had been refitting in addition to his work with the Pegasus Project. 
Our view of Bob shrank the faster he peddled while Chris redirected his attention back to the matter at hand. I didn't have more than one foot down the companionway when he looked at me with his big puppy dog eyes accompanied by his ever so convincing "Well since you're up here…" ask, nodding towards the mainsail. No further explanation needed, I walked along the freshly washed deck up to the boom to help Chris remove our mainsail and carry it carefully up to the yacht club's lawn. With the sail laid out in front of us, we were able to get a good look at our patch job, which was a lot bigger up close than it appeared to be when the sail was raised. My fingers traced along the patch stitching, silently admiring my partner's ability to fix anything. 
When Chris ripped our main on the sail up the coast, I posted a photo of the misfortune to our Instagram story where our friends at Precision Sails were quick to respond. After a zoom meeting with their team while anchored in Clipper Cove, we decided to move forward with ordering a new main, but this time with our own unique requests which I will share more on later. In the meantime, Precision needed our sail measurements to begin the order and if everything went according to plan, we could expect our new sail to arrive around the time we would be sailing back through Ventura. "Hold here" Chris said, outstretching a measuring tape as we measured our sails luff, leach, foot and reef points. Scribble after scribble he transcribed the data onto a yellow legal pad – a staple, aboard our boat – standing back every few moments to scratch his head, omitting a few humph's and hmmm's. An hour or so later we had what we needed to send to Precision, flaked our tired sail, and reunited it with Avocet.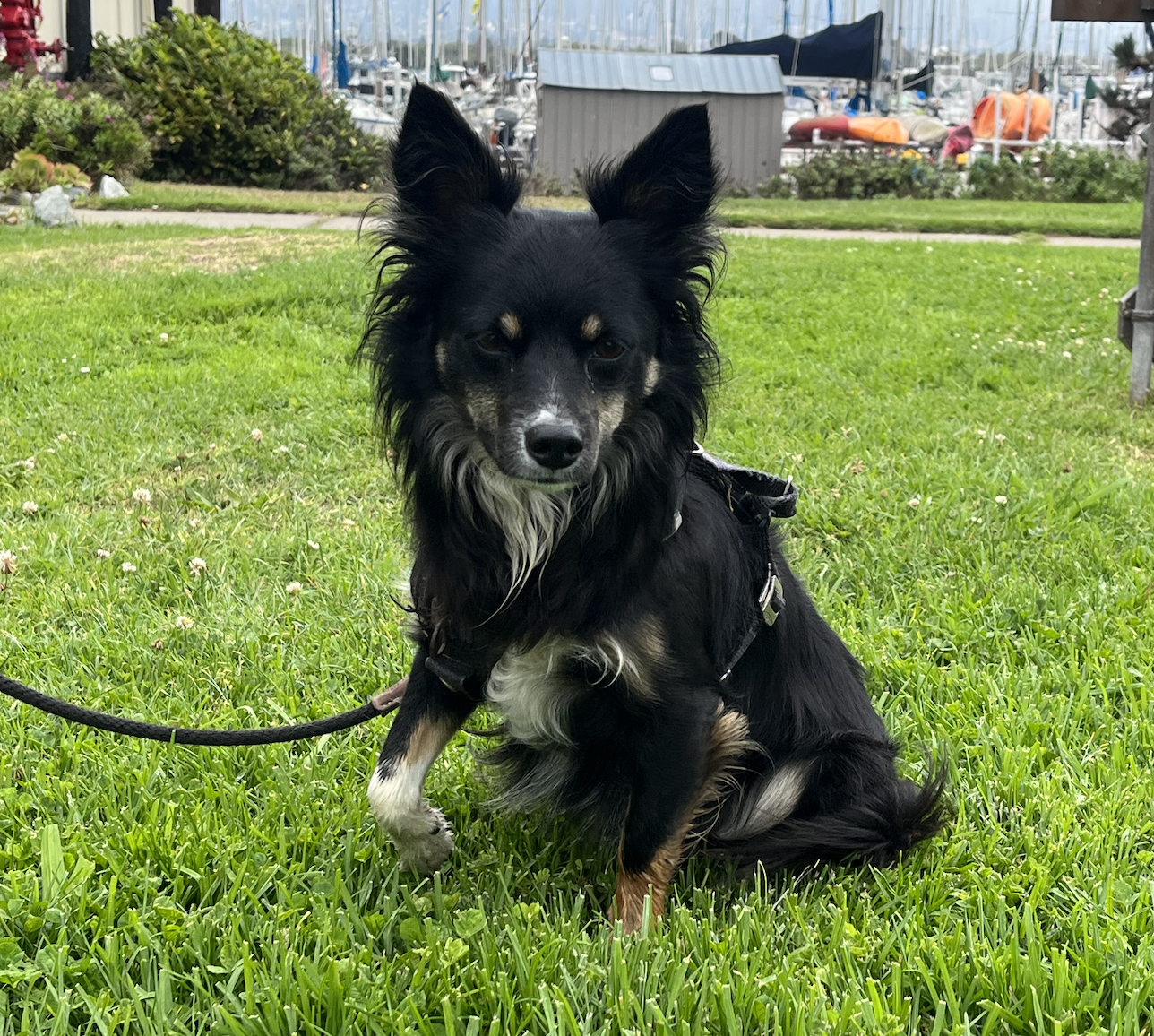 It was around this time we saw yet another familiar face stroll by with our favorite boat dog in tow. "POCKET!" I could barely contain my excitement when the little dog jumped aboard to greet us despite Cleo's aversion. In addition to being Pocket's human, our friend Brian is an avid sailor that lives aboard a beautiful Dana 24' pocket cruiser (for which his pup is named) and inspires calm and confident boat owners through his business, Sailor Skills. On top of all else, he is a top notch human who kindly helped facilitate our stay with the club and allowed us to mail things to his address while we were in transit.  
That evening Chris and I walked around the marina that seemed so much larger in our memories, reminiscing about our adolescents and how far we have come since our boatless beginnings. Naturally we found ourselves walking through Berkeley Marine Center, a boatyard that Chris remembers spending much time at with his dad; specifically assembling Sea Castle's mast in a downpour and witnessing the Transpac boat Rapid Transit being built. In the corner of the yard we found yet another old friend standing on stilts in all her glory.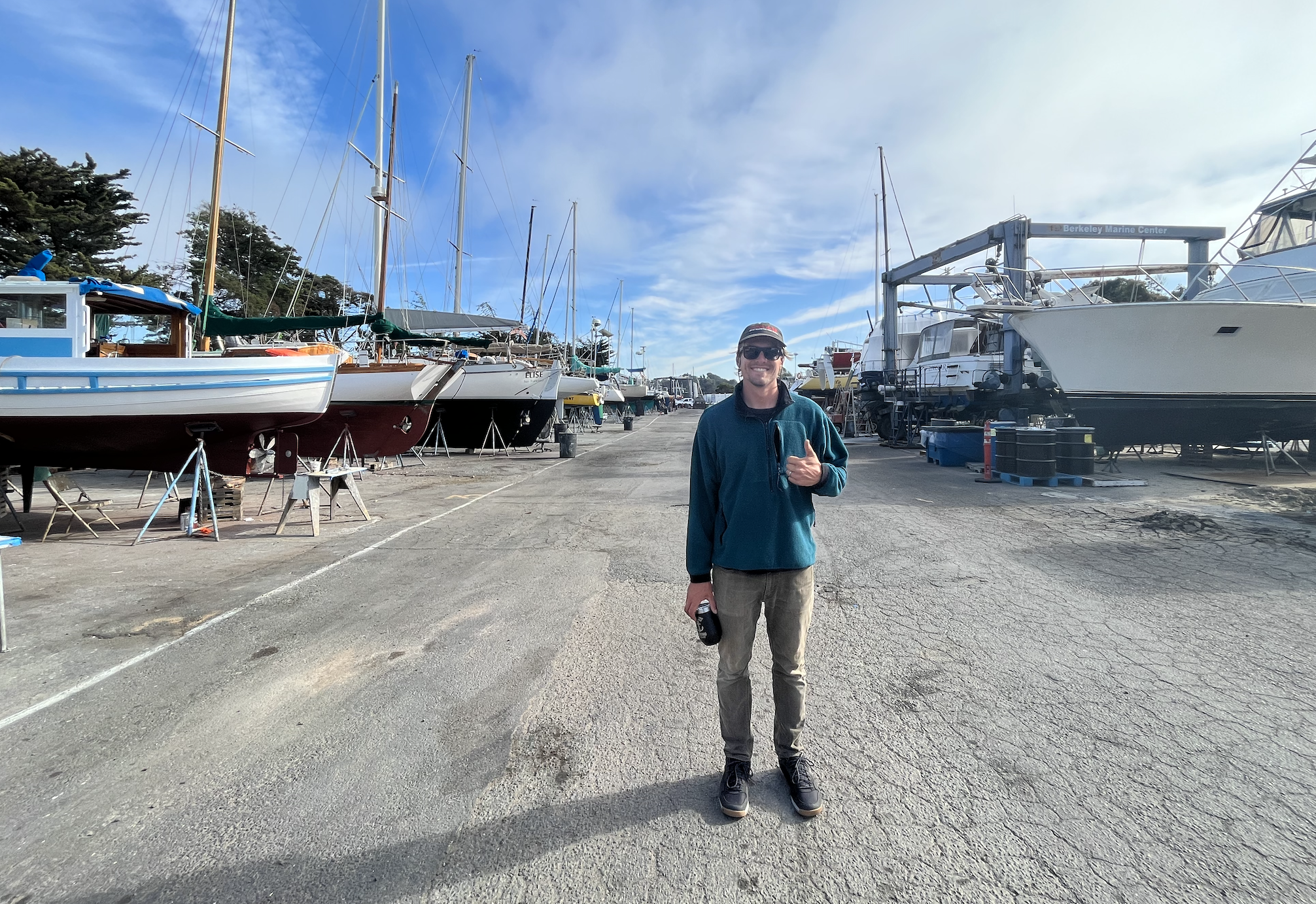 "She's beautiful" I shared as we circled Desperado, a 1977 Cheoy Lee Offshore 47 that shares our hailing port of Ventura. We met the owners down south when I worked in the marina office, just prior to Avocet's major refits and right before they sailed north to haul out, which has been a two year ordeal. The boat looked beautiful with a fresh paint job, new deck, killer modified companion way and newly built hard dodger. We can't wait to share an anchorage with her and her crew someday soon!
The sun had begun to set, glistening across the windblown bay. Our cheeks were raw with the wind's aggressive embrace, leaving patches of red, the winds au naturale lipstick print.. The bay was quiet in terms of boats, but the surrounding land was bustling with traffic that was only increasing due to the upcoming Fleet Week festivities. 
Fleet Week – The Background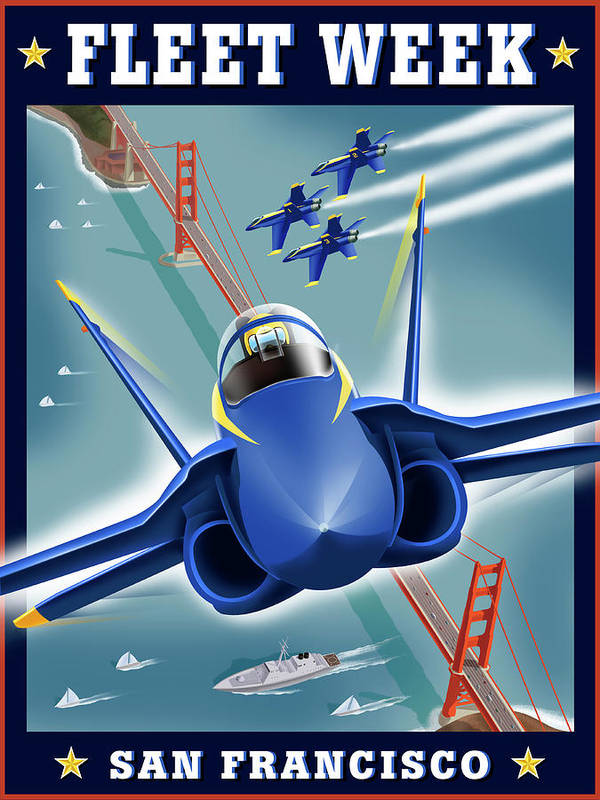 San Francisco Fleet Week began in 1981 when then-Mayor Dianne Feinstein led the nation in celebrating America's sea services. Taking place every October in San Francisco, the Fleet Week air show, parade of ships and many community events have become a significant and integral part of the city's local culture and economy. Fleet Week features a unique training and education program that brings together civilian and military forces to develop and share best practices in humanitarian assistance while also generating over $10M in annual revenue for the city. San Francisco's Fleet Week is now recognized by the United States Department of Defense as the model for fleet weeks across the country – but that doesn't mean that everyone shares positive feelings towards the excitement. 
Some people feel that the week of military festivities is unnecessary and excessive "war mongering" festivities that should be canceled; and they are entitled to that opinion. The Daily, a San Francisco News outlet, published a piece in 2021 called San Francisco's Fleet Week Air Show is a Stupid Waste of Time and Money where the author shared the following sentiment: Fleet Week is stupid. It's a waste of time and money, a natural extension of the U.S. military at large. I think it's disgraceful to scare the bejeezus out of people trying to live their lives — including, yes, the veteran TROOPS with PTSD who some of you are going to yell at me to respect more. (The Daily) 
Despite the debate surrounding the event, Chris has fond memories of watching the airshow with his family as a kid and was excited to relive some of those moments aboard Avocet. Of course in true Neely fashion we made it a party though, inviting friends aboard for Friday and Saturday's event. 
Friday
"Long time no see!" I said jokingly as I popped out of the companionway. With snacks in hand our friends Lucy and Corey stepped aboard and got comfortable in the cockpit, Cleo making sure they both knew it was encouraged to pet her with every not-so-gentle headbutt. Although we had just met a couple weeks prior, the Canadian pair had become our fast friends with their good vibes and conversation – it was a no-brainer to invite them aboard for the airshow especially since Lucy, like myself, had never seen the show. We chatted while waiting for our last passenger and pal, Nicki Bennett, who also showed up with an armful of snacks and libations that we safely stowed below deck before casting off. 
The blue skies over the Bay were as inviting as the air was bitter, but set the stage for a wonderful overhead show. During the airshows a no-boat regulation "box" is set up from the city front, to Alcatraz, to the Golden Gate to ensure the safety of event participants and spectators. During the enforcement period, unauthorized persons or vessels are prohibited from entering into, transiting through, or anchoring in the regulated area, unless authorized by the Patrol Commander – which meant we had to be careful where we sailed, especially since the bay was crawling with "Coasties" and Cops in every direction. 
After a lap around we decided to run the course of the city front and Alcatraz "line" which was very reminiscent of our racing starts at Huntington Lake. "I feel like we are waiting for the race horn to blow" Chris said as we tacked back over to sail back towards the city. He took full responsibility as skipper that day so I could focus on our guests and do my best to snap photos and videos of the incredible metal birds that soared over us. Although we like to give every boater the benefit of the doubt, the unofficial show on the water was what we jokingly named the "Parade of Morons" after observing their lack of responsibility regarding other vessels and their safety. Because of these choice boaters, Chris had his hands locked on the wheel, steering clear of the human hazards. Considering there were a few hundred boats fighting for the best viewing spot, he definitely had his work cut out for him. 
Woooosh the sound of the planes cutting through the sky filled the air as our crew of five sat wide eyed, grinning ear to ear. There were various planes that participated in the show including the F-35C, the Patriot Jet Team, a United 777 and most notably the Blue Angels but one in particular cemented itself as the undisputed favorite of the day: The Ace Maker T-33.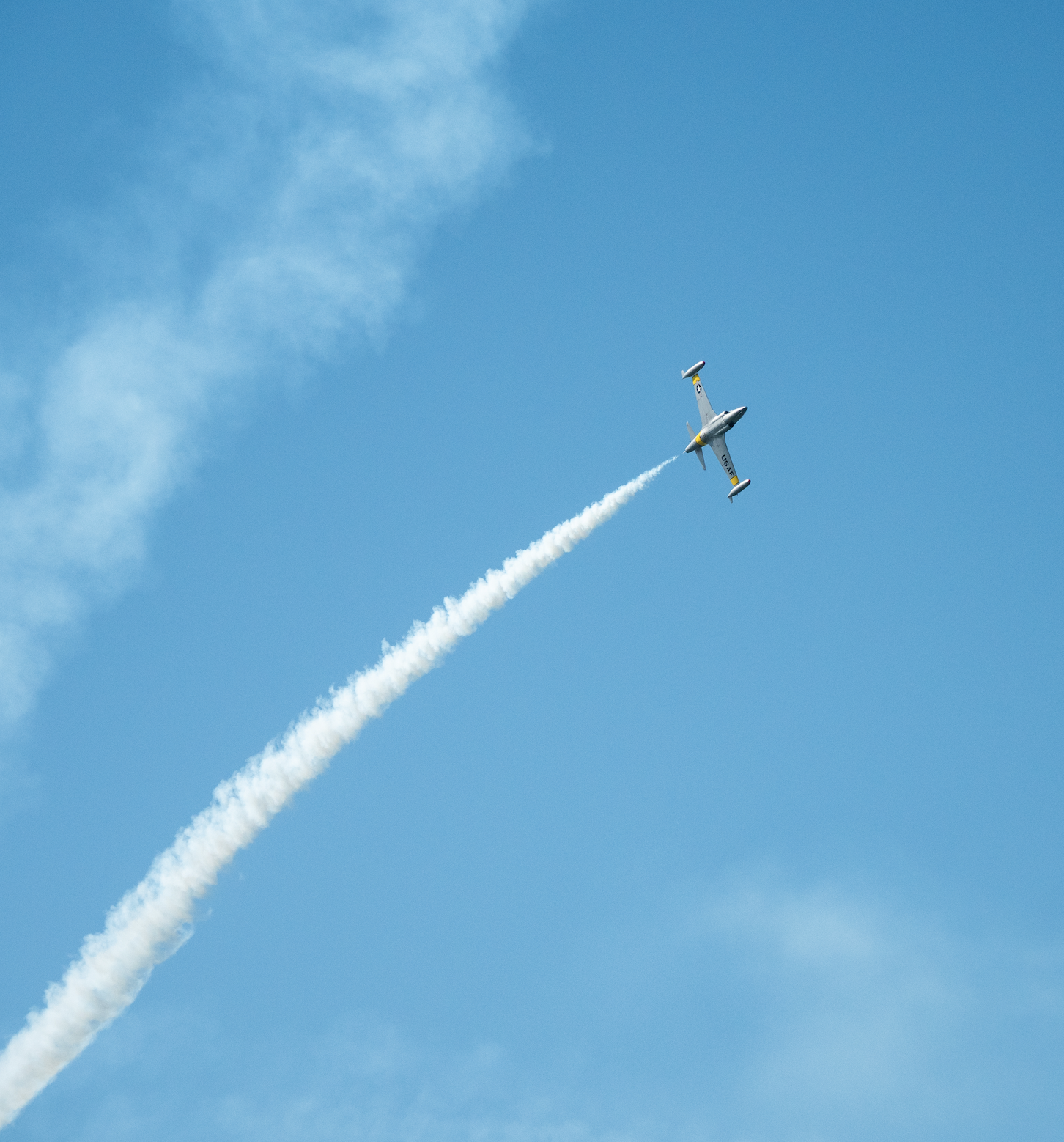 I was on deck with my back against the mast, my stance wide to brace myself and a camera in my hands doing my best to track the planes that came in and out of view in a blink when the Ace Maker flew above us, and made my stomach jump up to my throat. "It broke the sound barrier!," Chris yelled from the helm. I looked back, half expecting to see our portlights blown out but the only evidence of the event that had taken place was the absolute sh!t eating grins that everyone was wearing. "Do it again!" I yelled, desperate to catch it on film and eager to feel that excitement again. 
After a full day on the water we were ready to make landfall, especially since that evening we would be welcoming Mama Neely aboard to stay for the remainder of the weekend. Back in Berkeley and safely secured to the dock, we hugged our friends farewell, promising to keep in touch and meet up again on the water, perhaps somewhere warmer and south of the border. Just as Nicki departed Mama Neely arrived after a long drive, ready for a drink at the club. 
Saturday
"Good lord it's cold" I managed to say through chattering teeth while pulling my hoodie over my head. My hands felt like ice and no matter how hard I tried to think warm thoughts the environment always brought me back to our frigid reality. Karl the Fog bank had settled in overnight, consuming the blue skies we had the day prior, replacing them with his signature greyscape. 
After a slow morning and rounds of coffee, we welcomed Christy and River aboard, who have been long time friends of the Neely family. "I wasn't expecting to see you! This is a wonderful surprise!" I said as I made my way out of the companionway. Christy's presence was expected, but while she and I were making plans for Fleet Week her husband River was enduring Hurricane Ian in Florida, doing his best to keep their catamaran Plot Twist out of harm's way. From his updates it sounded like a nightmare with extreme flooding, power outages, strong winds, and the never ending fear for the safety and well being of yourself and your vessel. To me, it seemed like Dante's Inferno for mariners; Ians Abyss, if you will…It was a sigh of relief to see the two of them together, and learn first hand how Plot Twist narrowly escaped severe damage like some of her neighbors. However, it would be amiss to not credit a good chunk of their luck to River's excellent storm preparations. 
View this post on Instagram

Since it was a Saturday, the number of boaters on the water increased significantly, as did the morons, which meant Chris was going to have another busy day as skipper. "Gloves please" he asked as he shivered at the helm. I passed him his wool gloves to help fight the cold that had completely covered the lot of us. 
We could hear the jets inside the ominous Fog, their shadows occasionally playing against the blanketed gray sky. We sailed along "the line" for a few hours, waiting for the show to begin, searching for any sort of information regarding postponements or details but, not for a lack of trying, we failed miserably. "Should we call it?" Chris asked his crew. Unanimously we agreed and had a lovely downwind sail back to the marina where we later discovered through social media that the show had been canceled due to Karl stealing – or snuffing out – the show entirely. Luckily, our Saturday crew was full of Fleet Week Veterans who were really just along for the ride with ol' pals and the lack of planes wasn't going to stop our fun! That evening we continued the party, relocating inland to Jupiter's where we had a lovely dinner. Ironically, the bar's decor included an entire display of our exact fridge hinges which are very hard to try. Chris almost asked the bartender to buy a couple spares off him!
Boat Chores and Panic Attacks
Khik khik khik Cleo cat stood on the cockpit coaming cackling at the feral cat that lurked under the half of the yacht club that was supported by pilings. The adventurous cat had been stalking one of the numerous pigeons that had taken residency in the beams, strategically stepping on dry rocks, avoiding getting her paws wet. Cleo pretended to participate from the comfort and safety of the cockpit, losing interest in the primal play as soon as Chris popped outside besides her. She took up residency in his lap, purring heavily beneath his coffee mug that rested gently on her head. It was another slow, chilly morning aboard Avocet but one that would molt into a productive day, for us humans at least. 
While Mama Neely was with us, we utilized her car to do some chores, including grocery shopping – but not at just any ordinary grocery store. Berkeley Bowl (which was just a bit out of my bikeable range) is an independent grocery store in Berkeley that sells organic and natural products and is well known for its extensive produce section. It is the promised land for foodies and health food fanatics. There were 13 variants of mushrooms, 6 types of eggplants, and leafy greens as far as the eye could see… It was a bit overwhelming to be in a store that provided so many unique options as crunchy health nuts circled the isles like sharks waiting to be fed. Grocery shopping is one of the "regular" human experiences that sends my anxiety through the roof – partnered with my ADHD it puts my brain on overdrive as I fight through the overstimulation to stay on task. Luckily, Chris is a huge support and knows when to step in to offer his assistance and usually escorts me through the busy stores so I don't have an anxiety attack. However, sometimes he tosses me in the deep end just to prove that I can swim.

"Laundry's done" Chris said as the alarm went off on his phone. Prior to our arrival at Berkeley Bowl, we dropped off our laundry at a local laundromat. 45 minutes on the wash cycle. We had just gotten through the first five items on our two page list when he asked Mama Neely for the keys to take the car back to the laundromat to flip the laundry. Feeling overwhelmed but confident in my abilities I told him that "I got this" and off he went, leaving me, Mama Neely and my long list behind. 
Our cart was pulled off to the side next to the 5 types of yams, allowing busy shoppers to pass with ease as I tried to refocus my attention on my list and strategically  plan out my next move. "I'm going to find the head" Mama Neely said, departing on her own adventure to find wherever the bathroom hid amongst the jungle of shelves. Did those lights get brighter? I wondered as the fluorescent lights – the worst lights of all – shone overhead. Oh god do I buy the hydroponic kale or locally grown sustainably harvested kale? There's only a $1 difference, but $1 goes a long way when compounded with the rest of our purchases and we sure have a lot more to buy…oh man is this list too long? My shoes are sticking to the floor. How long has Chris been gone, five minutes? Oh look at more mushrooms! I love mushrooms. I really liked that mushroom place in the city, I wonder if these are the same mushrooms… I…
And there I was. Mentally standing on the edge of a panic attack city and looking dangerously over the edge. My brain was buzzing with its own noise as the external conversations around me melted into one incomprehensible  sound – I may as well have been on a different planet, but I suppose "Bezerkeley" is exactly that. I crossed off the last 3 items on my list and made my way to the checkout line. Almost on cue, Chris arrived with bags in hand to help bag up our purchases. "How'd you do?" he asked, as if he had planned his absence as a test. "Just fine" I said, paying for our produce haul and leaving out the details of my near-panic attack because that's all it was – a near attack. In those moments I do my best to ground myself and focus on my senses, picking out one thing I can smell, see, feel, and even taste to help me away from the looming ledge of panic. Cruising is a very social scene if you allow it to be, and although my younger self would have recoiled from crowds of strangers entirely, I'm sure she would be proud to see how far I have come with my silent battles with anxiety, celebrating the little wins such as this successful grocery trip.
Back on Avocet we loaded the many bags of fresh food into the galley and tossed our laundry bag full of clean clothes onto our bed. It was still warm from the dryer, and smelled so clean… in that moment I wanted to become a boat cat and sleep atop the pile all day. With our car-necessary chores done, we enjoyed our last few hours visiting with Mama Neely before she packed up and headed back home to the mountains where we would rendezvous at Christmas time. It meant a lot to us both, but to Chris especially, to have his mom visit while we were in Berkeley. Although the marina is nowhere near as nice as where Sea Castle is now in Ventura, it is still nice to relive some of the old memories, especially those that make Chris feel close to his dad. 
That evening a digital friend of ours named Piyush joined us for conversation in the cockpit. Ironically, when we were in Clipper Cove he had sailed his boat Horizon in for the raft up, but left before we made it over to the party. As he sailed out of the cove he yelled over to us, welcoming us to the bay. Piyush had followed us on instagram for a while through his own sailing page and was full of insightful questions about Avocet, ourselves, and of course our sailing plans that are always changing, but there was one particular part of our conversation that filled my heart to the brim. Somehow during our various discussions we landed on the topic of ADHD/anxiety which was very appropriate given the day I had. I was taken aback to hear how Piyush admires my transparency with ADHD/anxiety, helping de-stigmatize talking about mental illness and handicaps and being a friend to those who are also struggling, proving that they are not alone.
I often say my anxiety is what keeps me calm in scary situations – my brain plays all of the horrible outcomes without being prompted, so when something unplanned pops up it's like de ja vu. My ADHD allows my brain to think quickly, pivoting constantly to find an outcome. I turn my societal "setbacks" into superpowers, and was incredibly humbled to hear that Piyush had paid attention through on of my many social media rants, above all else complimenting me on my vulnerability. In that moment I was overwhelmed with gratitude.
The sailing community is so strong and thanks to social media we are able to connect with many incredible individuals like Piyush, who make our time in the ports we visit all the more special. Although our get together was short in duration, we are confident that we will cross paths again in the future – the wind and tide always brings like minded salts together again.
Final Moments
The following days were filled with projects and visiting with friends old and new. While we walked the docks we met up with one of the Clipper Cove raft-up attendees who remembered our boat from the party. We chatted about where we had been since our first week in the Bay, and where we would go after our time in Berkeley was up. Time was really flying by, and we did our best to hold on tight, squeezing all of the memories out of the fleeting moments. 
"Come on, let's take a ride" Chris said as he finished building out his bike. The morning  sun was warm as the winds had not arrived yet, inspiring my warm weather outfit of shorts and a T-shirt. The Berkeley Turkey's gobbled in the grass, their gaggle tripled in size since we saw them last. We left a few items off our Berkeley Bowl grocery list that we intended to buy at Trader Joes later – a very weird but specific thing that Chris wanted to check off his "visiting Berkeley list," since every time his family visited the boat when he was a kid, they would shop at Trader Joes and get a tub of chocolate chip cookies, a tradition that happily spilled over into our relationship with ease.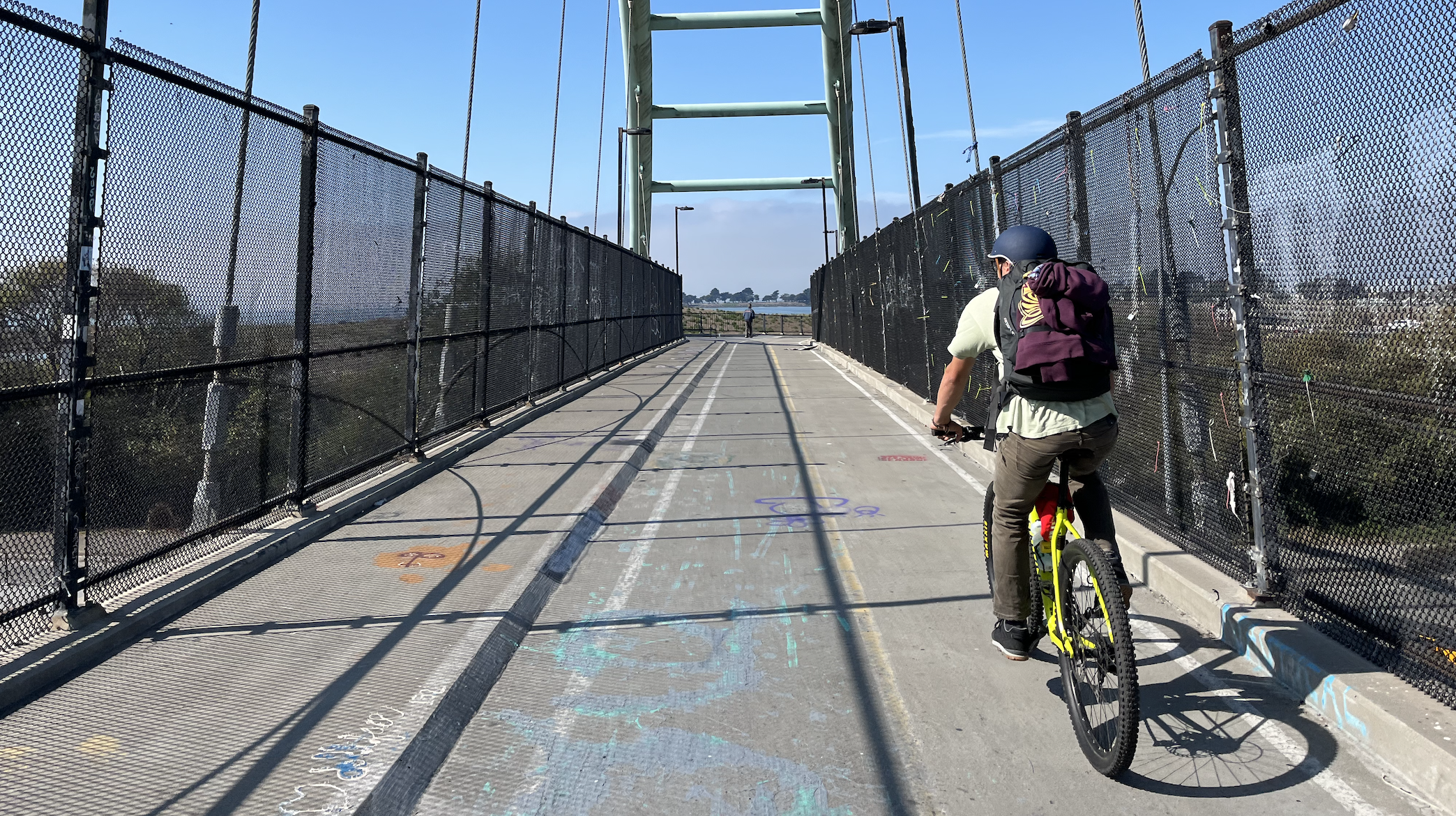 As much as I hated biking alongside cars, the ride to Trader Joes was relatively simple, especially since we had departed after the morning work rush. Following the bike path over the pedestrian bridge we found our way biking the various Berkeley blocks up to the corner of University Street where our destination awaited us. Chris and I stuffed our backpack full of Trader Joes signature goodies before making our way back to Avocet for our final day in Berkeley. 
We biked past L dock where Sea Castle had spent 27 years berthed alongside many wonderful neighbors that had come and gone. Her old slip was still vacant, which we can assume has been the case since her departure in 2020. The docks were exactly as we remembered them: falling apart, covered by "dock bandaids" which were nothing more than pieces of plywood doing their best to hold the deteriorating cement together. Chris and I walked our bikes down the dock, propping them against a lovely dock box when we crossed paths with Marialenna, yet another long time Neely family friend and the better half to Ben.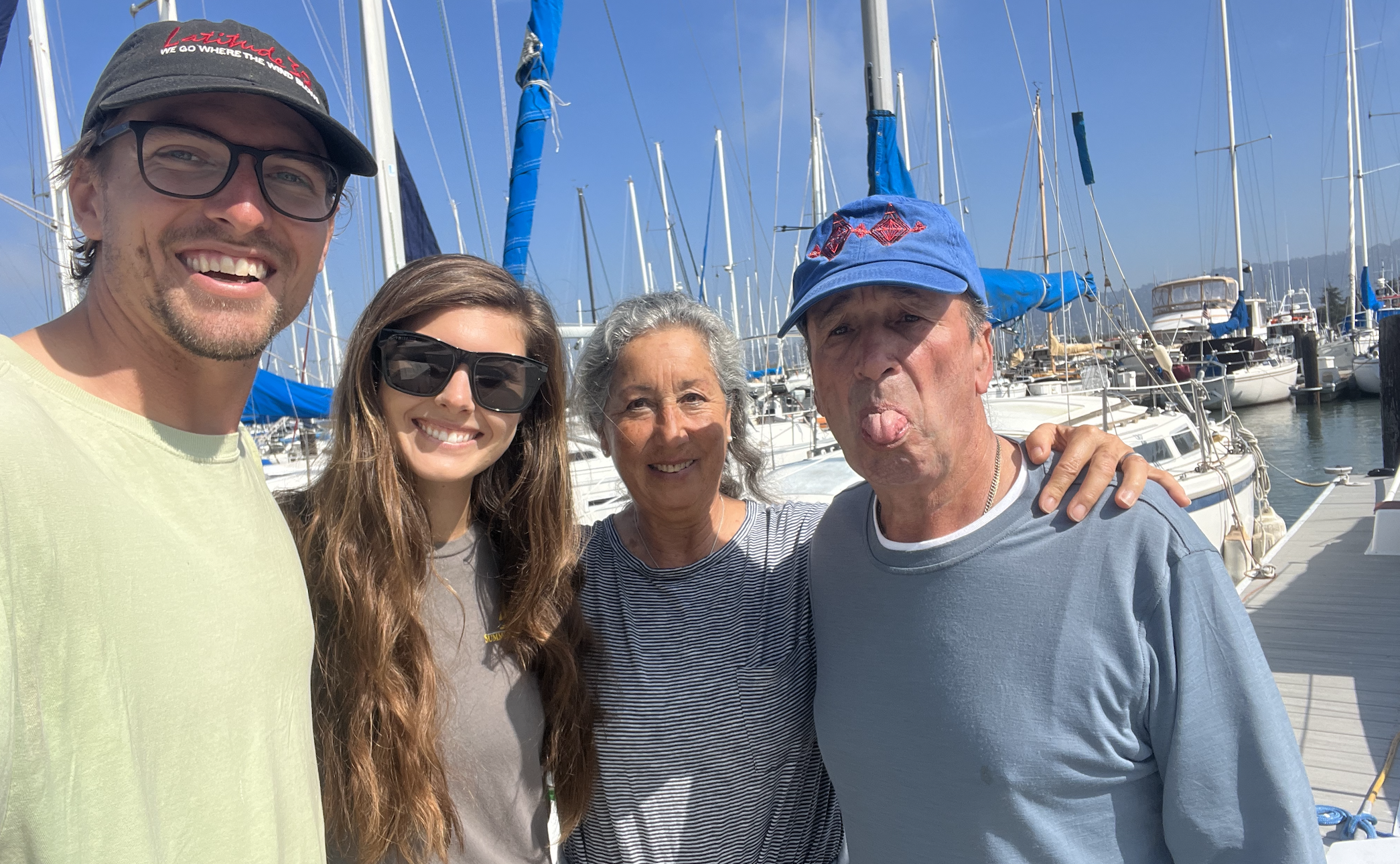 The last time we saw the Chilean pair they were living aboard a 40' something Hallberg Rassy  Isabella, but have since downsized to an Erickson 36. Marialenna welcomed us aboard where Ben was eagerly waiting to catch up and teach Chris a lesson about fishing tackle. As an avid fisherman, Ben knows a thing or two about fishing and encourages Chris to give it a try during our sailing adventures. Truth be told, despite the fact I was born and raised by the sea I have never enjoyed seafood, and Chris doesn't particularly enjoy bloodying our decks so we have yet to really give fishing aboard a shot. However, this didn't stop Ben from supplying us with enough tackle to get started, accompanied by candy and a hug before we returned to Avocet.
Our Escape
Sometimes you watch the show, and sometimes you are the show – it is a balance, and we had clearly been overflowing our karma-cup because we had a big ol' helping of humble pie served to us on our departure day. Before every departure, Chris and I talk about our game plan so we each have our charge orders to make a safe and easy exit – but sometimes, like many things in sailing, that does not go according to plan and we have to think quickly. The afternoon winds had just begun to pick up and the tide was going out, pulling us against the Yacht Club side tie. Since our bow was pointed inwards towards the marina, we had to maneuver our 41' boat backwards through the narrow water space that we shared with the small vessels that were berthed adjacent to the yacht club.
Unfortunately, we didn't walk Avocet back far enough and the wind began to push her bow over, so I hopped on and we did our best to lean into the situation and try and turn ourselves around. From my vantage point on the bow we totally could have made the turn unscathed, but from the cockpit Chris could only see us heading straight into the small vessels so decided to back our stern into the dock where I jumped off. Initially, he wanted me to pull the bow over, but since the boat was already naturally moving towards the fairway I suggested I tie off the stern, then grab the spring to help pull her over the rest of the way over. At this point we had acquired a small audience made up of our brand new friends Eric and his son Charlie, who was a very friendly and confident future skipper. The two gave us space to work out the issues ourselves, but Eric offered his help if need be, which is always appreciated. Fortunately, my plan worked, and even though we looked ridiculously green trying to exit the dock, we did it safely and didn't rush ourselves, making it out to the breakwater in our own time. 
Charlie and his dad waved to us from the point that overlooked the breakwater. "Have fun!" I could hear Charlie's small but powerful voice cut through the wind as Chris raised our main. A gentle reminder that even on the frustrating days we are doing this for fun. "Now I know why dad hated sailing out of there without a crew" Chris said as he returned to the cockpit. It was true, Berkeley Marina's fairways were relatively narrow in comparison to the other harbors and marinas we have visited, which could make maneuvering a larger vessel like Avocet and Sea Castle a bit tricky, especially when single handing. 
Although the convenience of being at a dock is nice, we were ready to feel some movement under our keel again…even if it was subtle… which was exactly what our next and final SF Bay anchorage brought. 
Until the next one, 
Marissa (and Chris and Cleo)