Boats, Planes and Controversy
The late afternoon sun melted on our skin as the salty sea kissed our grinning faces with every splash. Chris was at the helm, desperately trying to bury Avocet's rail as she made way through San Francisco Bay's Raccoon straits with a bone in her teeth. It had officially been three weeks since we left our homeport in Ventura, embracing cruising life and all its wild unknowns – like when we would be able to have clean laundry again. 
Our new anchorage came into sight with boats splayed across the horizon, bobbing up and down with every ferry wake that rolled through. "Steve said to anchor around here" Chris said as we circled around Richardson Bay, searching for our new temporary place to call "home". During the raft up in Clipper Cove, our new friend Steve gave us all the details on the bay, but most importantly where to anchor. 
Richardson Bay is a large bay with loose mud holding and an average depth of 20 feet. The bay is subject to dynamic diurnal tidal cycle so it is best to accommodate for a 6-foot tidal swing. The anchorage is right outside The Richardson Bay Marina and Sausalito waterfront community, which you can access at the public dinghy dock located on Turney Street.

Anchor- Outs
. 
We set our hook in 13 feet of water, between another Cheoy Lee and a wooden sailboat – both with tarps strung about and miscellaneous items displayed on deck. It was unclear if the owners were aboard or if the boats were abandoned, but given Richardson Bay's tricky history we safely assumed the boats were lived aboard and the owners would probably return at night. This was not uncommon for this area, in fact it's what the anchorage had become known for when KQED News released a video exposé on the "anchor outs," followed by Vice News, and then an avalanche of other news outlets in the mid 2010's. In May of 2022, The New Yorker released a beautiful documentary titled Anchored Out: Evicted at Sea that I think gives a wonderful view into both sides of the issue.
"The 'anchor-outs,' as they are known, are a motley crew—free spirits, artists, literal drifters, refugees from the high cost of living on land. Richardson Bay has long been a hub for the Bay Area's bohemian and arts scenes; it was here that Otis Redding, during a stay on a friend's houseboat, wrote the first verse of '(Sittin' On) The Dock of the Bay.' Today, the anchor-outs' existence on the water faces a threat. Under pressure from the state, the Richardson Bay Regional Agency (R.B.R.A.), which serves parts of Marin County, has hired a series of harbormasters to enforce a long-ignored rule defining the bay as a seventy-two-hour anchorage. The anchor-outs must leave the bay or risk having their boats towed and, in some cases, destroyed" – The New Yorker
This situation is multifaceted tackling both morals and ethics regarding the mariners who carved out an affordable eclectic community on the water, in a county where the median home price is around $2 million. Living on a boat was one of many very-low-income housing options that used to exist in California, but once gentrification came, options disappeared putting more pressure on homelessness.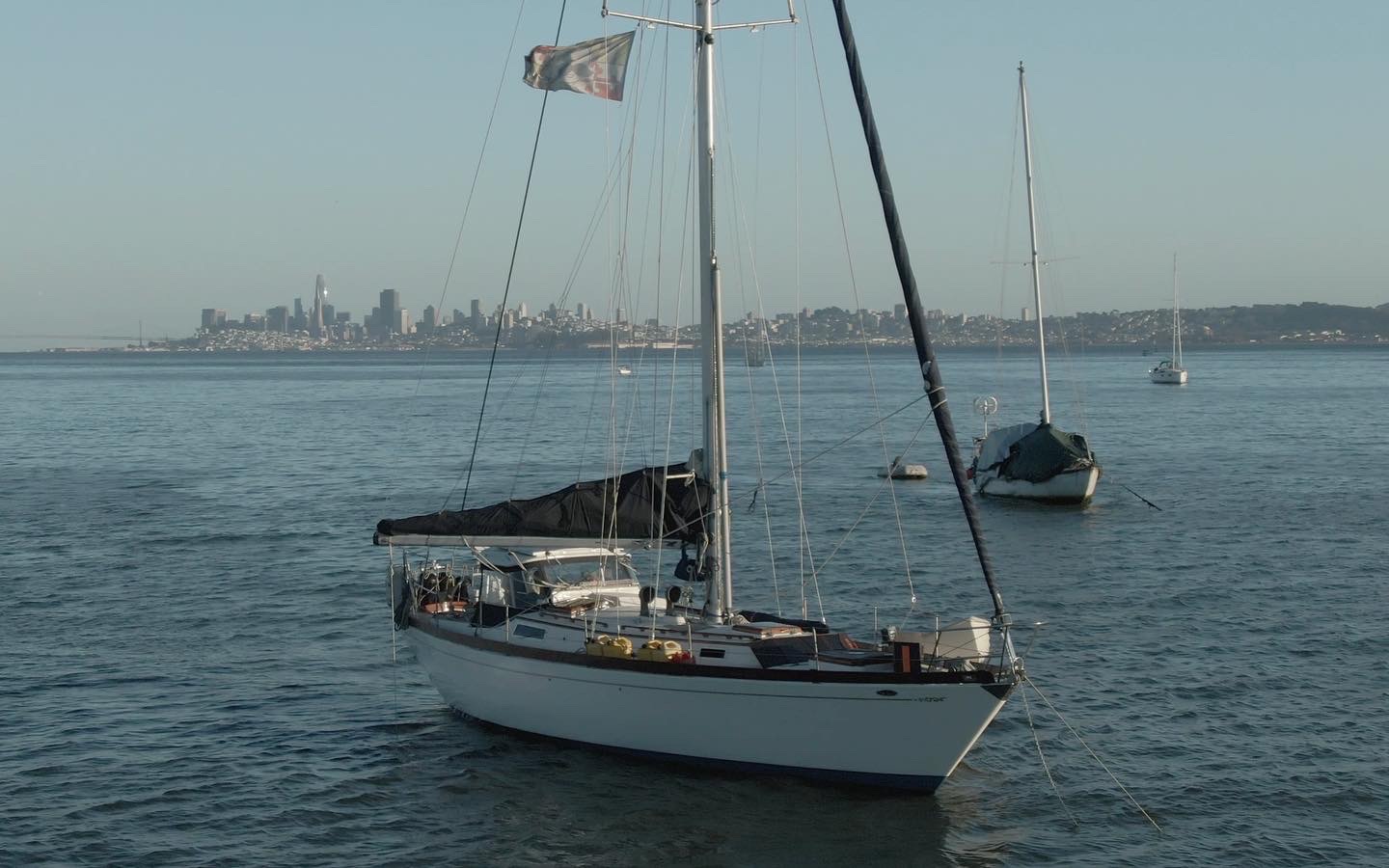 You may be wondering why these anchor-outs don't seek shelter in a marina, obtaining a legal liveaboard permit, but there are a few reasons for that. In the state of California, it is extremely hard to obtain a liveaboard slip, and if you do, it is often expensive making anchoring the more enticing option for long term living. The percentage of "liveaboards" a marina can take in is ultimately determined by the California Coastal Commission who seems to emphasize the idea that more liveaboards equals more pollution… despite the fact that I have witnessed more weekenders abuse the environment than local liveaboards. In addition to the Coastal Commissions influence, the marina can pick and choose what vessels to accept and will always pick vessels that are presentable and not fire or sinking risks – a.k.a. low liability – which unfortunately takes a vast majority of the Richardson Bay vessels out of the running. 
Right now the city of Sausalito and the R.B.R.A. are in the middle of a five year plan focused on removing the derelict vessels, but in all my research I haven't seen a plan presented by the county to rehouse the displaced mariners, which will only take the problem to shore. Sausalito's tent encampment sprang up in late 2020 when a vessel was destroyed and the person who was living aboard had nowhere else to go – now imagine what will happen to the hundreds of others in the same not-so-metaphorical-boat.
There is a tendency to group anchor-outs and some abstract idea of their vessels into the same category, which perpetuates a negative stereotype subsequently making "liveaboard" a dirty word. Some describe anchor-outs as nomadic mariners while many others label anchor-outs as homeless – Chris and I included in their description. There's no question that the Bay Area's housing crisis and the national rise in homelessness was the spark that ignited the Richardson Bay flame, but we can only hope that resolution will be found peacefully with respect to all parties involved on and off the water. 
Chores Ashore
Many of the Bay Area sailors warned Chris and I that Richardson Bay was uncomfortably rolly, inspiring us to deploy our beloved FlopStopper roll reducer immediately after we had set our hook. While it is true that the random ferry wakes can create quite the motion (especially in the late hours of the night) we found the anchorage to be very comfortable. "We really need to make a cover for that portlight" I mumbled to Chris who was still sound asleep next to me. In the mornings, the sun's rays tend to beam through our stateroom portlight directly into my eyes, ripping me from my slumber to embrace the day. Usually I put up a fight, covering my head with a pillow or scooting closer to Chris's dark corner, but on this particular morning I was happy to get a jump start on our day.
While Chris took his time to get up (hatching, as my mother calls it) I pulled out our laundry bag and began stuffing it with every rag, sock, sheet and clothing item that was out and about. It had been a while since we had fresh laundry, and I had never been more excited to complete such a mundane chore – after all, no "normal" task aboard a boat is ever truly boring. We launched our Fatty Knees 8' dinghy, Winglet, off the beam of the mothership before loading her up with our bag of smelly laundry and setting our course for land.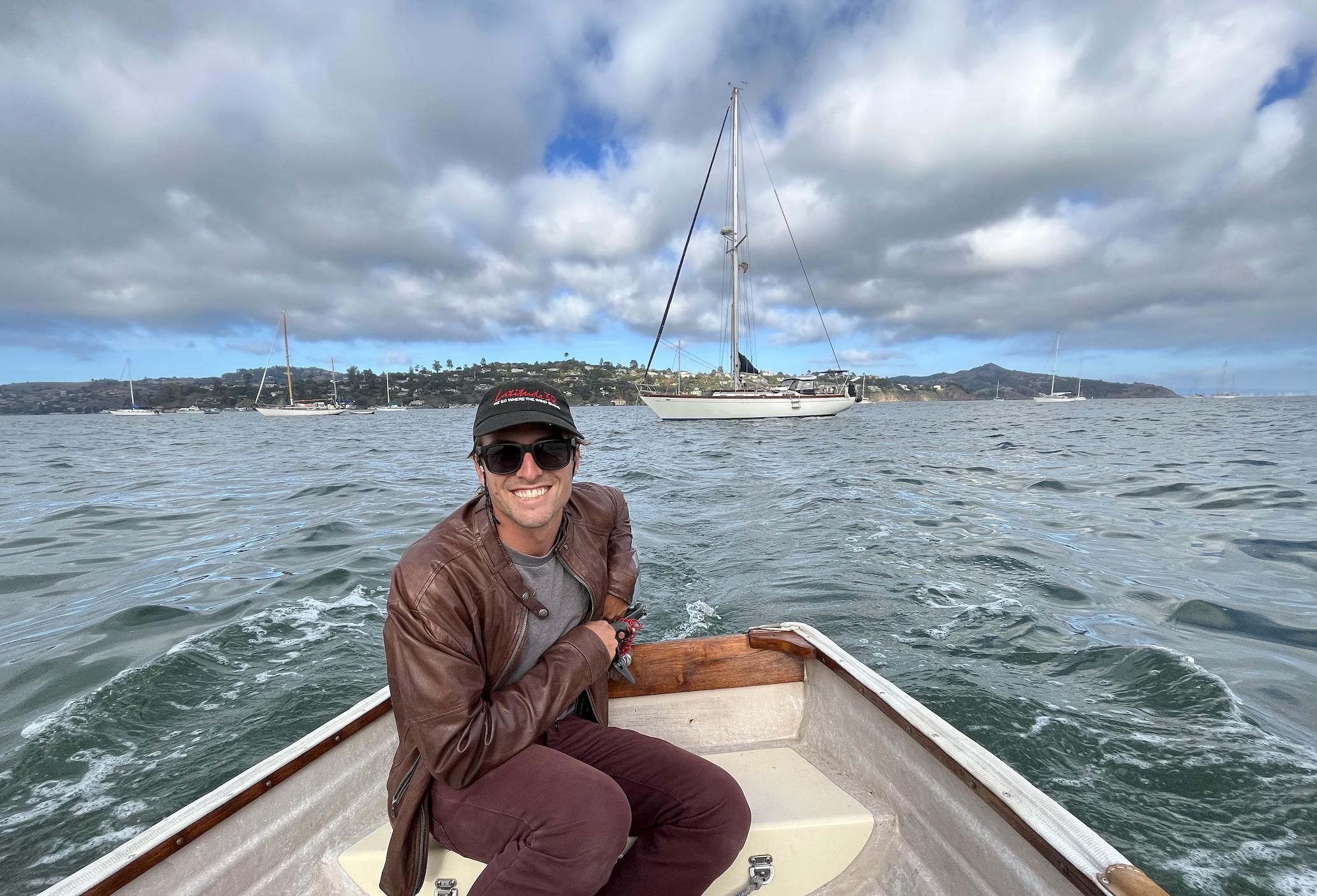 The dinghy dock was substantial with short term tie ups on the starboard side and long term tie ups on the port. The portside was full of metal skiffs, barely-inflated-inflatables, and fiberglass dinghies, each one undoubtedly belonging to an anchor out making this the boater version of a parking lot. "That's a Fatty Knees, isn't it!" exclaimed a man sitting by the gangway. He had a blanket rolled out with a smorgasbord of snacks, his metal dinghy full of living essentials. We smiled and confirmed that he identified our Winglet correctly, and engaged in a friendly conversation while tying off. 
"My name's Lance – a little, not a lot – and I have been living out here for over thirty years" the man said. He had a salty exterior but his heart was kind and he genuinely welcomed us to Sausalito offering tips on where to go. "This place isn't what it used to be, but man is the food good" he said, recommending a burger place on the main strip and bar called "No Name" where all the locals hang out. Once Winglet was locked up besides the other dinghies we grabbed our laundry bag and made our way up the gangway, promising we would see Lance later on. "I'll be here" he said, with a full smile on his face. 
Chris pulled out his phone and took charge as our navigator as we walked along the busy street. I'm sure we looked a bit silly with our big blue laundry bag amongst the glitz and glam that surrounded us, but we were on a mission and couldn't be bothered with peoples inquisitive stares. From the dinghy dock it was a one mile walk to Sunshine Laundromat where we washed and dried all of our laundry for $10. 
View this post on Instagram
While waiting to flip our load into the dryer we visited the coffee shop nearby and did some people watching. Biker after biker passed us, and easily outnumbered the amount of cars on the road. Come to find out, Sausalito is a very bikeable area for road cyclists as well as mountain bikers with a number of coastal trails and mountain climbs.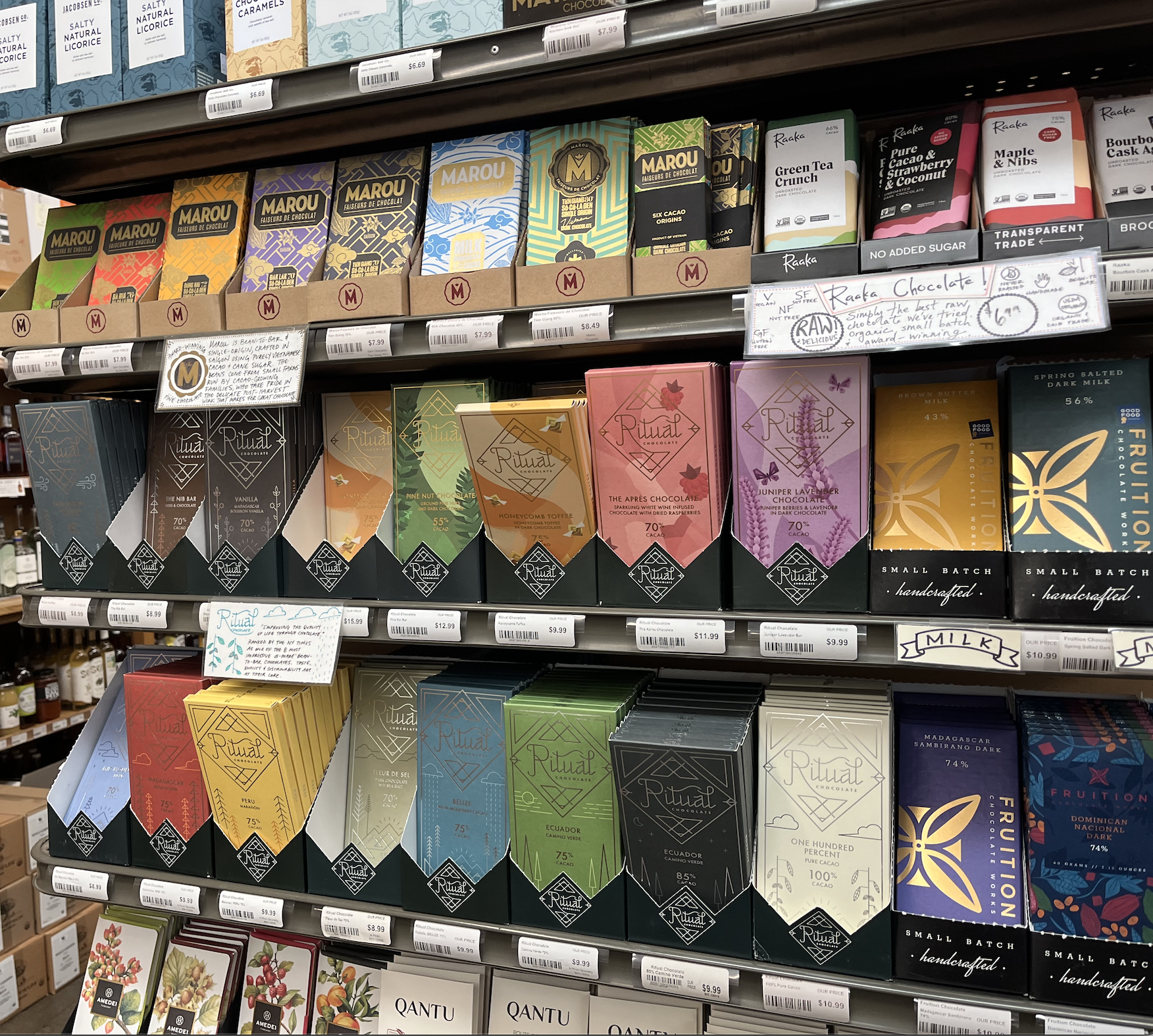 Freshly fluffed and folded, smelling like Molly's Soap Sudz, our laundry was warm on Chris's back as he carried it through town. On my back I carried our empty backpack that would soon be filled with much needed groceries. Half a mile from the laundromat is an incredible store called Mollie Stone's Market that is the holy grail of health food. Their vast inventory of organic produce, meats, vegan options, health and beauty products, as well as conventional necessities like vitamin-enriched cereals and popular name-brand products was very impressive. While crossing items off our grocery list we came across an entire end cap of dark chocolates featuring our favorite brand, Ritual Chocolate.
Between Molly and Mollie it was a long day of necessary onshore chores that we were glad to have completed. Back on the dinghy dock Lance was nowhere to be seen, his dinghy absent from the lineup, but Winglet was right where we left her. One bag after another was loaded into the dinghy before we shoved off and made our way back to the mothership to put clean sheets on the bed and cook a delicious dinner with fresh produce – a great way to end a successful day.
Out The Gate Podcast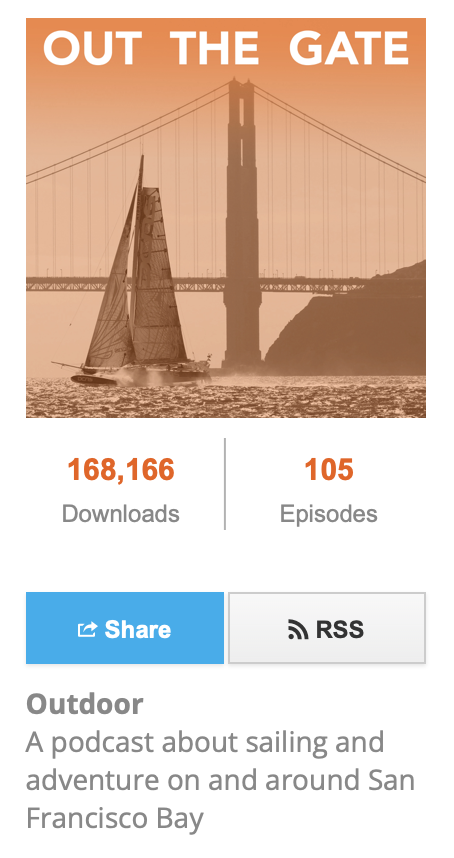 Back in September of 2020 Chris and I were living at the marina, aboard Mama Neely's Mason 43' "next door" since Avocet was unlivable due to the massive interior project we had launched. Unfortunately during the projects the Creek Fire broke out and was threatening Chris's hometown, prompting us to put everything on hold and drive home to be with family during such a stressful time. Somewhere in between the chaos of the firefight and boat work we had the pleasure of virtually chatting with Ben from Out The Gate Podcast to discuss boatlife and our plans for the future. Fast forward to October of 2022 we had another opportunity to meet with Ben, this time in person, aboard Avocet for a follow up interview.
"A lot has changed since we chatted last" Ben opened with, speaking into his mic. Chris and I sat across the table from him with a mic to share our answers into, delving into all the juicy details of boatlife and the cruising journey so far. Up until then we had never done a podcast interview in person, which definitely made the entire vibe more organic and personal which we hope you will be able to hear in the episode [Coming Soon!]
After we wrapped, Ben offered to drive us to the local West Marine so we could buy a trip-line buoy to replace the up-cycled soy sauce bottle we had been using since we arrived in the bay. Chris and I walked up and down the well stocked isles trying to remember if there was anything else we needed to buy, eventually grabbing a two gallon gas tank and more oil rags to replace the ones we used coming up the coast. 
"Are you guys hungry?" Ben asked when we returned to the car. Before I could even answer, Chris did for the both of us with an enthusiastic "yes" prompting Ben to deliver us to the most amazing sandwich shop we had ever been to, located inside the unsuspecting Bait and Tackle cornerstone. Davy Jones Deli had an extensive menu, but the "Cali" sandwich caught our attention with the following ingredients listed: Avocado, White Cheddar, Almond Pesto, Spinach, Arugula, Sprouts, Tomato, Balsamic, Lemon, Roasted Garlic and Roasted Red Bell Pepper Sauces. (Im drooling just writing about this sandwich!)
Our patience was rewarded as the woman behind the counter handed us a brown bag with our sandwich inside, one half for me and the other for Chris. With the precious cargo in hand, we began our long walk back to the dinghy dock along the waterside walkway. One bite into our sandwich and we knew that it was the best we had ever had – from the crackling bread to the vibrant flavors that danced across our taste buds… I feared we may never have a sandwich so good ever again! A sandwich so good it was worth writing about in detail here on our blog site. If you are ever in Sausalito, go to Davy Jones.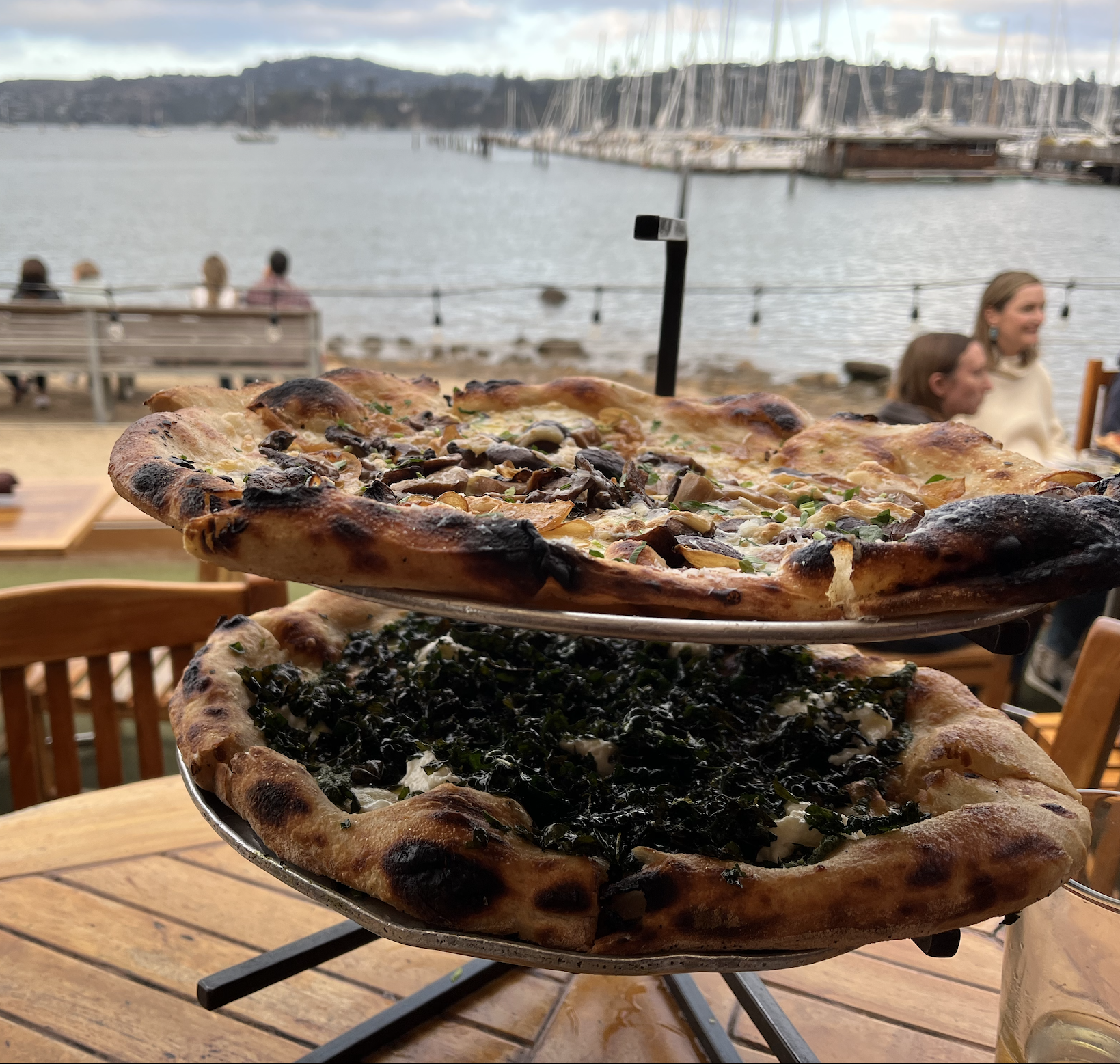 I am sure that we looked like questionable people walking through Sausalito with a gas can (empty) and buoy, but I tried not to let the odd stares bother me. If they are curious they can ask, I silently reminded myself as we made progress back to the dock. Two miles later we were reunited with Winglet that Chris loaded up with our treasures and motored out to Avocet. He returned wearing new (clean) clothes, and a hungry stomach prompting our search for dinner. We actually took one of Lance's suggestions and tried out a place called Bocce Bar, ordering two of the best pizzas we have ever had…besides Italy, of course. It was our first time going out to dinner since leaving the dock and it was worth every penny – if you are ever in Sausalito don't miss it! 
The Bay from Above
Back in 2018 right before we moved aboard Avocet I had graduated from Sierra Nevada College, where I had met some incredibly tenacious and fascinating individuals that have remained my friends over the years. One of those friends, Ashley, moved to San Francisco Bay to pursue one of her many passions, flying, with a Marin based company called Seaplane Adventures. When she saw that Chris and I were visiting the area, she asked if I would be interested in starring in the company's safety video for their DeHavilland Beaver DHC2 Seaplane in trade for two flights – how could we pass that up? 
Photo from Marissa's junior year abroad in South Africa. (from left to right) Vilde, Ashley, Rachael, Shawnie and Marissa… with a hippo over my shoulder
"Welcome to Seaplane Adventures and Aero Adventures Pre-Flight Safety Briefing. Today you will be flying in the DeHavilland Beaver DHC-2, one of the greatest aircraft ever designed and the best seaplane there is…" I carefully recited the script Ashley sent me the night prior, trying my best to sound professional. For once, Chris was not the one behind the camera. Instead it was a man named JP that handles Seaplane Adventures marketing. "Try not to look so cold" he said as the fog bit at my exposed skin, leaving a trace of goosebumps. Chris stood behind JP giving me a thumbs up, waiting patiently with my hairbrush and script to jump in when needed. 
Half the day was spent pretending – acting, I suppose – like I knew all there was to know about the Dehavilland Beaver float plane. After crawling all around the plane and spending hours filming my lines with JP we felt confident in the first stage of the project and wrapped. To celebrate a successful shoot Ashley treated us to lunch which was none other than Davy Jones sandwiches. 
Once fed, Chris and I had the opportunity to chat with Daniel who was not only a seaplane pilot but a true aviation enthusiast that took the time to share some of Seaplane Adventures history on camera for our YouTube channel. His dog, Echo, desperately tried to be the star of the show with his begging howls as he paced around the decorated hanger. Plane parts, bike parts, and various tools were scattered about, Chris doing his best not to drool over all the project space. Daniel was a natural, fielding each one of our questions with a thorough response laced with a little bit of humor – our kind of guy. 
Commodore Seaplane Base has been in existence since 1946, founded by a returning World War II veteran and seaplane pilot, Bob Law. Since that time the seabase has been in continuous operation, becoming the largest flight school in the United States in the early fifties to the largest regional air carrier serving Lake Tahoe (in the Piaggio Flying Gull flying boat) to rehearsal space for the Grateful Dead, Jefferson Airplane and Carlos Santana! As you may remember from our Treasure Island/Clipper Cove blog post, aviation is part of the cultural fabric of the Bay Area and Seaplane Adventures has felt a duty of stewardship for not only its historic company, but also keeping the legacy of bay area flying alive. It is the last remaining commercial seaplane operation in the entire State of California.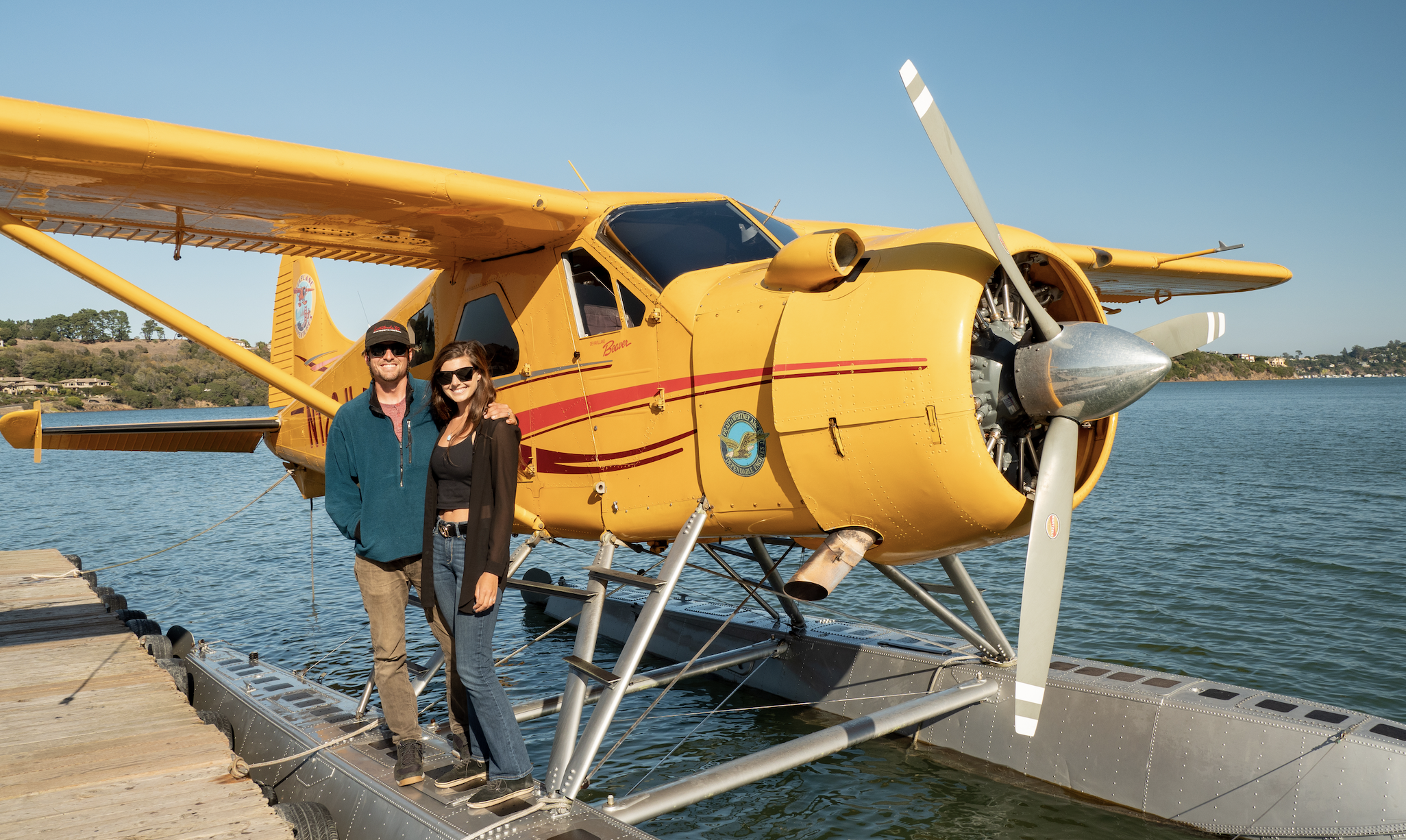 It was like Deja Vu to have the safety spiel I had recited on camera spoken back to me by Pilot Daniel. That day I had spent only a few hours pretending to be a professional, while Daniel had dedicated his life to the love of aviation, specifically to float planes. After the safety speech we boarded the plane and went through the motions of preparing for flight. I had the opportunity to sit in the copilot's seat, flexing every ounce of self control in my body to avoid giving into my impulses and tapping the pedals beneath my feet and gripping onto the wheel in front of me. The dock attendant waved us off as the lines were cast and we floated out to – for lack of a better word – the fairway to taxi. 
"I get flipped off there all the time" Daniel said, proving the intercom was working. "What's funny is this operation was here long before their housing. It's not my fault their realtor didn't disclose this was a fly zone." I looked out through my passenger side window at the people walking along the shoreline, although none appeared to be flashing the "international sign of peace" I could see how having an entire apartment building next to a hanger could be problematic for those seeking a relaxing life in one of the most expensive area codes in the bay area. 
Daniel went through his well practiced pre-flight routine of flipping switches and checking gauges while we sat back in awe. According to Daniel, taxiing is where the floatplane's personality asserts itself. Unlike "normal" planes, float planes like the Beaver have rudders like a boat that provide heading control. Much like a boat, the floatplane must take winds and current into account, especially since with enough wind the tiny water rudders can be easily overpowered by the airflow against the rudder, making turns impossible. If the tips of the floats dig into the water, the airplane may keep going and flip over… something Hobie Cat sailors know as "pitchpoling." The nine-cylinder-radial monster of an engine roared as the propeller spun rapidly, the ocean splashing against the floats as we cut through the water picking up speed. In a blink, we were airborne, flying above Richardson Bay where Avocet was anchored below.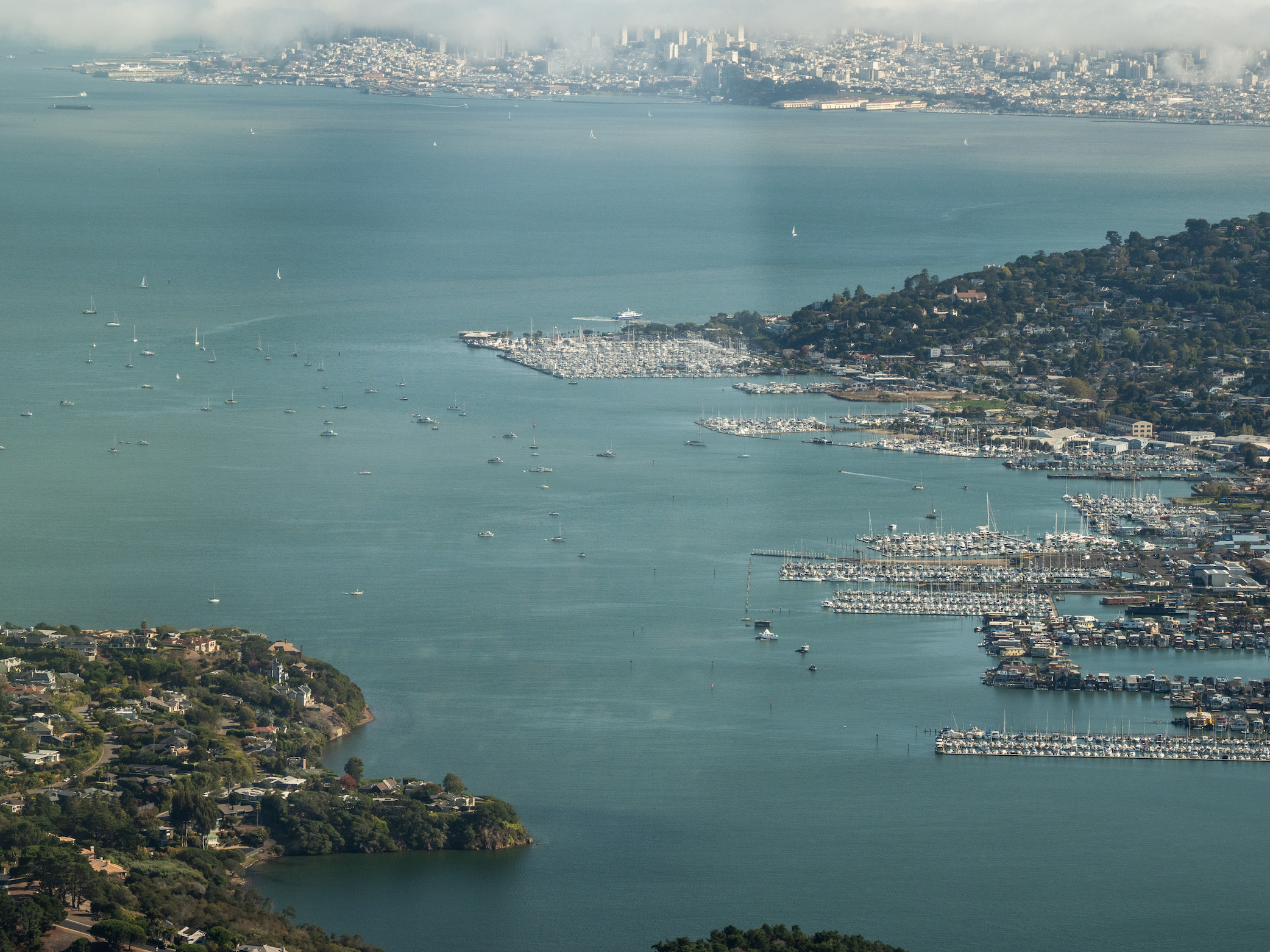 To feel the various lifts and wind patterns was remarkable as we flew over mountain ranges, their ridgelines decorated in a gray blanket of fog. Similar to our boat, the plane would react to every lift and drop, adapting to its surroundings with help from Pilot Daniel. "The plane goes where it wants, we just make suggestions" he said before signaling to me to grab the wheel. I hesitantly took hold as Daniel snapped a photo of me trying my best to fight the intrusive thoughts that screamed "do a flip" in my mind. I gently steered the plane, gauging the responsiveness and daring not to experiment fully. "Okay give me back my plane" Daniel said, a demand I didn't care to dispute as I relinquished control to the true pilot once more. 
The Golden gate was below us, looking like a miniature model but still standing iconic as the "welcome" to San Francisco Bay. Since so many of the places we planned to visit in The Bay prohibited drone use, Chris was excited to have the opportunity to capture photos and videos of the anchorages from above that we would include in upcoming YouTube episodes and blog posts. "And to your right you will see the Giants stadium…" Daniel said, our eyes following his directional input, observing the field below. I hadn't realized how small the city truly was; from the ground the towering buildings and gray tones give the illusion of vastness but from the air I could see just how close together everything is.
After a big lap around the middle of The Bay, we began our descent back to Marin. Avocet came into view once more as we got closer to sea level, the two of us eager to feel how different this landing would be in comparison to the others we have experienced in our lives. I watched carefully as the floats made contact with the sea, splashing as our speed decreased and the plane became a boat again.
Half-airplane and half-boat, but inherently substandard as both, a floatplane demands the skills of both an aviator and mariner. Floatplane pilots may be far from a rare species on the West Coast, but they represent a niche subculture within aviation and Daniel is a great spokesperson for keeping this legacy alive. Better writers than I have romantically written about the rugged world of float flying, but I hope my inspired thoughts did our experience justice and will intrigue you enough to check out our friends at Seaplane Adventures if you are ever in the bay, and give Pilot Daniel a follow on instagram @floatpilot for all things floatplane!
"How was it?" Ashley asked from behind her desk. Grinning ear to ear we shared our excitement and gratitude for this incredible opportunity before we said our goodbyes and made our way back to Avocet. 
After a wonderful evening of reviewing photos and videos, we tucked in for our final night at anchor in Richardson Bay. The coastline sparkled with golden lights as Karl the fog attempted to snuff them out, creeping through the ridgeline and spilling over the houses. It was the first night we actually felt cold since arriving in The bay; our SoCal sunshine we had packed had subsequently vanished and been replaced with a frigid chill.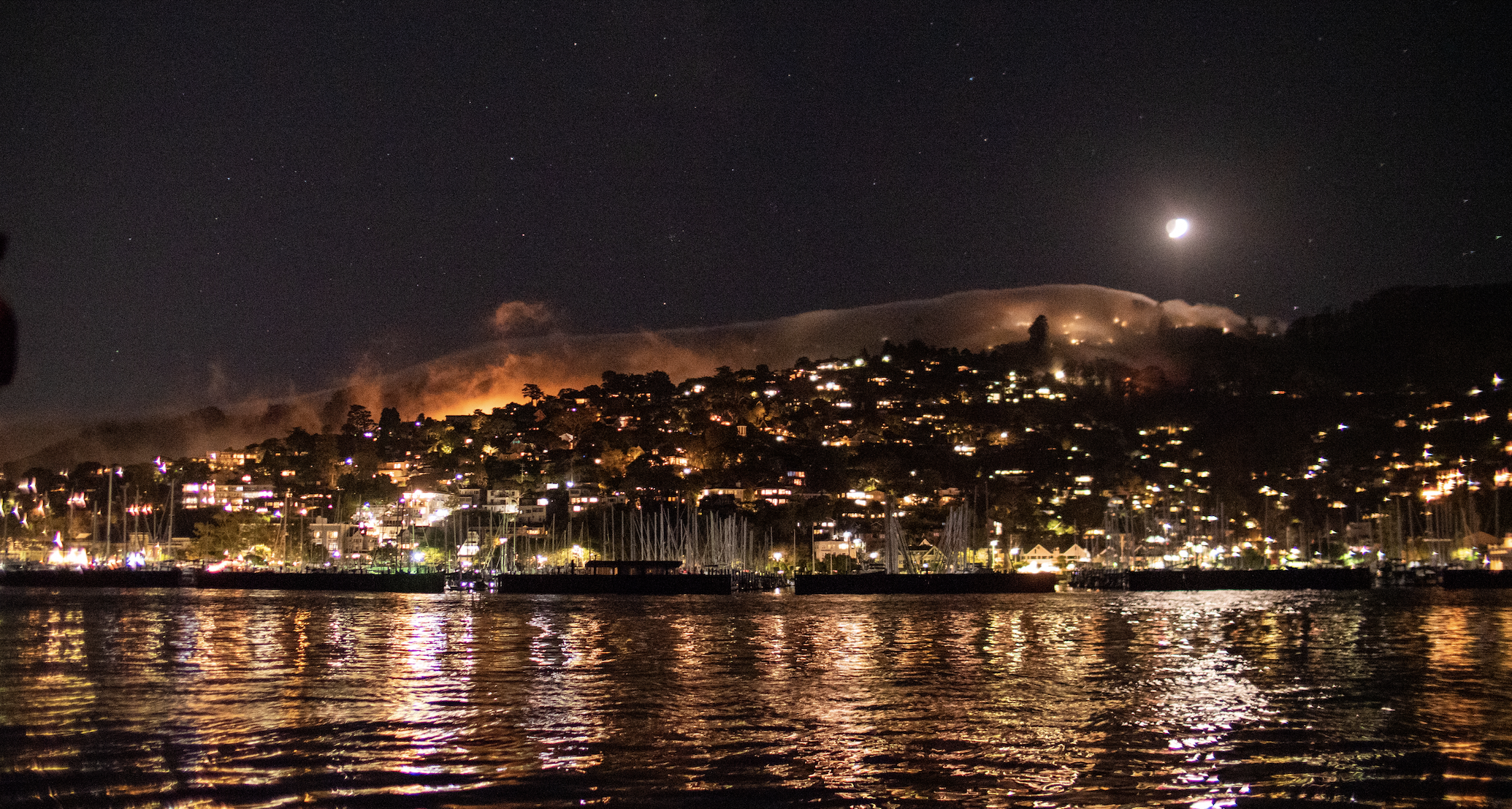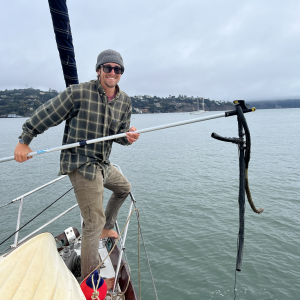 Our diesel heater worked into the early hours of the morning as we went through our departure routine. The warm smell of coffee wafted through the cabin as we braced ourselves to venture outside. "I only want to be this cold if it is dumping snow outside, and as far as I can tell there is no snow" I told Chris, half joking but really not as I pulled my beanie over my head. I took my place at the helm as he positioned himself on deck to pull up the anchor, washing the chain with his scrub brush and bucket. We really should install a washdown hose I thought, mentally adding it to our Christmas List. Chris wrestled with an old bilge hose that had wrapped around our trip line before we were free, raising our sails, and making way to our next destination.
Although we would remain at sea level, the following week would be busy with more aviation activities in addition to yacht club shenanigans… but that's to be continued in the next post.
Fair winds, 
Marissa, Chris and Cleocat