Almost as soon as we stepped foot on California soil we didn't hesitate racing back to the water. However, we did trade in the salty sea for the freshwater lake we call "home". Long before Avocet, there was Geronimo, the Victory 21' that Chris taught me how to sail aboard when we were teenagers (although at the time, the boat's name was Christopher). Every summer since then we have crewed together in the annual High Sierra Regatta, competing alongside our fleet. Having just spent months sailing aboard Avocet, we were feeling ready to compete but, as usual, we would soon learn that Geronimo had different plans. 
"This is the earliest we have ever splashed" I said as we finished rigging our cherry red boat. It was true, we are usually splashing the day before the regatta – two days before if lucky – but this year we felt like we had time on our side. After all, the more tiller time the better. Even though it was late June, the surrounding peaks were still snow capped and the lake temperature reflected that of the winter; I wouldn't have been surprised to see ice cubes floating around us. As we tacked up and down the lake I noticed that my bare thighs were starting to itch with the unmistakable feeling of fiberglass. "Shit" Chris said, as he pressed down on the seats. They have always been a bit squishy, despite our last-minute-fix a few years prior, but after baking in the Fresno heat all year they were very squishy and fiberglassy. It seems like we can't sail Geronimo without some sort of project, but at least this one would be another band-aid fix.
Glutton for Sanding
If you have followed our blog site, you know I will do anything I can to get out of sanding so when Chris told me we only had one orbital at our disposal I did my best to act bummed that I couldn't participate in the activity. With all of our tools on Avocet, 300 miles away in Mexico, we only had the tools in the Neely garage to work with… and let's just say all those years where Chris picked off tools here and there for Avocet had finally caught up with him. With whatever useful tools we could find and some 20 year old baby blue interlux brightside (left over from big-brother-Jon's old Santana) we headed to the lake.
There was Geronimo; a bright ruby amongst the glistening diamonds across the water, waiting for us. Chris was quick to start sanding the seats while I took some photos for my clients nearby then laid on the narrow dock finger beside the boat to catch up on my tan. I had lost a few shades since being back stateside, and wasn't giving up that easily. 
Finally came the time to paint our seats. Goodbye fiberglass rash, and hello smooth baby blue. Although we thought it would look funny to have blue seats in an otherwise all-white cockpit, it sort of worked, and better yet fixed our loose glass problem which meant it was good enough for us. With Avocet we go above and beyond to not cut corners, but with little Geronimo we take the more "relaxed" approach. Eventually we will have an adequate amount of time to pour some love and care into her, but she just needed to be race ready for now.
While we let the paint dry we retreated to the Boat House, the lakeside bar owned by China Peak Mountain Resort, and let the hours pass. A few brews later and we were ready to inspect the paint job. "Good enough for me" Chris said – a phrase I rarely heard him mutter aboard Avocet. This was truly a vacation. After a lovely test-sail we could confirm that the new paint did the trick and walked away that evening without itchy skin. 
Practice Makes… Perfect?
The boat was ready to go, and the boat our friends Mitch and Quincey were borrowing was already splashed as well so it was the least stressful practice day we had ever had. We spent a few hours on the water, sailing alongside our pals and snapping photos before we returned to the dock for some libations at the Boat House.
That evening we had dinner at "Uncle" Scooters campsite where we sat around the fire with new and old friends, sharing stories from the high sierras and high seas. It was good to be home.
HSR – Day 1
On the first day there were three races against our fleet of 9 boats. Chris and I were feeling good, tacking back and forth in the box before our start and when the horn went off we were in the thick of it… but then began to fall behind. For some reason we were not pointing as high up the lake as the other boats, which was unusual, since Geronimo has always been known to outpoint. "We need to tune the rigging" Chris said as he gripped the tiller. I could already feel my outer thighs becoming tender, rail meat as we call it, and would surely have bruises to show for it. We finished our first race in sixth. 
Bzzzzzzzz… a drone chased us through the start line and followed close behind us. "Hi Jeff!" I waved to drone. "Focus" Chris said as I returned my gaze to the task at hand: easing and trimming. Although we were not sailing as well as we would have liked to, it was nice to know we had a shore full of family and friends supporting us, like our pal Jeff from Ventura who had come up to watch the festivities. He is one of Chris's best friends in the film industry, which meant (of course) he brought some serious gear along… like the DJI Inspire 3 drone to capture whatever action there was on the water. Luckily, he is a very skillful pilot and had no issues weaving between boats and other obstacles – even though it stressed me out. 
Once again, despite our valiant efforts to stay with the front of the pack we began to fall behind. In between races we tuned the rig perfectly, which was easy with our dyneema stays, so we began to evaluate the effectiveness of our sails. "They are old…" Chris said in the cockpit. We were going downwind and I assumed my position on the foredeck sitting with my back against the mast, waiting for Chris's call to detach the whisker pole. I looked up at our sails and thought about the first time Chris took me sailing on Geronimo – a some 12 years prior – and explained that he had bought those sails with his dad right before he passed away. It seems like yesterday, but as the chaffing in the leech line began to show on the jib and the main looks a bit pregnant in the center we started to silently weigh the options of getting some new sails for our Geronimo. Who finished in sixth, again. 
"Good job guys!" Mitch and Quincey yelled as they sailed past us. We finished right before them and had the pleasure of watching them cross the finish line. Together, we made our way back up towards the start for our third and final race of the day where we (once again) finished sixth. Our score thus far was a bit intimidating being 666, but at least we were consistent!
With the boats tucked away for the night we returned to the condo where we had dinner and played a few rounds of Farkle – a game that reminded us of our nights aboard Lusty in La Cruz. It was nice to look around the table and see our friends that we had missed so dearly while cruising, all brought together by the annual High Sierra Regatta – a tradition that we look forward to every summer. 
HSR – Day 2
I sincerely wish the race days had opposite schedules so the first day would be two races, where we could warm up and adjust ourselves, and the second day would be three races where we could really make a difference but alas – my wishes would remain just that. It was the second and final day of the High Sierra Regatta, and we would be competing in three races. Chris and I carefully inspected and tuned the rig once more and cast off for the first of two races.
… and then we placed sixth. 
"At this point if we place anything but sixth I'll be disappointed" Chris said as the five minute warning horn echoed across the water. The count down was on, and we were ready to finish this race on a high note, or at least a consistent one. Up the course and down, we carried sixth place through the finish line and all the way to the dock where we tied up Geronimo and made our way to the beach for awards. We cheered on our fleet mates and congratulated everyone on another fun race before taking our yearly "family photo" then loaded up the car and headed to the trailhead – we wanted to share a little Sierra Nevada magic with our friends. 
This slideshow requires JavaScript.
Wildflowers lined the trail as the afternoon sun beat down on us. My bruises were developing and made it look like I was a paintballer rather than sailor but I didn't mind. Our friends Mitch, Quincey, and Jeff trailed behind Chris, Jon and I who had done this hike many times before and always take joy in sharing it with others. Due to the epic winter, the snowmelt had resulted in some pretty incredible waterfalls, which is exactly why we brought them to Rancheria Falls, which is like our own little slice of Yosemite. 
AS we were walking back two familiar faces popped up over the trail. "NO WAY!" I yelled and ran towards them. Olivia caught me in a hug. The Kessel Crew decided to surprise us, fresh out of Puerto Peñasco where both of our boats are summering. It was wild to think our friendship had really begun during the High Sierra Regatta the summer prior, which meant we had been buddies for an entire year… although with everything we had been through it seemed like much – much – longer. 
That evening – after we cleaned up from our hike – we headed to the Lakeshore Saloon for dinner with our fleet where our good friends Kris (Big Sierra) and Turner were playing music. It was nice to see so many familiar faces come up for the show, and to decompress from the races alongside our friends and fleet – it was another regatta for the books.
A Nice Little Break
The High Sierra was done and dusted, but racing was far from over. We had our annual Victory 21 Nationals to compete in, and were grateful to have one day in between the two Regattas to reassess and hang out with our pals. Truth be told, I didn't really take notes to reflect and write about – I was just soaking up the moments with our favorite people and was appreciating us all being in one place together. My parents stopped by on their way home; they had watched our races the day prior and been on the shore cheering us on. My dog, Stormy, smiled as big as ever as she accepted all of the love and attention. It was a slow day, and the last with all of our buds since they would be returning to their own busy lives in Utah, SLO, Santa Barbara and Santa Cruz which Chris and I would return to Huntington Lake for one last round of sailing. 
Victory 21 Nationals, Day 1
Although we had hoped to redeem ourselves from our sixth place showcase in the High Sierra, we finished our first race in sixth – which after losing two competitors meant we were two steps up from dead last. "Something is very wrong," Chris said, moving our tiller aggressively. He had inspected a few other Victory's and noticed that their tillers had little resistance while ours was… well.. a bit "chunky".  
After diving into the aft hatch to inspect the rudder post he identified the problem. We were sinking. Slowly, but still sinking through a crack in the rudder post. Perhaps it wasn't entirely our slow-sailing-problem, but it definitely wasn't helping our case. So we made our way back to the start line and finished up the last two races in not sixth, but seventh place. At least we were shaking things up.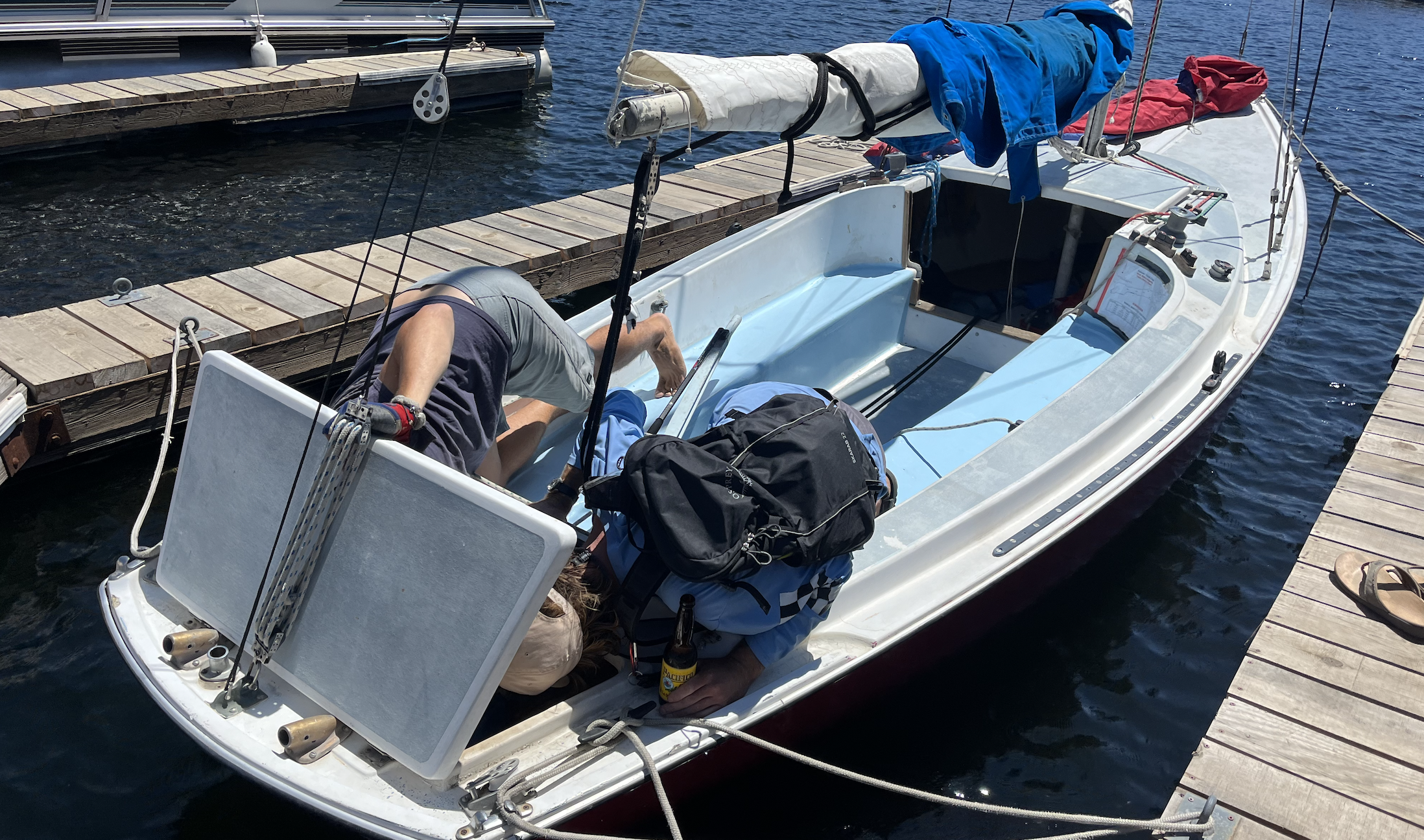 With the first day of races behind us, Chris and I moved into our own little cabin at Lakeshore Resort – freshly renovated under the new ownership. It was lovely to retire to our own, cozy and quiet space after such a busy weekend and even more lovely to be just steps away from the lake. Once we settled, we drove up the lake to dinner with the rest of our fleet where we thoroughly enjoyed sharing stories about boat life and beyond. As the sun set and the evening got chillier, we made our way back to Lakeshore where our cozy little cabin in the woods was waiting for us. 
Victory 21 Nationals, Day 2
The sound of chainsaws and blue jays filled the air as we awoke to face the second and last day of the Regatta. After a delicious breakfast at the Lakeshore Saloon, we made our way over to Geronimo at China Peak Landing where we raised her sails and headed out towards the startline. Chris's brother, Jon, subbed in as crew aboard Wind Wolf, owned by our dear friends Conrad and Kristine. 
With big brother on the race course we were definitely a little nervous… but then he finished behind us both times just like the year 2018 when he and Shannon raced alongside us. But hey, who's keeping track? Despite finishing ahead of Jon, we still secured seventh place both races, keeping within our theme of consistency. After the final race we made our way back to the dock where we tied off Geronimo and headed up to the Boat House for awards. HUGE congrats to our friends Matt and Laura aboard No Name… I think it's time to name the boat "Bullets" since they got FIVE of them taking home the Victory 21 Perpetual Trophy, accepting the honor alongside their twin toddlers. 
Now What?
Fresh mountain air, a fleet full of friends and the simplicity of sailing a small boat – it was another fun summer! With the High Sierra Regatta and Victory 21 Nationals behind us, we were looking forward to more Lake days on Huntington… but some life stuff got in the way that sort of squashed our summer plans. More on that later. 
Sending fair winds,
Marissa (and Chris)