If there's one thing that sailing adventures thus far have taught us, it's that some places are simply destined to leave a mark on your heart. Isla Coronado, a hidden gem in the vast expanse of Mexico's coastal beauty, is one such place that made not only our fifth wedding anniversary but also our 2023 cruising season incredibly memorable. And to think, it all started with a terrible night of sleep.
5 Years of Marriage, 5 Years of Avocet
After being evicted by Mother Nature from V-Cove in the form of washing-machine-esque swell bouncing off the cove walls, we set our course for Isla Coronado, chasing after Kessel that had left at first light. I'Mua was close behind us as we let the warm morning sun melt onto our skin, and salt spray from the sea kissed our cheeks. "Happy anniversary" Chris said, sipping his coffee behind the helm. From behind his back he pulled our a bouquet of desert flowers, tied together with twine. He had gone to shore the day prior to collect them and surprise me. I felt my face flush red with an overwhelming feeling of love and gratitude to be sailing in such a gorgeous place with my partner on our special day.
When we arrived at the island and laid our hook in the sandy seabed Chris and I decided to spend the evening "shut in" together, dismissing our friends' invitations to get together. Chris popped open a bottle of our "wedding wine" and we sipped as we made homemade ravioli, talking about our first 5 years of marriage (and boat ownership), dreaming about the next 5, watching movies and going to bed at the ripe hour of 9:00 to make up for our sleep loss the night prior. Perhaps a boring night to mark such a milestone, but to us it was perfect and that's all that mattered. 
Up We Go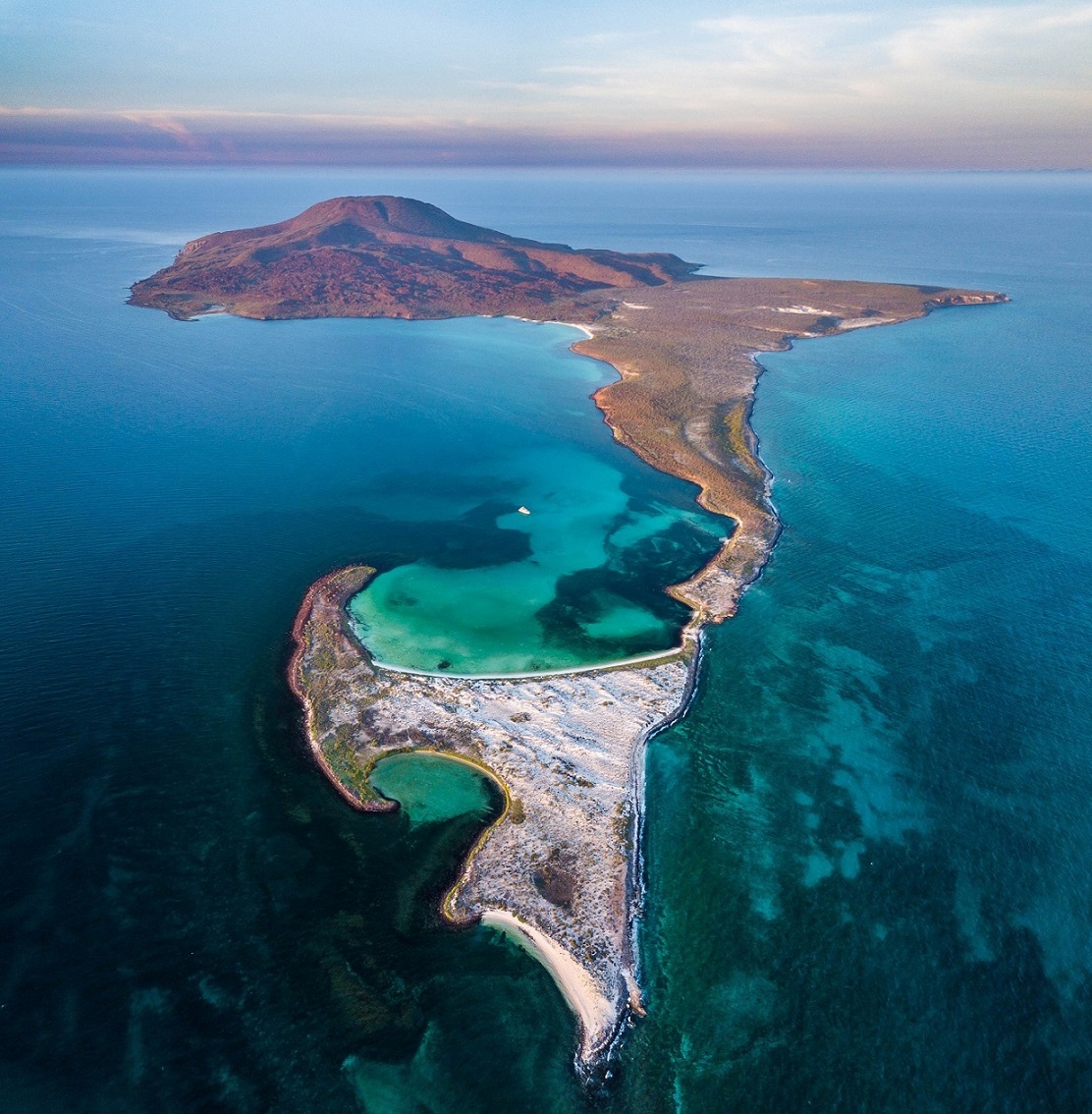 With the dawn of a new day, our adventurous souls stirred once again. The looming silhouette of the majestic volcano that makes up Coronado Island beckoned to us, and with Olivia in tow we embarked on a hike that left us breathless in more ways than one. 
It was only 7:00 in the morning, but the sand was already absorbing the heat from the sun, warming the underside of my feet and between my toes. We made our way to the boardwalk that was built above the sage brush, island barrel cactus, and other vegetation. A while later he wooden path turned into sand, and then into lava rock and boulders. It was relatively flat until we reached the last two miles which were the most difficult, with very sandy and loose stones. 
"This is ridiculous!" I laughed as I slid back. It truly was a one step forward, two steps back type situation on a pretty steep pitch of a mountain. The sun was starting to heat up and the island's lack of trees became apparent as we huddled behind a cactus for shade while catching our breath. Eventually we reached the top where we were delighted with the panoramic view of the Sea and the rolling desert hills of Baja California Sur. But Isla Coronado had more to offer than terrestrial wonders. The aquamarine waters called us, and we answered – but first we had to *carefully* hike back down to shore. 
This slideshow requires JavaScript.
The Coolest Thing I've Ever Done
Our legs were jello by the time we hit the sandy shoreline. "Well that was fun, but I don't need to do it again" Chris said as he tossed his shoes inside the dinghy. We dropped Olivia off aboard Kessel where Peter was just enjoying his morning coffee in the cockpit, then we made our way back to Avocet to slip into our bathing suits and practice our freediving. News flash: I'm bad at it. After a few hours of diving under and around Avocet's keel, we hailed the group and all met up on shore for one of the funnest evenings I have ever had.
Just a few hours before sunset, the neighborhood welcomed the gorgeous Rediviva, built and sailed by Reid's brother Garrett and his wife Ruth, to the party. The crew was tired from their sail so respectfully declined our invitation for water sports but the rest of us took turns wakeboarding through the anchorage; Reid looked like an absolute pro on the foil board as he weaved through I'Mua and Rediviva – oh what fun it must be to buddy boat with your brother!
When it was my turn, the sun had painted our surroundings with warm honey. Olivia was on camera duty while Chris was driving the dinghy, Jaba, as I was towed around the anchorage. As we neared Avocet, I swung wide and stuck my arm out to drag my hand against her hull with the biggest sh!t eating grin on my face. Olivia "woo'd" from the dinghy with her hands up as Chris shot me a thumbs up. It was easily one of the coolest things I had ever done, and would have never guessed after all my years wakeboarding on Shaver Lake that I would be wakeboarding in the Sea of Cortez with mi amore, friends and floating home. Life is wild. 
After we all got a turn ripping around we retreated back to our respective vessels to clean up, eat, grab instruments and make our way over to I'Mua for a jam sesh. That's where we all learned that Reid and his brother are incredibly talented musicians, and were brutally reminded that we need to spend more time playing guitar and ukulele! It was an incredible way to end another epic day in paradise. 
Hey Swab, Grab Me Another Beer
Sometimes paradise comes with its own set of challenges, one of them being the persistent presence of insects. Although we had been lucky so far with a relatively pest-free cruising season, we had been warned that the bees of the Sea were no joke and decided to take the day to get some bug screens made – and thank god because they came in handy shortly thereafter.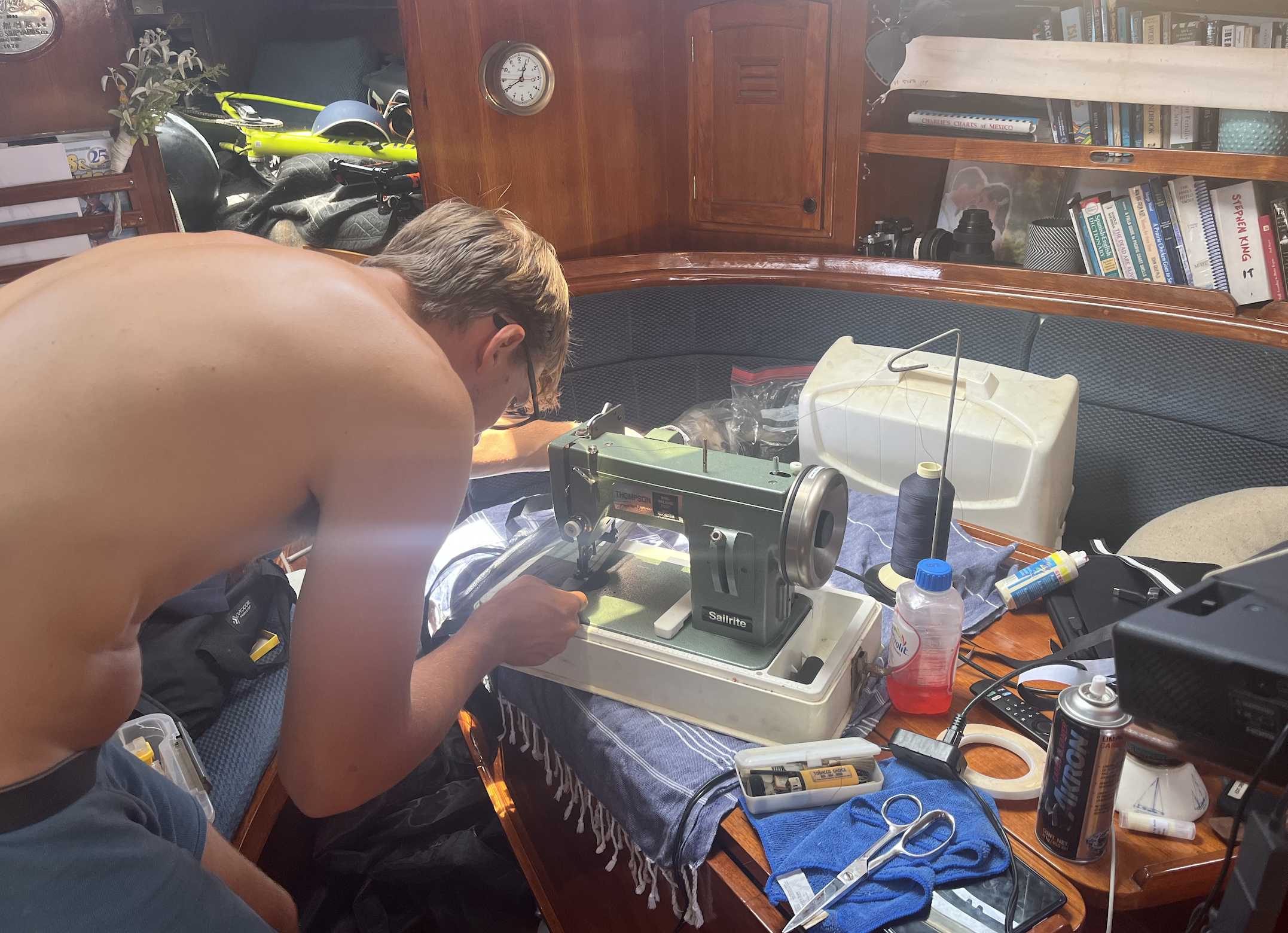 "Come plaaaaay" Peter begged. He had dinghied over, hoping Chris would break his focus and give into the temptation of tomfoolery. He and Olivia had just returned from a quick trip to Escondido where they picked up Olivia's dad who was visiting for a few days. To Peter's dismay, Chris remained focused on the task at hand and busted out screens for all 3 hatches, a big check off of our pre-haul-out to-do list, but we promised we would come over for dinner and games later.
After a lovely dinner and round of Oh Hell (a game brought to us by Olivia) we packed up the dinghies and made our way to shore where we set up our projector, Reid's movie screen, and speakers to watch Captain Ron. The beachside theater felt like a scene from a dream, a perfect fusion of serenity and camaraderie making all the drama, sweat and tears to get there worth it. Towards the end of the movie we spotted lights coming down the volcano – a family had decided to hike up for the sunset, not realizing how death defying the trek down would be. Luckily they made it down safe and sound, waving to us as they jetted off back to their boat.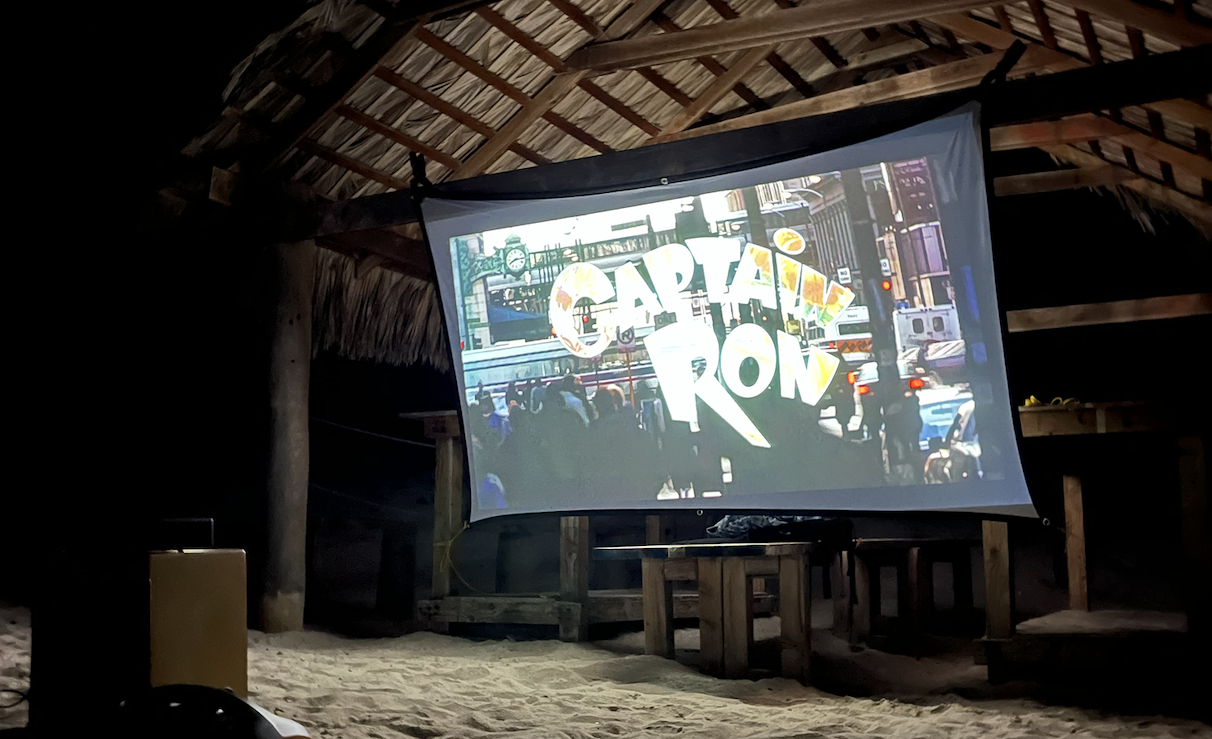 Adios, Coronado!
As our time on Isla Coronado neared its end, the wind whispered promises of new adventures and where there is wind, there is sailing! We sailed off the hook using our spinnaker, pointing our bow north and slowly making our way – but we were in no rush. The decision to move on was bittersweet, yet necessary. "Avocet, Avocet, Avocet, Rediviva" Garretts voice came through the VHF. "you guys looked so cool sailing off the hook we decided to follow you. Where are we going?"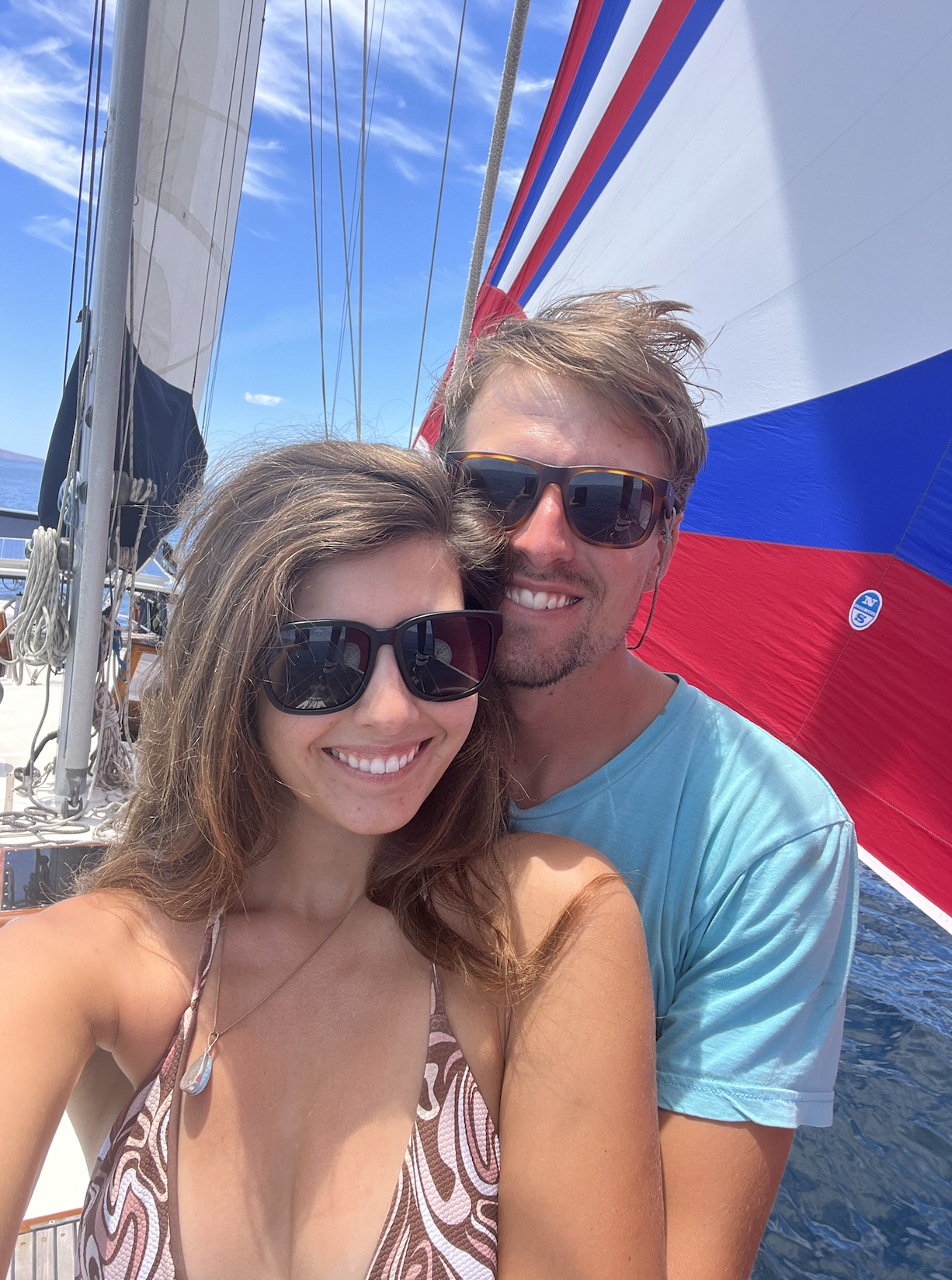 "San Juanico" Chris said as we both watched Rediviva grace the horizon behind us. "Cool, see you there!" Reid said, intercepting our conversation with his little brother. Now it was a party! 
Dolphins hunted in the distance in an incredible stampede when we crossed paths with our digital friends from SV Alegria. "I thought I recognized that spinnaker" they said from across the way. They were sailing back south, but I had hoped we would share an anchorage sooner than later. Soon San Juanico was in our sight; a mellow spot with a small beach full of shells, obsidian and fossils that Reid and I would have a blast nerding out over in the coming days. There was even a cruisers shrine but I'll give you all the details you are dying to know about in the next post. Stay tuned 😉
Fair winds,
Marissa, Chris and Cleo
P.S. Thank you for reading! If you would like to show a little extra support for my writing, our videos, or other digital creations consider becoming a member!