The brisk morning air kissed my exposed cheeks as I sat behind the helm, taking in all the goodness associated with sailing. Frigates rode the thermals overhead while dolphins played in our wake, scratching their backs against our hull that was making a steady 6 knots. Our Precision Sails were full of wind and if our hull speed remained true we would arrive at our next destination, Agua Verde, by 6:00 pm that evening.  
Nestled along the shores of the enchanting Sea of Cortez in Baja California Sur, Mexico, lies Agua Verde. Far away from the bustling tourist hotspots, this charming coastal village welcomes intrepid travelers seeking an authentic Mexican experience in a serene and unspoiled setting. It's a place where time seems to slow down, and worries dissipate with every gentle sea breeze… at least that's what the guidebook said. 
It's a Bird… It's a Plane…
Nope, it's Peter! After a wonderful day of sailing we were about two miles out from the anchorage when we saw a glimmer on the horizon. With binoculars, we could see Peter aboard Jaba, the same 6' Oceancraft dinghy that nearly killed him months prior in Bahia Santa Maria. He was much tanner, wearing a big smile and showed no signs of slowing down as his dinghy got closer. Soon, we were boarded, and reunited with our good friend.
With Jaba trailing behind us, Kessel came into view but Olivia was not aboard. Instead, she was waving to us from Remedy – the Hans Christian 43′ that Chris built a bowsprit for back in 2021. It was a reunion of a lifetime and we were excited to crash the Hans Christian party… all we were missing was Chris's brother aboard their HC 33, Prism. After taking a loop around "the neighborhood" we dropped our hook in 15 feet with 4:1 scope (coordinates:25°31.035'N • 111°4.237'W), then launched the dinghy and made our way over to Remedy.
Reunited, at Last
We had lived so much life since we last saw our friends aboard Kessel, and even more since we had seen the crew of Remedy. As we sat in the cockpit and shared tales of our mainland adventures, it felt almost surreal that we were finally together again. Somewhere between stories, the sun began to dip lower into the horizon, which was our cue to head to shore for dinner. 
On the shore of you will find a little beachside shack that is ran by a collection of Agua Verde women. The tacos there are highly regarded as a Baja Classic, and despite my adversion to sea food (yes, I have tried it all and still have no taste for it) I was so hungry and willing to give them a shot; especially since we like to stoke the economies we visit and support the communities that allow us to visit them. Truth be told, I scarfed down one taco without hesitation, the crispy battered fish crunching as I quickly chewed,  but as I started the second I got the fishy-taste that I couldn't shake. Chris noticed what was happening, and quietly slid the remainder of my taco onto his plate so I could refocus my appetite on the delicious guacamole and chips in front of me. I looked at our table of friends that we had met in Ventura, and felt incredibly grateful to be in that moment, together again, in the magical Sea of Cortez… even if the prices were shockingly higher than mainland. 
After dinner we retreated to Kessel for some snuggles with Ginger dog, and to play Catan – at LAST!
That's Why it's Agua Verde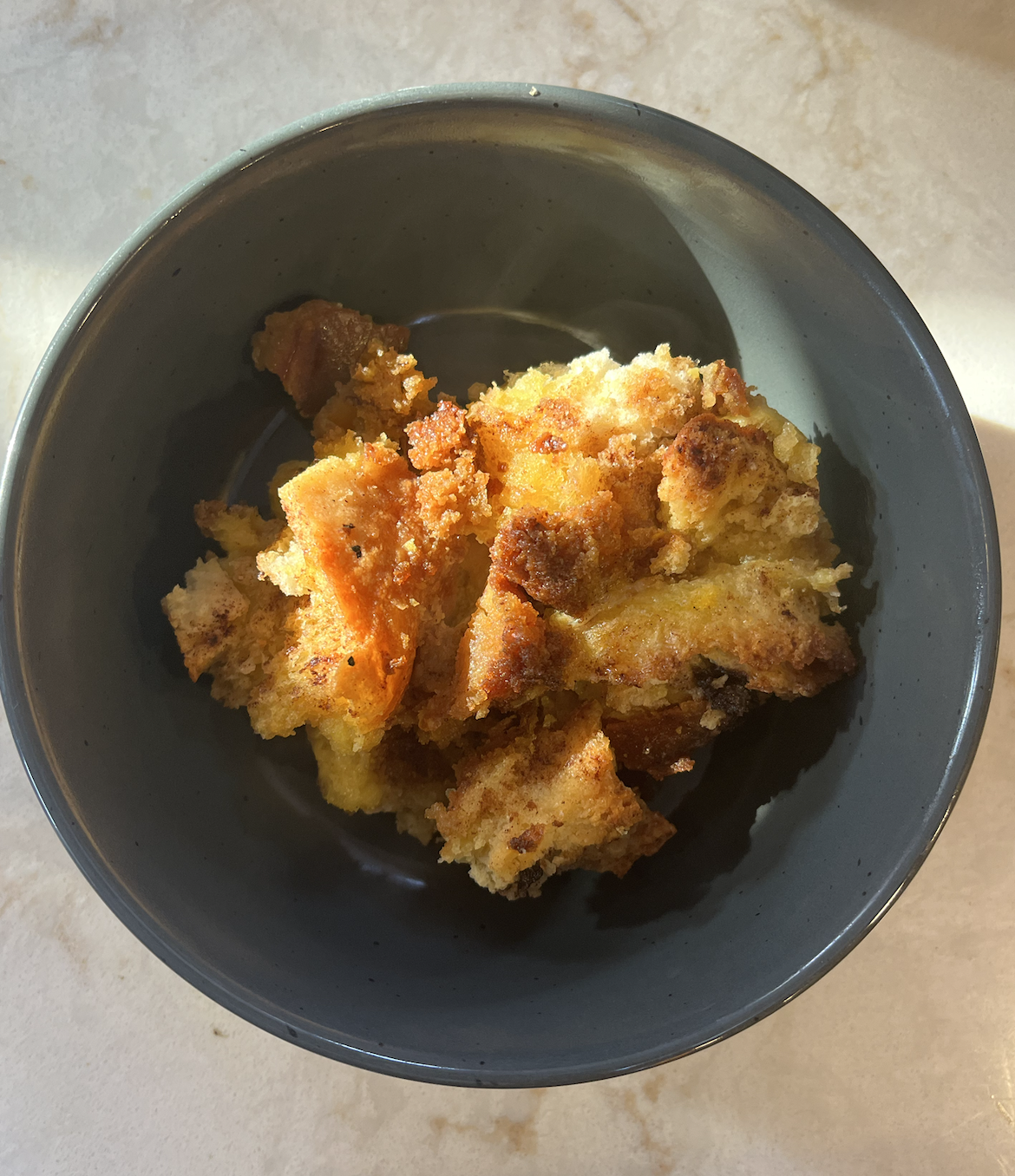 After months of an unusual sleep schedule, I was pleased to wake up with the sun so we could squeeze the most out of our day. Peter came over the minute he saw signs of life and joined us for coffee in the cockpit, and for some French toast casserole; a recipe perfect for when you have a lot of stale bread. (thanks for the tip, mom!)
"You have to try it man" Peter said in between sips. Peter is an impressive diver, spearfisherman, and all around waterman that would probably grow gills if he could. When we left La Cruz de Huanacaxtle, our friend Max gifted Chris his speargun – as a loan – to hopefully hunt some tasty fish in the Sea, a place where he and his beautiful wife Karen had made so many memories aboard SV Lusty. After a little convincing, Chris decided to join Peter for his first attempted hunt, but unfortunately it was a quick trip due to murky water.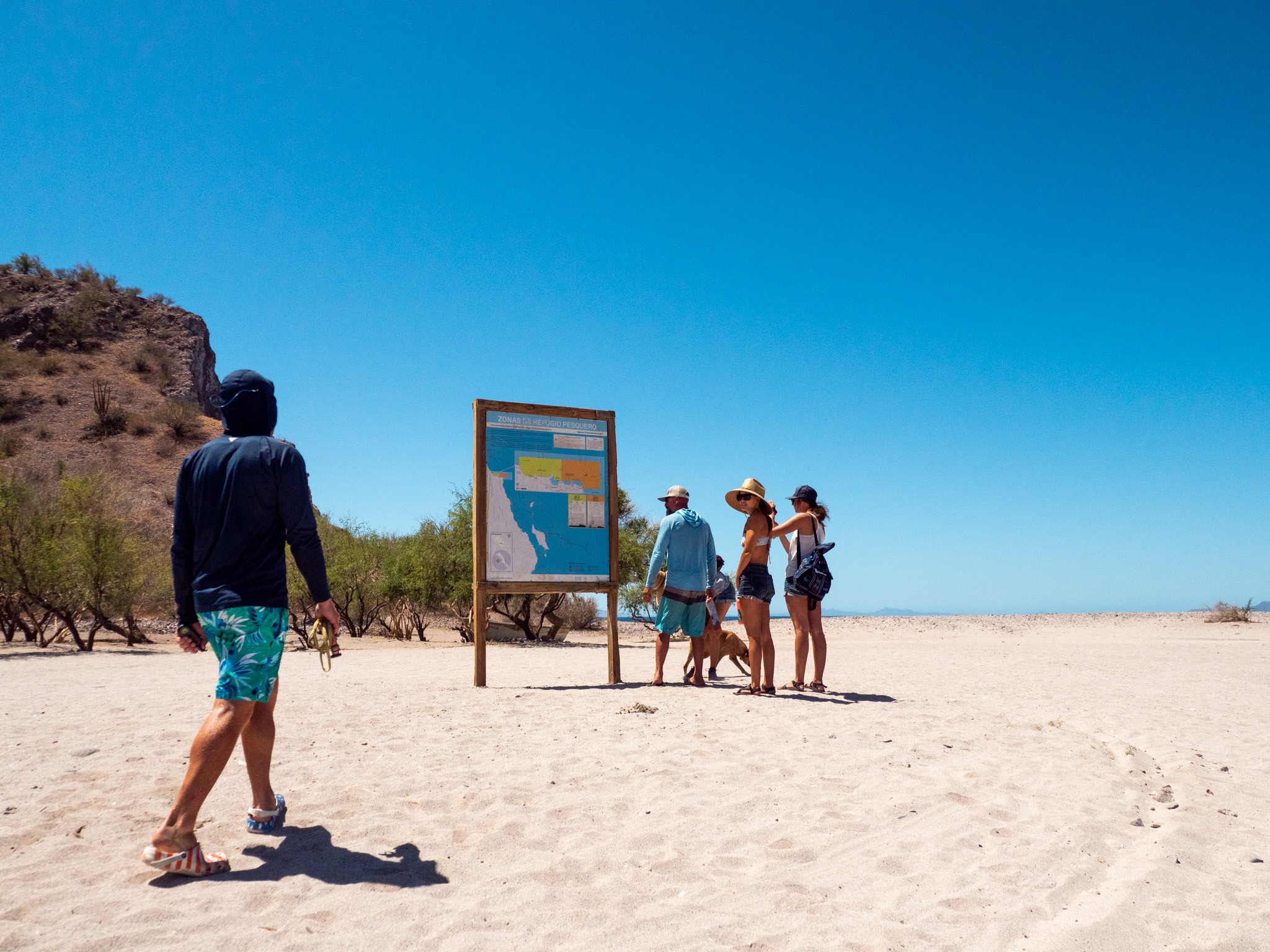 After rinsing off, we made our way to shore where we rendezvoused with Olivia, Ginger, Heather and Baron (Remedy) to make our way to a geocache. I may have mentioned it in the past, but geocaching has become one of my favorite silly hobbies since it is essentially treasure hunting. I find that it adds a little extra magic to the adventure, especially when you can connect with the geocaching community. This particular cache was hidden within the Agua Verde cemetery, a location that already had my attention as an avid graveyard enthusiast (the older the better!)
The hike to the cemetery was very quintessential Baja with dramatic vistas, a trail lined with orange earth and cacti, and of course lizards darting every direction when we stepped too close. Our boats were dwarfed by the rocky mountains rising behind them; Avocet catching the sun on her solar array every once in a while, making her sparkle like the diamond she is. "I hate hiking" Baron said behind us. "You kids and your daily walks, I would rather stay on the boat and fish" he said through a half smile. 
Baron is as salty as they come; full of life wisdoms and seafaring tales that will have you sitting on the edge of your seat. We had met he and his wife Heather in Ventura three years prior when they purchased our friend John DeLancie's boat (yes, THAT John DeLancie). Chris was hired to build their bowsprit while simultaneously juggling Avocet's projects, work, and his darling wife (yes, me) and managed to pull it off. Shortly after, we waved the pair off as they turned left and have been living their best lives in Mexico ever since… and harassing us on social media to hurry the heck up and get into the Sea! There really was a sense of pride seeing Chris's work again, south of the border. 
A short (but steep) hike later and we had reached the apex of the mountain. The trail was lost likely due to torrential rains but we decided to carry on anyways. Afterall, I was promised a cemetery. We decended into a valley where we could pick out the likes of the Agua Verde community, surrounded by some greenery that signified life within the harsh landscape. And then, at the bottom of the trail, we found the headstones.
Agua Verde Cemetery, shrouded in a veil of mystery, is a tranquil resting place. Its roots can be traced back to the ancient Pericú people, who revered this land as a sacred burial ground, leaving traces of their presence etched into the landscape. The cemetery itself was not as old as it seemed – the oldest headstones dating back to the early 1900's… from what we could read, anyways. Many of the headstones and grave markers had been weathered by the environment yet fresh, fake and very dried flowers could be found amongst the earth-toned rubble. To my dismay, we were unable to locate the geocache so I sadly had to report it as "DNF" (Did Not Find). I hope next season we can change that to a solid FOUND! 
This slideshow requires JavaScript.
Desert Oasis
"We should have brought our machete" Chris said as he stepped over fallen palm branches. Somehow, we had been transported back into the lush tropics of mainland without ever having to leave the Sea. The oasis in Aqua Verde is a small lush area with a natural spring, surrounded by thick green vegetation, palm trees, and other plant life. The contrast between the arid desert and the vibrant oasis creates a striking visual and sensory experience for those who venture into this remote region. It offers a unique opportunity to witness nature's resilience and adaptability, as well as a chance to take a refreshing break from the harsh desert conditions.
The pool of water at the center of the palms was neon green, full of algea and small fish that jumped to eat the swarming bugs. To avoid becoming a standing bug buffet, we continued on our walk, following the water out towards the sea, through the thickest grouping of palms. Soon we came out of the greenery as if the leaves were curtains, parting ways as we gently pushed them to the side, revealing the desert landscape once more. After a little seaside buffoonery, we decided to walk back to the boats. But, had we continued on, we would have been able to see the cave paintings left behind by the Pericú people. Next time.
This slideshow requires JavaScript.
As we walked along the rocky shoreline we admired various rock formations, sea life, and remains including the skeleton of either a seal or goat… it was very hard to tell. Heather, Olivia and I had fun walking together and catching up while the boys charged ahead talking about lord knows what. Eventually, we made it back to the isthmus and jumped in the Sea to cool off. Ginger followed in after us, splashing up a storm while Peter's iconic red, white and blue patriotic Crocs floated away.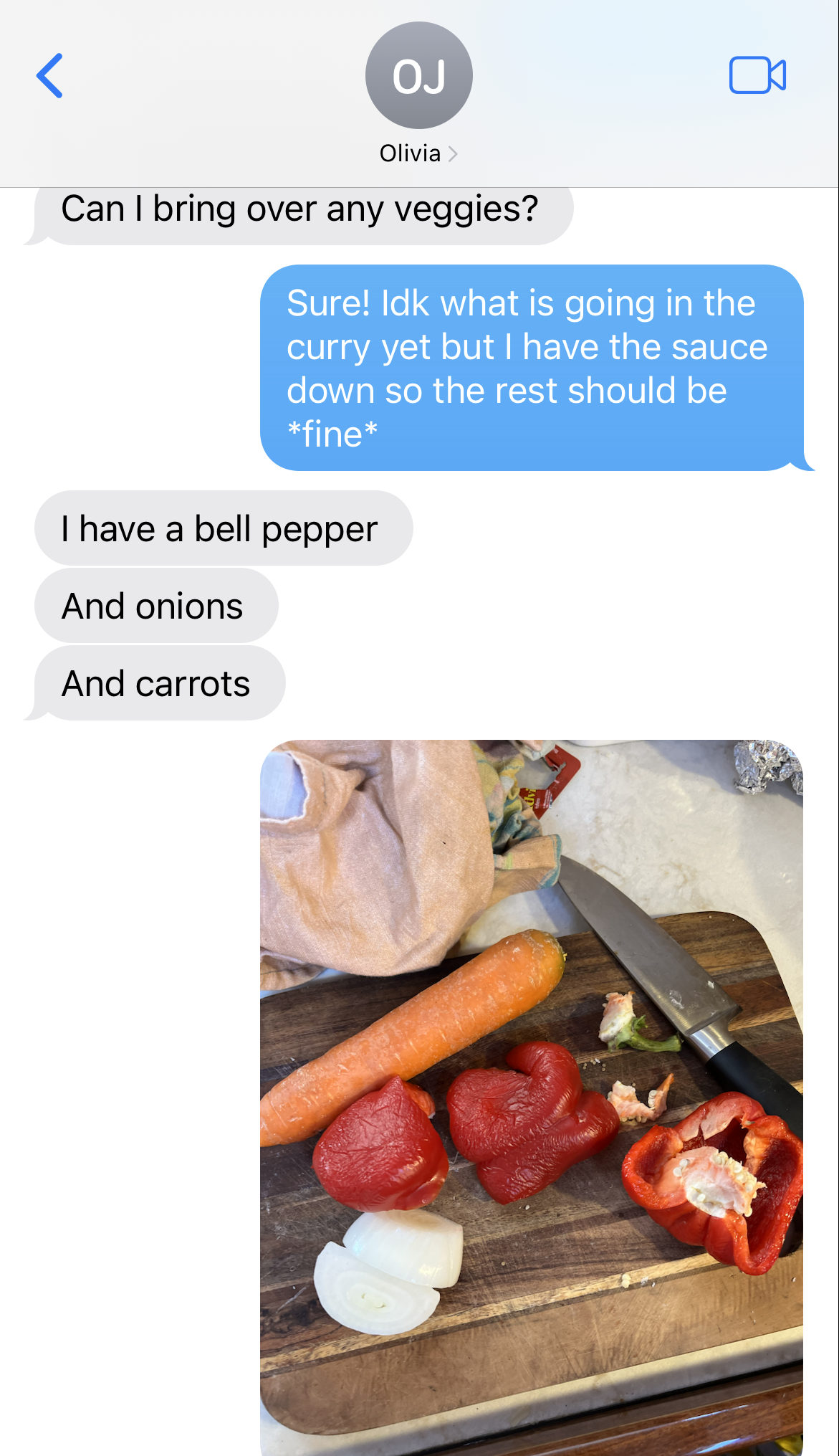 We all had a good laugh, then hiked across the beach to the dinghies and made our way home where we hosted dinner; veggie curry, rice and naan – always a crowd pleaser! I just had to include this photo to the right, which is a screenshot of the text thread between Olivia and I. Veggies are a bit hard to come by in the Sea, so when I mentioned I was making veggie curry she offered up what she had… which was exactly what I had.   Definitely a funny memory, that many sailors in the Sea can commiserate with.
She's OUR Olivia Now!
It was another glorious morning in the Sea of Cortez. Out the portlight I could see our friends boats floating nearby, with subtle movements on deck. "They're awake" I said as I shook Chris's foot. He and Cleo were still curled up in bed while I was getting Avocet ready to move again.
Avocet, Avocet, Avocet, Kessel our VHF echoed through our otherwise-quiet-cabin with the sound of Olivia's voice. We switched the channel and began chatting about our mornings and everything in between. I had missed our chats over the radio, and was sincerely glad to be back together again. "So… can I come with you guys?" She asked. Before Peter had a chance to realize he would be single handing for the next 4 hours to Honeymoon Cove on Isla Danzante.
With Olivia aboard it was the ladies time to shine. I was at the helm and she was my deck crew, helping raise the sails and get us on our way in the 3 knots of wind that blew through the anchorage. "How are you DOING THAT?!" Baron called from across the water. Peter was equally as frustrated, trying to catch whatever wind blew his way. As we made our way out into the Sea, we had a marvelous view of the two Hans Christians fighting to catch up. At least their tanbark sails looked gorgeous against the desert backdrop!
Avocet, Avocet, Avocet, Kessel a few hours in and Kessel had caught up with the help of the ol' engine. We could hear Peter's playlist from the cockpit where we had been blasting my new favorite song Volare, by Gipsy Kings. Everytime I hear it, I think of Max, Karen, Jay, Kenna and the Green Tomato where we danced the nights away. "Can I have my wife back please?" Peter yelled from across the water. Ginger was wearing her doggy life vest, and wagging her tail when she saw Olivia. "She's not your wife yet!" Chris called back. Besides, we were almost to our destination and with extra hands felt even more confident flying the drone to capture our gorgeous spinnaker sails propelling us along.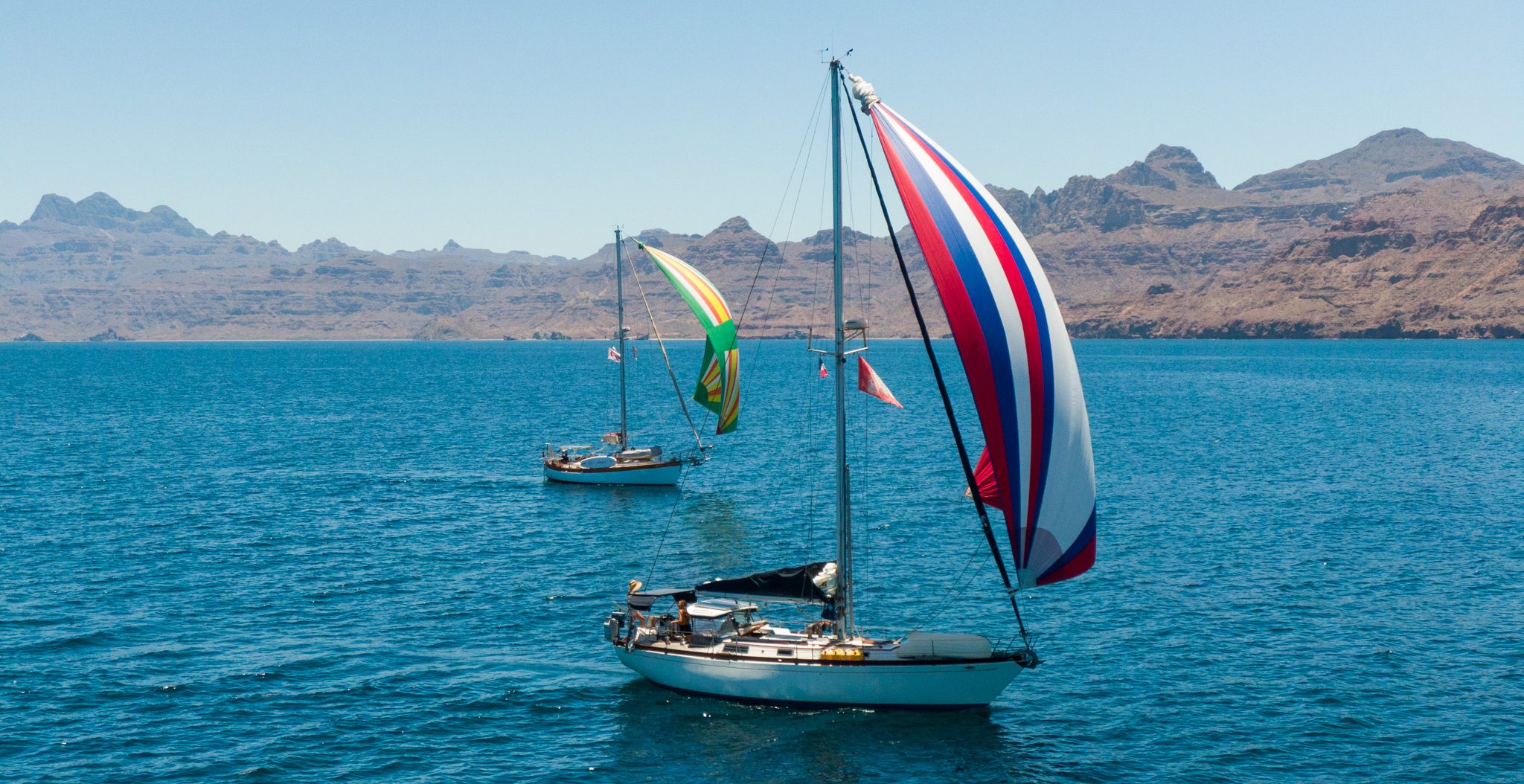 We arrived at Honeymoon Cove around 3:00, and the crystal clear water called to us… just as we apparently called to the bees. While in the water watching the fish and crustations, I got my first jellyfish stings that wrapped inside my thigh and over my butt. "Chris what's ON ME?" I yelled with my snorkel hanging out of my mouth. Peter and Olivia were aboard Kessel, and started laughing. I was baptized by jellyfish sting, my first of many in the Sea. 
Out of the water, the bees swarmed us, inspiring our quick decision to pull anchor and punt to Puerto Escondido for a little luxury in our otherwise salty lives. Despite the stings (above and below the water) Chris and I couldn't be happier sailing alongside our Ventura pals. Olivia and I both sat on the bow (she gave me serious bowsprit envy) as the boys chirped at eachother across the water. Our sails were full of wind and we arrived at our destination just as the sun was setting. We grabbed a mooring ball next to SV I Mua, owned by our friend Reid who you may remember from our time in Morro Bay. He had made the great escape and we would be reunited with him soon as well, but all of that comes up in the next post. Stay tuned! 
Fair winds,
Marissa (and Chris and Cleo)