I have never been more excited to see a rock in my entire life. It had been a hellacious night passage and tensions were high as the uncertain state of our engine loomed over us. As we approached the Morro Bay Harbor entrance Chris hesitantly turned the ignition key and let our Perkins purr, anxiously listening for a change in her low rumble. Fortunately, the engine got us safely through the breakwater. A familiar family played on shore, the sunset painting them golden. "AVOCET!" Rebecca yelled. Her three kids playing nearby in the water – I still don't think I've ever seen them dry. A twinge of comfort infiltrated the heavy blanket of stress that had been wrapped around me. Friends I thought. Friends always make things better. 
Morro Bay Anchorage
The Morro Bay anchorage is very narrow, sandwiched between the Sandspit Beach shoal and 3 mooring balls with the approximate depth of 15 feet. As we would soon learn, the tides here are extremely strong, and the wind does not often agree with the tide, so it's a pretty easy spot to drag if you do not have sufficient ground tackle or a good anchor set technique. Since it is such a small anchorage, there is only room for maybe up to five boats, depending on their size of course. You can anchor for free for 5 nights, but every night after that there is a charge depending on your vessel length. The harbor patrol is on it here, so they will come by and get you in the system. 
We set our hook at a depth of 20', with 4:1 scope beside Watercolors, a Kelly Peterson 46 owned by Rebecca and her husband Cole that also shares the Ventura hailing port. They had recently finished a cruising stint south of the border with their kids and decided that the boat would call Morro Bay "home" for a bit. Our anchor drop coordinates: 35°22.179'N  120°51.521'W
Although the sunset was putting on a grand show, its beauty was no match for our exhaustion and we were quick to catch up on some sleep. *knock knock* on the hull moments before reuniting with our bed. It was the Watercolors crew welcoming us. We chatted for a few moments then apologized for needing to go, tabling our conversations for later. Right as we were about to feel the sweet warmth of our blankets another knock on the hull, this time it was our buddy Reid – a local liveaboard who had been a longtime Neely family friend. Knowing he would understand, we promised to reconnect the following day, then closed up the boat and slept off the trauma from the engine fiasco for the next 12 hours. I have never slept more soundly in my life. 
Thanksgiving Afloat
Thanksgiving is one of my favorite holidays, not because of its origin (because let's be real, ew) but because it's a time where my extended family gets together and has a massive, delicious feast at my great aunt and uncle's house. This has been a Hushaw family tradition for as far back as I can remember, which is why I was so sad to be missing out due to our cruising plans. However, I was equally excited for something new as well as the challenge of cooking Thanksgiving dinner in our galley. 
I had it all planned out: homemade mashed potatoes, roasted veggies, veggie gravy, stuffed cauliflower (neither of us like Turkey), deviled eggs, stuffed mushrooms, Aunt Jill's Stuffing, Brussel Sprouts, and croissant rolls – all I had to do was master my timing given the fact my oven is essentially a 12×12' box. Cooking aboard is an art, not only because of the limited space but also because our resources are not infinite. I had to take the propane use, electricity, and water all into account as I crafted the meal of a lifetime. It was an all day affair; while Chris began researching our engine troubles I was laser focused on the food I was creating. From 8:30 to 4:00 I was in the galley slaving over our meal and by 4:30 I had the table set and ready for us to indulge. Although we were missing our beloved friends and family around the table, it felt nice to be together and reflect on everything we had to be thankful for – which was a lot. We took a few photos to commemorate the celebration then watched a movie and let the food coma settle in.
This slideshow requires JavaScript.
Nature Walks With Reid
It was nice to have friendly faces around Morro Bay, especially Reid and his pup Ellie who we would come to know quite well. Still hurting from our massive dinner the night prior, we gladly accepted Reids invitation for a morning coffee and a beach walk. We rendezvoused on the sand spit and walked through the dunes where Reid bestowed his local knowledge upon us, starting with why The Rock is such a big deal. 
Morro Rock (Salinan: Le'samo; Chumash: Lisamu'; Spanish: El Morro) is a volcanic plug at the entrance to Morro Bay harbor. A causeway connects it with the shore, making it a tied island. Not only is the rock protected as the Morro Rock State Preserve, but it holds sacred significance to the Salinan and Chumash tribes.The right of the Salinan people to climb Morro Rock for their biannual solstice ceremonies has been established, in which they celebrate the time in legend when a hawk and a raven destroyed a two-headed serpent-monster Taliyekatapelta as he wrapped his body around the base of the rock. Because of its fragility, it is illegal for the general public to climb it – even though it would be a rock climbers dream. 
The beach was long, full of Otter bones, sand dollars and other treasures. The three of us collected whatever plastics we found, stuffing our pockets to the brim with trash to dispose of on shore. It felt good to have the sand between my toes as the sun shined down on us. "Don't get used to this" Reid said, "the past few days have been unusually warm." With his warning I held onto the warmth a little tighter, in anticipation of the cold days to come. If only I knew what was actually coming. 
From Sea Level to Altitude Sickness
I truly didn't think I would ever be a candidate for altitude sickness considering the amount of time I spent living in the mountains, but after dwelling at sea level for so long I had a very rude awakening. Down in Ventura we were introduced to Peter and Olivia, a young couple (our age, for once) that were preparing to live aboard a Hans Christian 38 with their two dogs Harlow and Ginger. We became fast friends, and were stoked to be within close proximity to their land base in San Luis Obispo (SLO), opening the doors to adventure opportunities, such as hiking up to Bishop Peak, which is a 1,546-foot volcanic plug. It is the tallest of the Morros or "Nine Sisters", a chain of similar peaks stretching to Morro Bay. Often said to take its name from its resemblance to a bishop's miter, it is named in homage to the town's name.
This hike was relatively casual, nothing that we haven't experienced before during our summers in Shaver or whilst living in North Lake Tahoe, but somewhere around an hour into our accent I simply couldn't catch my breath. My body felt fine after the weeks of sailing and biking, strong even in the beating sun, but my lungs were on a different page entirely. I would inhale and only half the air would fill my chest. I urged the group to carry on and I would catch up, I just needed to stop a little more often but Olivia and Chris refused to leave me while hoards of college kids, families and single hikers walked up and down the trail. Peter did continue on with Harlow who, as a malinois, was not so easy to stop and needed to run off energy. Eventually we made it to the top with a full 360 view of the valley below. A note for next time: don't go from sea level to 4000 feet and expect to be A-okay. Take it slow or take an inhaler!
After our descent we had worked up quite the appetite but our friends knew exactly where to go. High Street Deli had one of the best sandwiches I have ever had, competing closely with Davy Jones in the Bay. Tired, full, but with plenty of daylight left to burn Peter took Chris and I to Port SLO to show off where he had completed his first refit on his first boat, Achilles. There we got to see our soon-to-be-friends boat, SV Mundial, just days before she was reunited with the water. After our walkabout we headed back to the Metcalfe compound for a game of Catan, which (as always) Olivia beat us at. 
Engine Work Continues 
With so many friends nearby we were able to order various parts to begin fixing our engine. From beneath the floorboards Chris detached and retrieved the heat exchanger, raw water pump, mixing elbow, all four injectors, fuel lines, high pressure fuel pump, oil sender and starter motor – hoping the high pressure fuel pump was the true cause of all our issues, including the runaway. If the rebuild and replacements didn't work, we would be faced with a repower, and began to crunch numbers and figure out how we would get the Perkins out and new engine in. Despite our excellent "repower planning" we were still hoping for a miracle that our beloved Perkins could be saved. She is a real work horse when functioning, simple in theory and easy to work on. Not to mention, parts are cheap and we already have various parts of a rebuild kit so repowering would be a major bummer.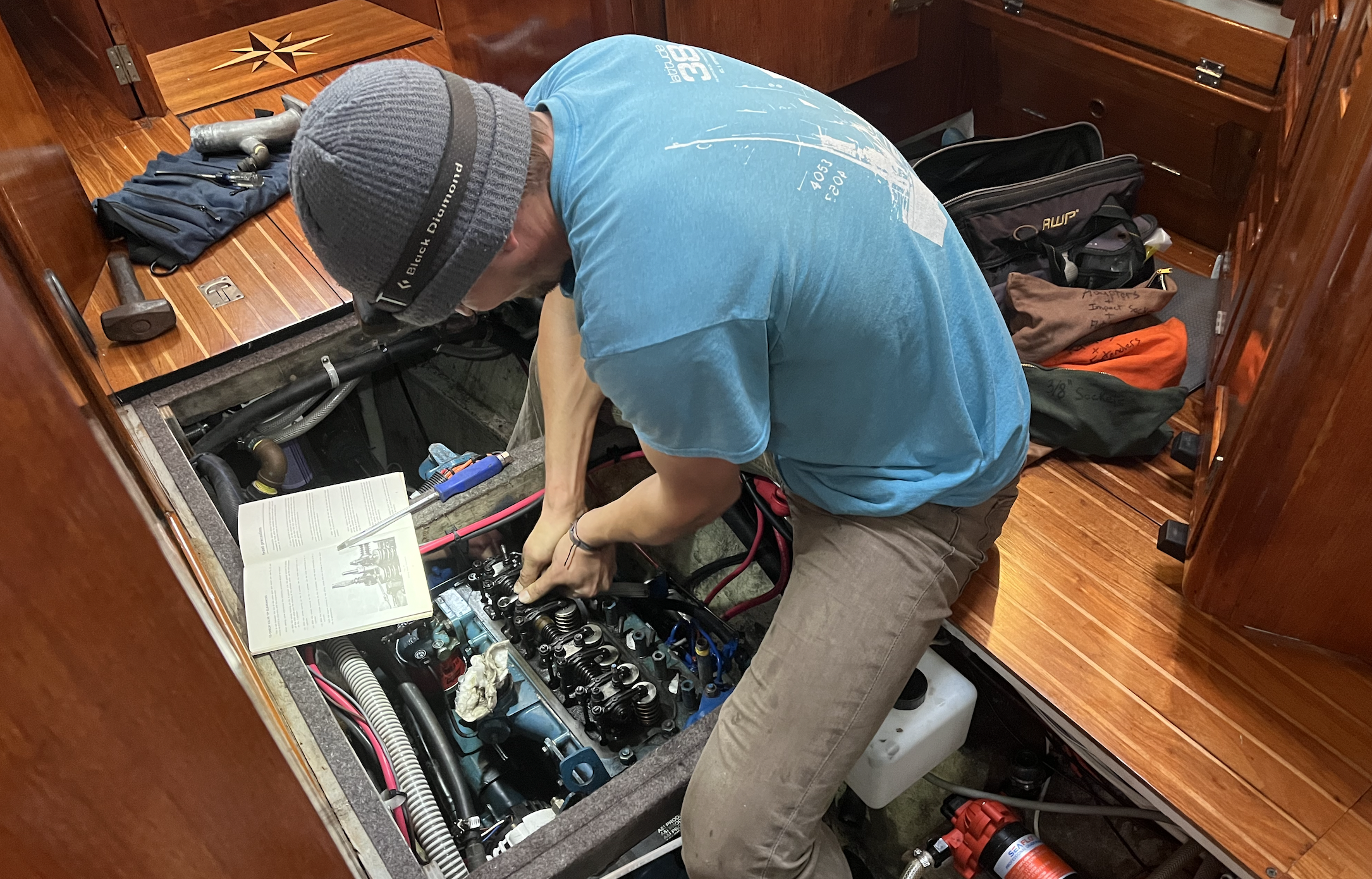 Although we had hoped to have been in Ventura by the time December rolled around, the foul weather and engine dilemma had kept us "stuck" in Morro Bay. Fortunately, there are worse places to be "stuck" and we were glad Avocet would be left surrounded by friends over the holidays. We pulled our hook from the sandy seabed and made our way to the slip we reserved in front of Giovanni's Restaurant. "I don't know about this…" I said to Chris from the bow where I stood with dock lines in hand. Avocet's tumblehome gives her a wide beam that can make slip entry a real pain, especially in a double slip separated by only a piling. From where I stood, it was going to be a very narrow entry with minimal clearance around Avocet's middle. After assessing, I recommended we phone a friend. In less than 5 minutes Reid was dockside along with the Watercolors crew who helped us bring Avocet in safely. She really only had 6 inches of clearance from the piling at her widest part, but once we were in we were totally safe with ample room between us and our neighboring vessel. Thank goodness for good friends. With Avocet safe in a slip, we packed up our car (which we retrieved from Santa Cruz thanks to the Metcalfe's), locked up the boat and headed north for the month.
Christmas Break
With a box full of engine parts we drove home to Shaver Lake with a quick stop in Fresno to drop off the high pressure pump, the injectors, and the fuel lines to be serviced and pressure tested. Luckily Fresno is a major agricultural hub so finding a spot to service our ol' tractor engine wasn't super difficult but we chose Becs Pacific Limited who specialize in rebuilding pumps and injectors. With the engine out of sight and out of mind we could return home and focus on friends, family and epic skiing and snowboarding at China Peak Mountain Resort. Of course if you follow us on Instagram and YouTube, you already know that just because we were away from Avocet didn't mean we were totally boatless – in fact we drove from Shaver Lake to LA and back in one day just to retrieve a Laser International 14 to gift to our nephews for Christmas. We can't wait for the snow to melt so we can sail with them all summer!
I am doing my absolute best to catch up to modern day, but bare with me as I learn how to balance cruising, work and personal writing like this. We are currently cruising mainland Mexico, preparing to head north into the Sea. Sending our love and fair winds to you all, 
Marissa, Chris and Cleo 
(Posting from Puerto Vallarta, MX)