Our Great Escape
Did these leecloths shrink? I could have sworn they were thicker…
It had been one year and 4 days since Avocet had left the harbor, and as we went through the normal motions of preparing her to sail we tried to take it all in: we were finally going. 
This year has been nothing short of deep heartbreak; losing a family member, a long boatyard stay, COVID, Mama Neely's car accident, and the latest Creek Fire have all been key moments that took precedent over the seemingly small happy times. Fortunately we are still healthy and (relatively) able to combat each challenge thrown our way stacking up a huge pile of cosmic karma with the universe. After months of hard work and delays we were finally able to cash in on the IOU the universe had given us, breaking lose of our dock shackles with our course set for Santa Cruz Island.
Plans are Written in Sand at Low Tide
If only it was that easy though; you know, setting your course and just sailing off? No, of course for us we had to fight a little to eventually get what we wanted so instead of leaving at 8:00 a.m. like we had intended we left at 10:00. Chris and I worked hard the night prior to properly provision, stowe things that had been accustomed to not moving, and finish the bulwark project but around 11:30 p.m. we started to get testy with one another and finally called it a night.
After a lovely 6-hour-long sleep we awoke at 7:00 to put the headsail back on our furling system as well as cut the very last haweshole (where our bowlines go through the bulwark) which would mark the end of our project. Our sail kept catching on something 30 feet up the forestay so after raising and lowering the sail 2 times Chris jerry-rigged a scotch bright pad soaked in T9 hoping that the foils just needed a little cleaning. Although it was clever, his attempt did not work so we dug out the bosun's chair and up the mast, he went.
As it turned out, most of the set screws on our furling foils were lose which made it impossible to thread the sail up when we tried to raise it. After a lot of patience and coffee, our headsail was back on board after 9 months of vacationing in our storage unit. With this small victory, we high fived then turned our attention to the next and final project: our bulwark.
Unable to use loud power tools the night before, Chris took joy in cutting out the final hawsehole using his circular saw, jigsaw, and the loudest of all: the router. It was a quick 15-minute project to complete nearly 2 months of hard work creating, installing, and finishing this bulwark addition. We will write a separate blog on this topic and link it here when done, but we were so giddy! 
Following a big hug and kiss, Chris turned the engine on while I took my position at the dock lines, preparing to walk Avocet out of her slip for the first time in a year. We cleared the slip fingers and just like that we were headed back out to sea.
In Transit Failures
About an hour into our maiden voyage, Chris checked on the engine only to discover our raw water pump was failing which made saltwater gush from the engine. In a perfect world, the raw water pump moves saltwater through the heat exchanger to cool down the engine but in our world, it seems that the seal behind the impeller failed and allowed water to reach the bearings leading them to rust.
We were just outside the shipping lane with the mainland still in sight and the island still very out of reach. Chris sunk down below, pulling his tools out and getting right to work while I remained at the helm watching for boats, crab pots, and sea life. 
With no wind we were bobbing around at the complete mercy of the swell which was thankfully very small. The sun was hot, baking my exposed skin and pushed me headfirst into complete nausea. I leaned over the stern to vomit. The gold flecks of our name painted across the transom reflected up at my sick face, making me smile between the violent stomach heaves.
Chris relieved me from my captain's duties while I drank an entire Nalgene and forced myself to eat some saltine crackers. Already knowing the answer, Chris asked "what did I miss?" With his dashing wit and mechanical handiness, the impeller issue was resolved and we were back on course for Pelican Bay anchorage, Santa Cruz Island.
A Warm Welcome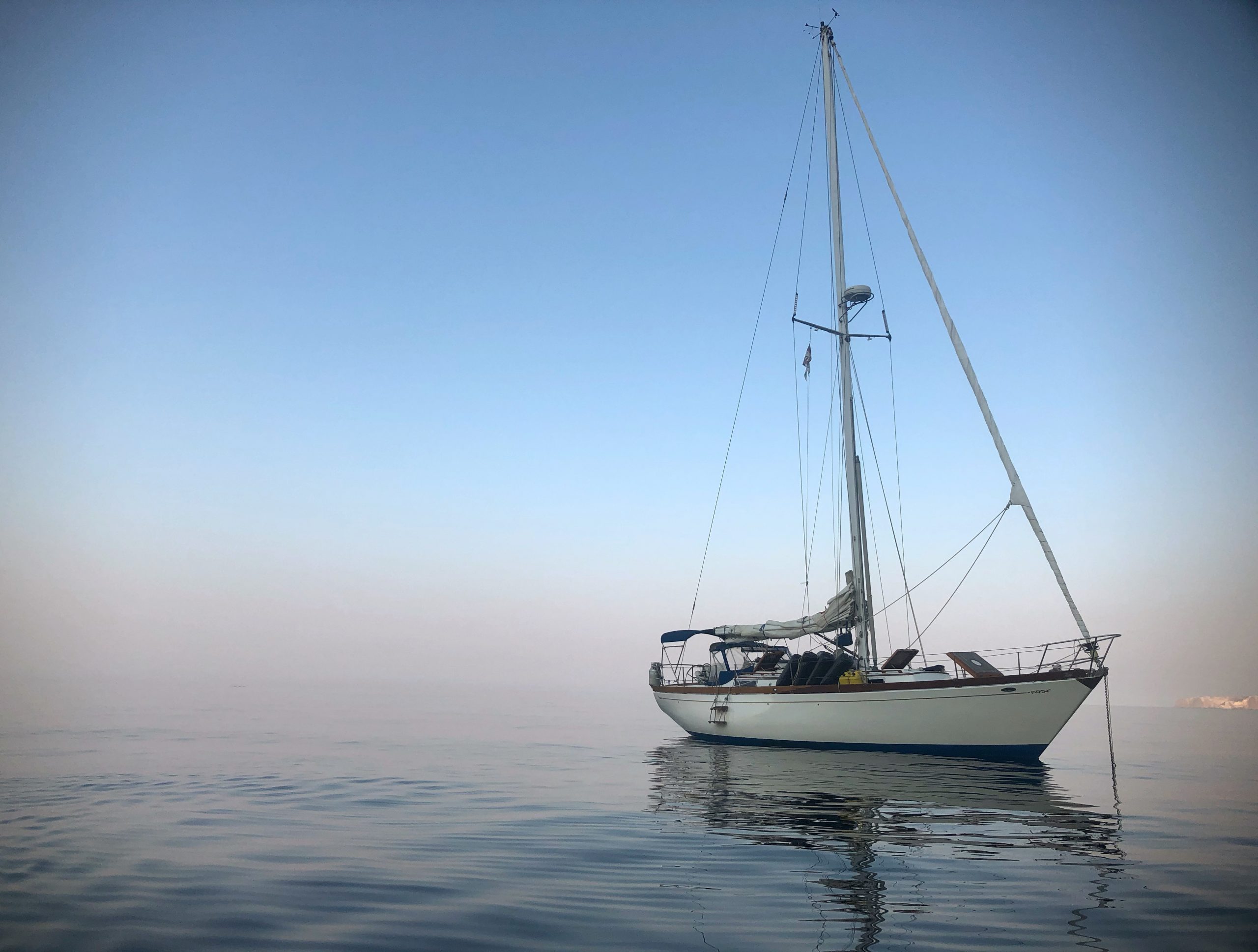 It was 3:00 in the afternoon when we set our anchor in Pelican Bay, only 3 hours later than our original arrival time. The bay was large, hosting 5 boats including ourselves and dear friends aboard ValHowell. The large cliffs plummeting into the ocean were deceiving, from the helm it appeared as we would be thrown into the wall itself but from the bow, you could see that there was ample room for the boats to swing in the wind. Storm Petrels roosted along the 150+ foot wall accompanying the squawking gulls and occasional Pelican. 
We set our hook at the east end of the anchorage with minor difficulty getting our Rocna to dig into the pebble-bottom below. At last, we had arrived. The sound of birds chattering along with the ocean echoing off the cliffs wall was music to my ears, a warm welcome indeed. 
We made ourselves at home quickly changing into comfortable clothes then launching Little Wing before motoring over to ValHowell for a celebratory drink. On our way there we were stopped by a new friend who had been following our social media for a while and congratulated us on our return to the island. After laughs were shared and stories told we returned to Avocet and I made a delicious dinner of curried chickpeas served over basmati rice that we devoured from the comfort of our cockpit, soaking up every second and relishing in the fact that this was finally real.
SUMMER IN OCTOBER
The sunrise broke over the island early on the second of October, waking me up in the most pleasant way. It was a wonderful night of sleep being gently rocked with dreams of grand adventure. My sleeping lover laid next to me still dead to the world, mouth ajar as always with small snores escaping him as audible proof he was still alive.
With an entire day ahead of us we packed a lunch and loaded up the dinghy for our first adventure: exploring the land. It had been an entire year since stepping foot on Santa Cruz Island, our friends on Persistence reminded us of that when they reached out to us on Instagram to let us know it was the anniversary of our rescuing them in the gale wind.
Little Wing was beached with no issues before we carried her a little farther up the shore and out of the way of the rising tide. We made sure we had all we needed then began our descent up the trail. At the first viewpoint, we admired Avocet floating in the anchorage, her paint shining even at a distance. We took some photos, then descended after realizing we were headed towards Prisoners Harbor rather than the overlook to Pelican, in other words: the absolute wrong direction.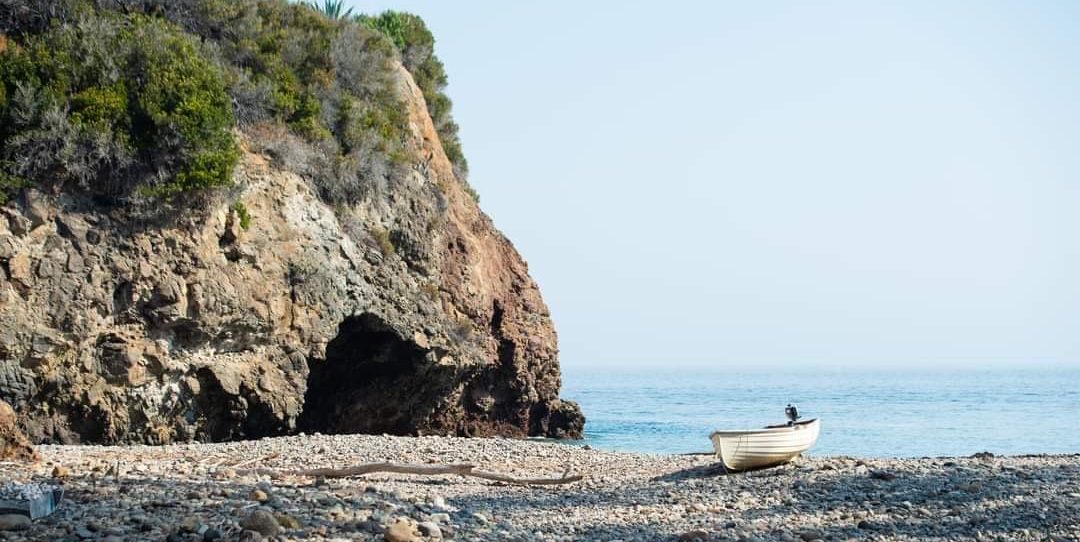 Back at the starting point, we trekked through the bone dry river bed noting the different birds we saw in the trees. A grove of eucalyptus covered the left of the river bed, reminding me of their origin. Back in the ranching days, eucalyptus groves were planted for their shade as well as to provide lumber for the piers and buildings; decades later we are still appreciating their offering of shade, especially on hot days like that one.
In the late 1800s and early 1900s Pelican Harbor was a very well-known rustic resort perched on the cliffside that was operated by Margaret and Ira Eaton. Margaret would tend to the resort while Ira would charter his boat, Sea Wolf, from Santa Barbara to the Island bringing guests to and from as well as selling fish at the markets on the mainland. The couple lived a long time on Santa Cruz Island making it their home while raising their daughter, Vera, who later grew up and took her mother's diary, publishing it as a book titled: The Diary of a Sea Captains Wife.
We ate lunch at the far end of where the dining room once stood with a beautiful panoramic view of the anchorage below. The ocean lapped against the cliff while I tried to imagine a life long ago as we sat on what was left of steps built by the Eatons. While eating our neatly packed snacks, I pulled out The Diary of a Sea Captains Wife to finish reading the final chapter. I had begun reading the book a year ago, but between the projects and constant chaos I always sat it down and seldom had time to pick it up again. As I eventually neared the end of the book, I wanted to honor the family who loved the land we ourselves love to explore and finish the book from the very place it was written.
Chris and I wiped our tears caused by the final page then packed up our belongings and heading to the far end of the overlook that would showcase our Avocet in the anchorage on one side, and our Little Wing on the beach on the other. As we walked to the end I turned around to say something and my jaw came unhinged as the view hijacked my train of thought. The mountains folded into one another, creating contrasting colors and layers between the valleys built into this epic landscape. It was as if someone took a photo of the Pacific North West and the Mexican Coastline to create this masterpiece of a mashup. All I could say was "Chris, look at THAT," and he did.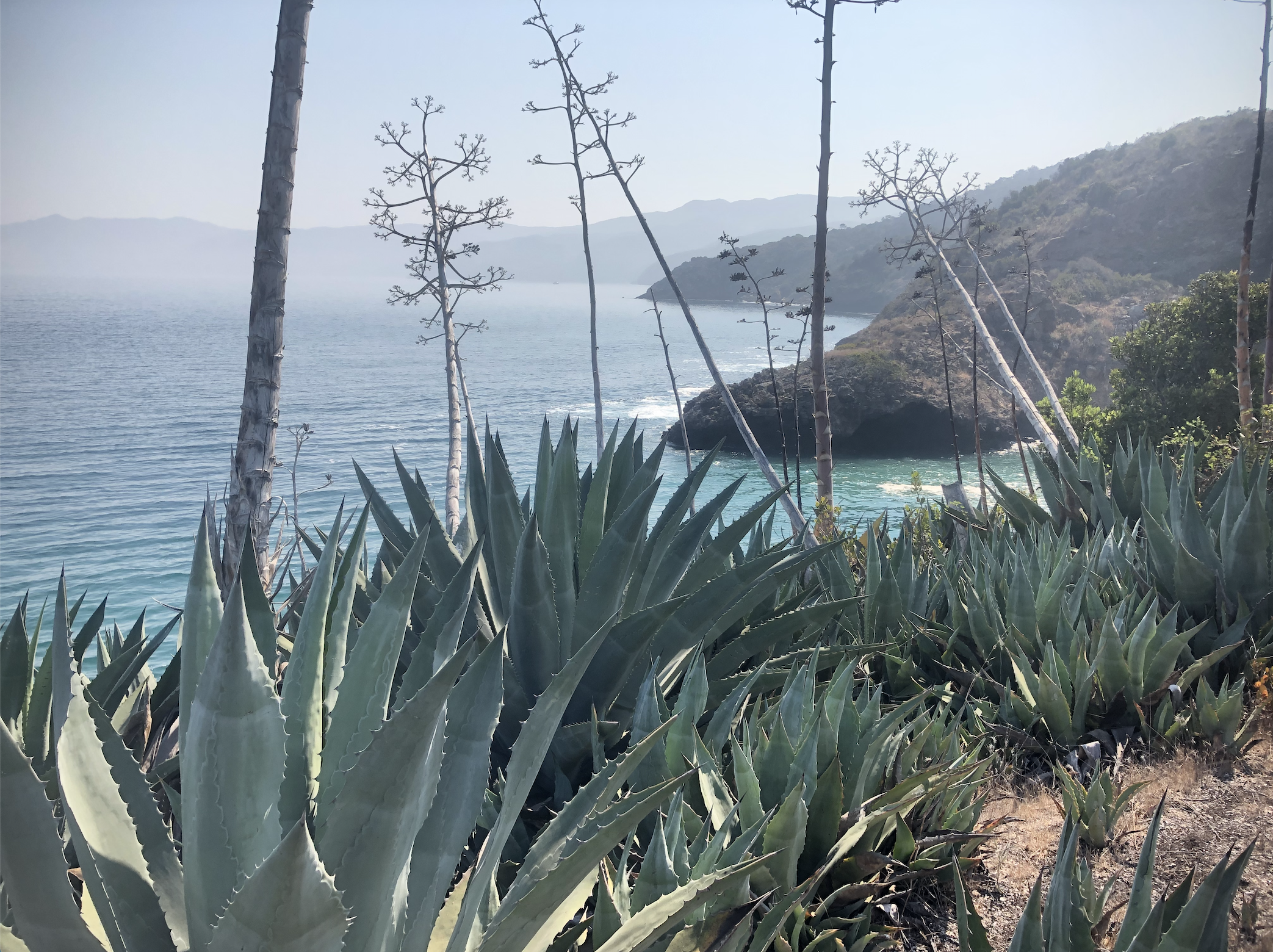 We slowed down to admire the views around us, which is something we haven't had much time to do in 2020. Taking it all in we breathed with the ocean's waves crashing on the shore below in…out… in… out…. Is this what internal peace feels like? It was only 12:00 and already we had accomplished a hike, reading, and deep conversation about the world around us- we were thrilled that we still had the whole day ahead of us with no real agenda, just relaxing. 
Soon we returned to Little Wing where two couples who had hiked over the opposing trail from Island Packers had taken stake in separate sides of the beach to eat their Starbucks Beneteau boxed lunches. Chris couldn't resist the call of the ocean so tossed his shirt at me and dove in, making the small audience on the shore curious about us two kids with the beached dinghy and camera gear. I did not follow Chris into the water but instead called him back to help me launch Little Wing so we could get our snorkel gear and explore the anchorage around Avocet. It was a successful launch despite our out-of-practice habits and we made it past the mellow breakers with only minor bruises and splashes on ourselves. 
 Back on Avocet we dug out our snorkel gear and took a look at our wetsuits then at the water, then at our wetsuits again. It was 80 degrees and the water was crystal clear and warm (well, warm-ish) so we put on rash guards and jumped in to explore the world beneath our keel. We actually took Little Wing over to the cliff where we anchored her using the cutest little dinghy anchor then began our underwater adventure. Since the water was so clear we were able to spot garibaldi, what I believe was a calico bass, urchins and many other species swimming around with us. Chris free dove to get a better look at the fish with the GoPro in his hand while I continued my yearly struggle trying to follow him. 
I have mentioned this before on a few occasions, but I tend to resemble a wounded animal when I try to dive- my feet float and for some reason, I can't power through. This trip I was determined to complete at least one respectable dive, so I made sure Chris had the GoPro rolling, took a deep breath, and threw my head towards my feet, kicking my fins hard to propel myself downwards. The little mermaid would have been proud of my long flowing hair trailing me weightlessly in the water as I smiled with my child-sized-hand-me-down snorkel clenched between my teeth: I did it! I was so excited my lungs began to hurt and I allowed myself to float up to the surface where I celebrated this small victory with my adoring husband who looked at me with such love in his eyes despite my mask-induced nasally voice and wet mop hair, no longer resembling a majestic sea creature he gave me a high five and we continued to explore.
Previously we had not been able to board Little Wing from the water, and when we did we looked like awkward seals (remember this little incident? Im sure the crew of ValHowell does!) This time we wanted to practice our re-entry technique for safety purposes. Without Chris holding the opposite side I was able to kick and lift myself into the belly of Little Wing with little issues, and Chris the same. We were feeling very accomplished with our new skills and had only wished the Howells could have seen our milestone improvement but alas, they were too busy relaxing.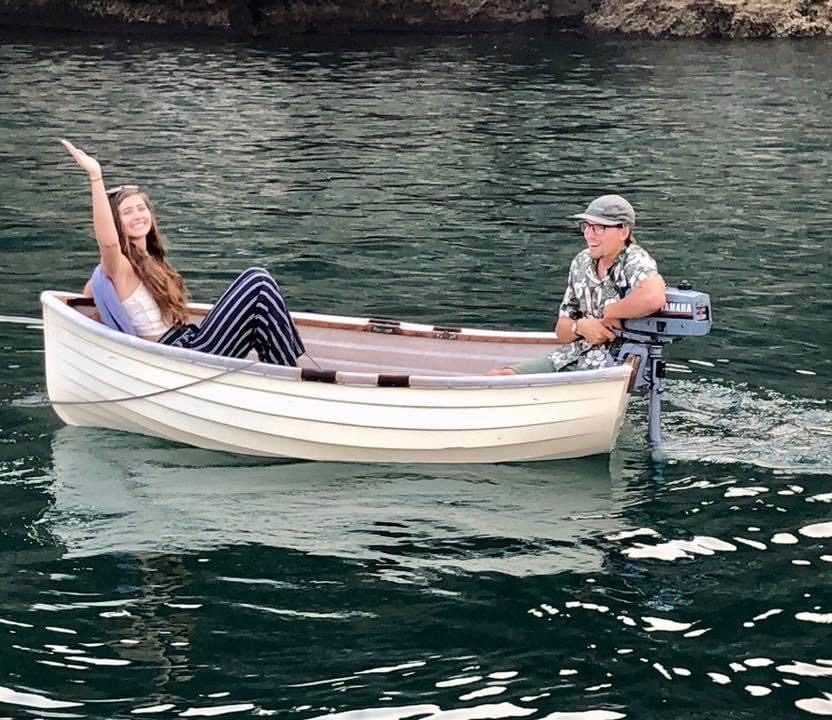 After using the cockpit shower for the first time in a long time we hung up our wet swimwear along our still-new-to-us Dyneema lifelines and changed into our evening leisurewear. We had just jammed an entire summer must-do checklist into a single day, making us feel forever grateful for this beautiful island to call "home" while we prepare for our grand cruising journey. With liquid libations in hand, we motored over to ValHowell to continue celebrating the fact that we had made it.
As the sun began to lay down into the island's mountainside Chris and I took made a nest out of Avocet's cockpit, pulling out the instruments to try and remember how to play together while I served an incredible dinner (red-wine mushroom sauce over boatman mashed potatoes with a side of glazed carrots). Being at the island with no cell service meant we had to improvise the chords and lyrics of a few songs while keeping each other on beat. My personal favorite adaptation was made by yours truly as I strummed my ukulele to Creedence and Clearwaters Bad Moon Rising, a family favorite. Instead of singing the namesake verse "there's a bad moon on the rise" I surprised Chris by singing:
Don't go around tonight
Well it's bound to take your life
Tweeeeenty twenty is
On the rise
And let me tell you, the entire anchorage could hear our laughter.
We fell in for the night, checking the decks and anchor before our final night of sleep away from the mainland. My late grandparents visited me in my dreams, smiling and telling me how proud they are. I woke up around 1:00 in the morning, clutching the red blanket my grandma crocheted long ago, wishing I could see them one more time. The moon was full and shone through our stateroom hatch, calling my attention but Chris's warmth and Cleo's soft snores were far more convincing to pull me back into bed and sleep until morning. 
Soaking it Up
Two eggs scrambled with chopped onion, hash browns, and cheddar cheese melted on an everything bagel, fresh off the cast iron, and served on the seashell plates my mom gave us that have been with me since I was in middle school. We ate breakfast in the cockpit enjoying the warm sun while slowly stowing away our belongings in preparation for our return to the mainland. We launched Little Wing from Avocet's starboard side, her topside paint glistening in the early morning sun. We said good morning to the Howells as we motored all the way to Prisoner's Harbor to walk around a bit and look for bones, which to me is more fascinating than shells.

To my content I located a pile of bird bones, hallow and bare amongst the rocks on the shore. I examined them then returned them to their resting place, doing my best to take nothing from the island and leave nothing behind. Chris and I walked together hand in hand watching the Island Packers boat unload their human cargo, filing out onto the island in what I can only imagine was the same way the cattle once did. For an uninhabited island it was sure starting to get crowded so we returned to Little Wing and watched the large fish around the pier pileons before untying the line and making our way back to the mothership.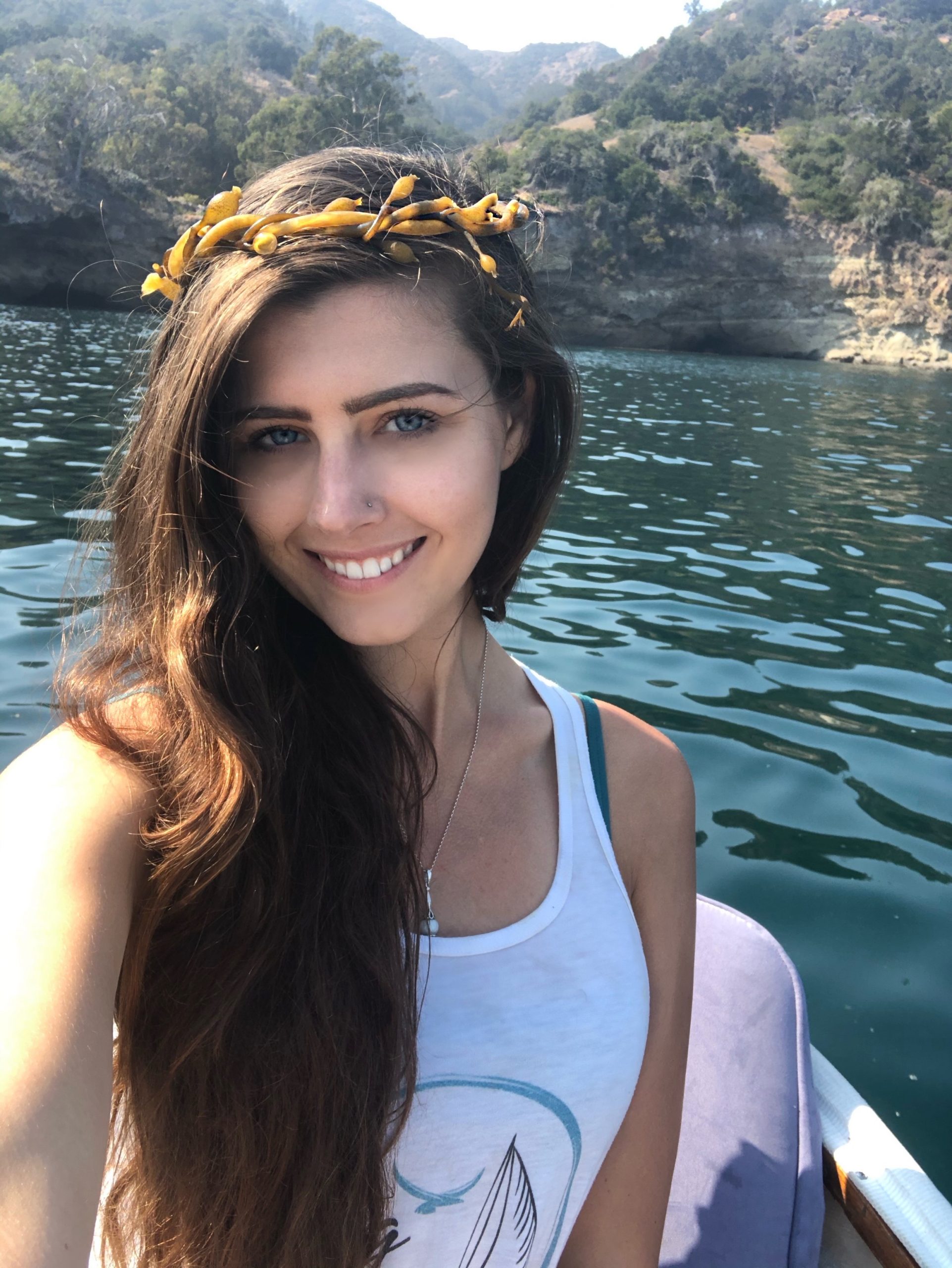 We stuck close to the coast line, ducking into all of the coves to visually explore and note the snorkel conditions for the future. One cove in particular reminded me of the Little Mermaid so instinctually I began singing "part of your world" with Chris chiming in as back up vocals- he is truly my best friend. I made a crown of kelp and wore it proudly through the anchorage upon our return to Avocet then tossing it back to the sea where it belonged. 
Never a Dull Moment
At 2:00 it was anchors up and our course was set to return to Ventura. We waved good bye to the Howells and Santa Cruz Island as it began to shrink in size the further we sailed east. Again, it wasn't much of a "sail" as it was a motor. The wind was light, and indecisive in terms of direction. We made do with what we had and put up the main, keeping our course and hand steering since our auto pilot decided it was still on "vacation" mode and unwilling to assist. It felt good to steer our boat again. The rudder was responsive as we cut through the water, proud of our hard work. The new prop definitely increased our hull speed which impressed the hell out of us. 
I made snacks in the galley and brought them to the cockpit where the lack of wind and scorching sun prompted us to shed our layers down to swim suites to enjoy the hot autumn day. Chris pulled the drone out to get some footage since the last drove footage we have of Avocet under sail is from when she was still new to us; so much has changed since 2018. 
Retrieving the drone was a bit tricky. Previously we used a DJI Phantom drone which had legs to grab hold of but the Mavic Zoom 2 is a sneak design with not a lot of holding options. Chris brought the drone over the Portside within reach, holding out his hand but failed to catch it as he needed another hand for the controls. Since I was at help with no option of autopilot and no wind to heave-to I remained at the wheel to keep us on course while Chris tactfully maneuvered the drone inward to retrieve it. Once safe aboard we packed it away and agreed not to do that again, at least for a while.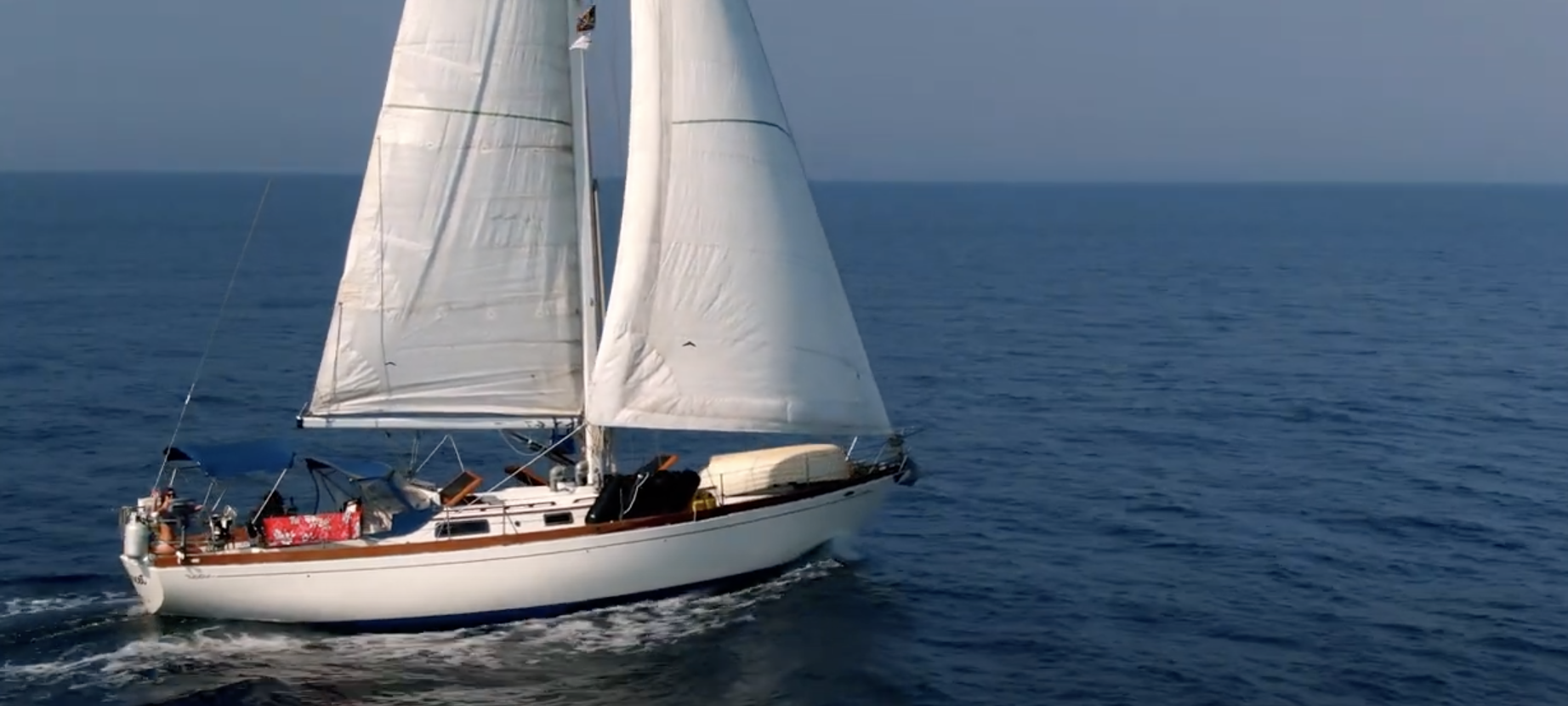 The fun didn't end at almost losing the drone to Poseidon, no, the trend of mishap continued when we seemed to run through a patch of kelp that fouled our prop. With no luck shaking the kelp lose, I asked Chris why we couldn't continue forward as the prop was still actually propelling us despite the bundle of kelp. He explained that although we could still carry on, it was not good for our prop or engine in the long run as it could potentially through the engine out of alignment in the most extreme of cases. As always, Chris goes the extra mile to take good care of our possessions so with a quick kiss and a "best of luck" he jumped into the the dark sea below, diving out of sight to free our prop. Despite taking the extra precautions of running a safety line and Chris equipping himself with a rigging knife while my brain still tried to convince me that he would be eaten alive and I would have to fend for myself. I was relieved when my husband resurfaced with a grin, saying "fixed it!" as if there was ever another option. 
Fog began to stretch into the sunlight that kissed our bodies, biting at us with bitter cold until we were forced to put our layers back on. The closer we got to the mainland, the denser the fog layer was eventually preventing us from seeing more than 10 feet in front of us. We were close to the mile marker, but couldn't see it. I sat on the bow, bundled up, trying to focus my hearing to listen for the hum of the bouy that would guide us to the harbor mouth. I could hear the low hum only when we it was within feet from our bow, then I could make out the shapes of seals fighting for a resting space on the bobbing red bouy, their barks echoing with the hum. In the fog, it made this all very ominous as we tried to navigate through the waters we could barely see.  If it wasn't for our Chart Plotter we very well could have fouled ourselves and ran aground at the harbor entrance since the Ventura Harbor Mouth is not the most user friendly "front door" to the harbor it protected inside. 
Once we made it safely through the harbor entrance we did our best to dodge the paddle boarders and kayakers who thought it was a perfect day to be paddling around the channel in limited visibility. Over the radio we heard a call for harbor patrol; someone was joy riding a jetski in the south harbor which was of course where we were headed. I could hear the jetski revving while boaters and onlookers yelled "SLOW DOWN!" And eventually there was silence. Could you imagine if upon our first reentry to the harbor we got nailed by a jetski? 
A friend stood at the end of the yacht club docks waving, and yelling "Ahoy Neely's! Welcome home!" And it was indeed. We tied off our lines back in the marina, this time in a new slip with the worlds greatest starboard side neighbor, Mama Neely's Sea Castle. For the first time in history, Sea Castle had been introduced to Avocet and I could feel Chris's dad smiling down on us. Seeing the two boats together not only warmed our hearts but also showed us where we subconsciously have pulled inspiration from; the aesthetics are uncanny! 
I pulled out a frozen pizza and popped it in the oven, set to 375f and began to unstowe things, packing away the shelves lee cloths and putting my small garden back in the cockpit. Chris washed down the salt from the hull and then we sat inside together reminiscing about the past three days. We started looking at footage and photos which fueled out motivation to get back out there and do it again! 
Until Next Time
It has been a very long year for us as it has been for many others, if it were up to me I would put up the Christmas Tree and call it a year already! All jokes aside, despite the bad moments this year has taught me the importance of silver linings and celebrating the little things which is what we have and will continue to do together. Thank you all for helping us get to this point! We could not have done it without your endless encouragement and kind words. We appreciate you all and look forward to taking you sailing soon! Stay safe out there, and fair winds!
Sending our love, 
Marissa, Chris, and Cleo