The air was wet, and heavy wrapping around us like a hug while we set our course for our first voyage of the summer to Santa Cruz Island. At 2:30 am the fog was thick and our visibility coming through the harbor channel was about 100 yards, yet I had a gut feeling it would disappear when we cleared the breakwater; lucky for us I was right.
The stars sparkled like sky diamonds as the fog cleared, almost like a curtain peeling back to unveil the show behind. Chris was wide-eyed and ready for adventure while I had not properly "hatched" yet, as my mother calls it. Of course, during the early hours of the morning, the wind was nonexistent so the hum of our Perkins Engine and the splash of the waves lapping against our hull lulled me to sleep in front of the companionway. Chris had anticipated my failure as a night watch companion and already had a pillow and blanket ready for me. Smart man.
I woke up with the sun and to Chris gently whispering that there was a massive pod of dolphins surrounding us- a proper entourage to the island. As the rays of sunshine began to extend over the glistening sea, some dolphins jumped in the distance while others danced under our bow putting on a show. By 5:20 a.m. the detailed cliffs of Santa Cruz Island could be seen by the naked eye- well, Chris's naked eyes. My naked eyes are legally blind without contacts.
Just East of Prisoners' Harbor lies the beautiful Potato Bay. Potato Bay offers shelter from North East and South East swells as well as winds, which can blow down from the cliffs in strong gusts. We set anchor in Potato Bay, around 6:30 a.m. with no other boat in sight. It was a narrow entrance into the anchorage but it widened up once inside. I don't think more than 3 boats could anchor there at a time! Potato bay is surrounded by sheer cliffs that (to my disappointment) do not allow the opportunity to hike above for an overview of the bay. I had seen many photos in our guide books (as well as from Instagram) of people photographing the bay from an upper point of view. When I realized that it wasn't in the cards for us to capture Avocet from above the anchorage I was reminded why we need to invest in a new drone since our old one flew its last flight back in December. Next time we will be prepared.
Despite the lack of hiking trails Chris and I rowed our dinghy "Little Wing" to shore in hopes to find some adventure in the very tiny bay. Upon landing, one of our literally brand new oars snapped in two which made it difficult to beach. Luckily Christopher is a great dinghy captain as well and got us to land safely. After we moved the dinghy up, Chris retrieved our broken oar, already planning out ways to fix it in his head so we could still use it for the next 2 days. He tabled his fix-it thoughts for later as we both admired our beautiful boat sitting in the Jurassic Park-esque landscape. The beach was rocky with sand patches, sprinkled with sparkling abalone shells, bones, and crabs.
We strolled along the shore until we found a bench made from wood scraps which was another perfect place to sit and admire our boat. Moments like those make us so beyond grateful for the opportunities that sailboat life gives us, dually serving as a reminder to get outside more often because nature is freaking awesome! After our "oohs" and "aaahs" we continued on along the shore until we spotted a cave.
Against my better judgment, Chris was able to convince me to go inside the cave with him and despite our lack of safety equipment (helmets, lights, handheld radio, etc.) I ducked under the wide yet low cave mouth, keeping my hands above me, and waddled my way back to Chris who was already inside the belly of the cave laughing at my safety paranoia. The cave was shallow, and since the opening was so wide it allowed light to paint the walls. To my surprise we both could stand straight up in the 40 square foot area. There was no signs of bats, another surprise, but a few small petrel nests that I made sure we gave space. Unfortunately there was no treasure to be found which was a slight disappointment since I was secretly hoping the cave would open up to a hidden pirate ship that was once captained by the great One Eyed Willie (any other Goonies fans out there?)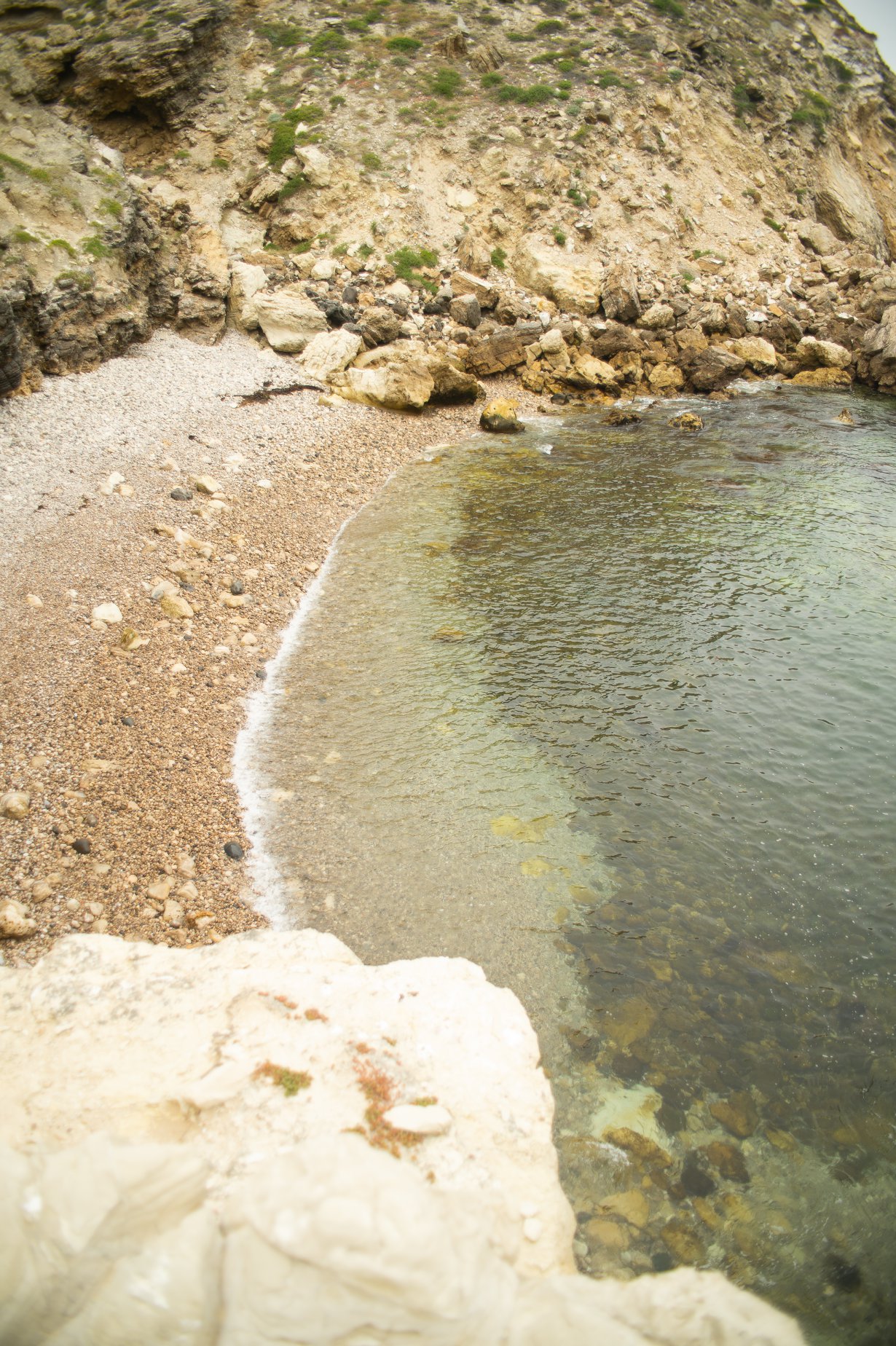 We took our photos and crawled out of the cave back into the sunshine. The water was crystal clear below the rocks we climbed, allowing us to watch 6 garibaldi fish swim between rocks. Did you know that garibaldi are the state fish of California? I think they look like mutant goldfish, but I guess with their golden-orange scales they fit into the whole golden state aesthetic along with the poppy flowers.
While climbing over rocks and avoiding tar deposits we accidentally woke a sleeping seal who was not happy about it. He barked at us as we gave him a very wide berth since he was blocking our path to Little Wing. Once we maneuvered around the grumpy seal my heart sank as my eyes set on a very sad pelican who had a very broken wing. Poor Mr/Ms Pelican had a whole bone sticking out, and was seeking refuge and camouflage, nestled in the rocks. My moral ethics were at war over if we should attempt to help it or leave it be to die in peace and after a long hard thought we knew it was best to let nature take its course. "If I was going to die from a broken limb, I would want it to be somewhere as beautiful as here" said Chris, who knew my day had just been ruined by a dying bird. He was right, and although I was sad about the lonely dying bird I was reminded that life is precious and short. One minute your flyin,' the next you're dyin'n! Sorry, humor helps me cope!
The perks of waking up early include always being pleasantly surprised how early it still is. "It's only 10!" Chris exclaimed as we launched Little Wing. While loadeding up a small, dirty, tar splotched broken board into our dinghy Chris assured me he had a plan to fix our gimp oar. I am so glad that no one else was around, because We rowed like idiots sitting side by side, Chris using the normal oar and me using the stub of the broken one.
Since the anchorage was unprotected from the prevailing North West wind we had decided to pull anchor and move on to our favorite anchorage, Little Scorpion. Little Scorpion offers more shelter from wind and swell making it a very comfortable place to spend the night, surrounded by gorgeous land views and providing an underwater playground for divers and snorkelers with a reef and kelp forest.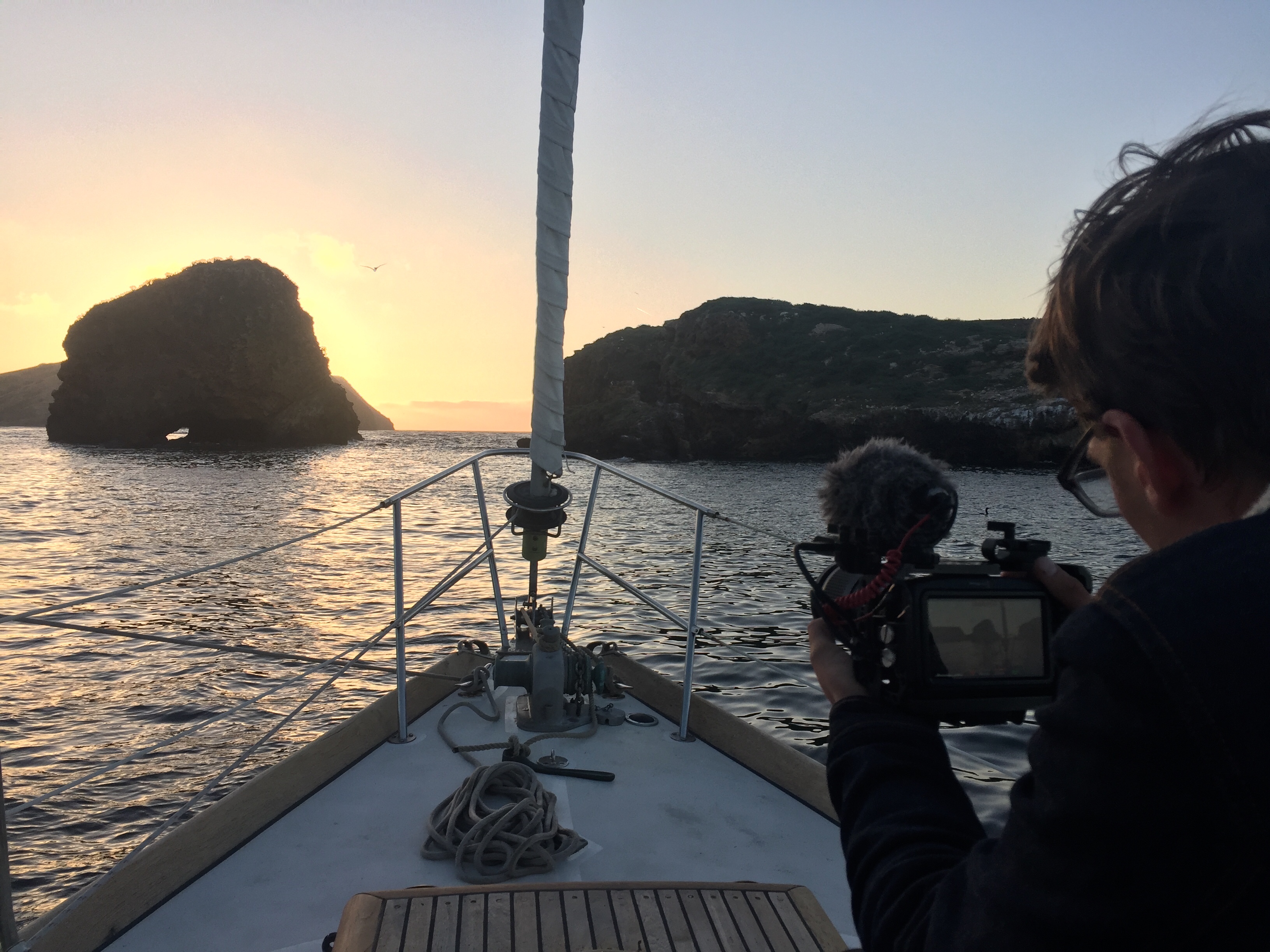 At high noon we secured the best spot in the anchorage. Setting the main and stern anchor and deploying the "flopper stopper" the boat felt like at its slip even though we had a consistent 20 knt breeze. Once we resettled I made us some snacks and Chris grabbed his guitar. The sun was warm on our pale skin, inviting me to strip off my cold weather clothing and lay out like a lizard.
The breeze picked up bringing the marine layer with it.  When I couldn't feel the sun anymore I pulled on my hoodie and went below deck to get started on dinner. Chris was still outside napping since he was kind enough to let me sleep through night watch nearly 13 hours prior. It was 3:00 p.m. and the view from my galley port light was breathtaking. The sun bounced off the clear waters, painting the cliffs adjacent to us. Pelicans flew low, reminding me of the unfortunate bird that wouldn't join his pelican friends in flight ever again. Cleo circled below me, reminding me that she was hungry despite her full food bowl. I was humbly at peace as I peeled potatoes in my galley while taking in my surroundings.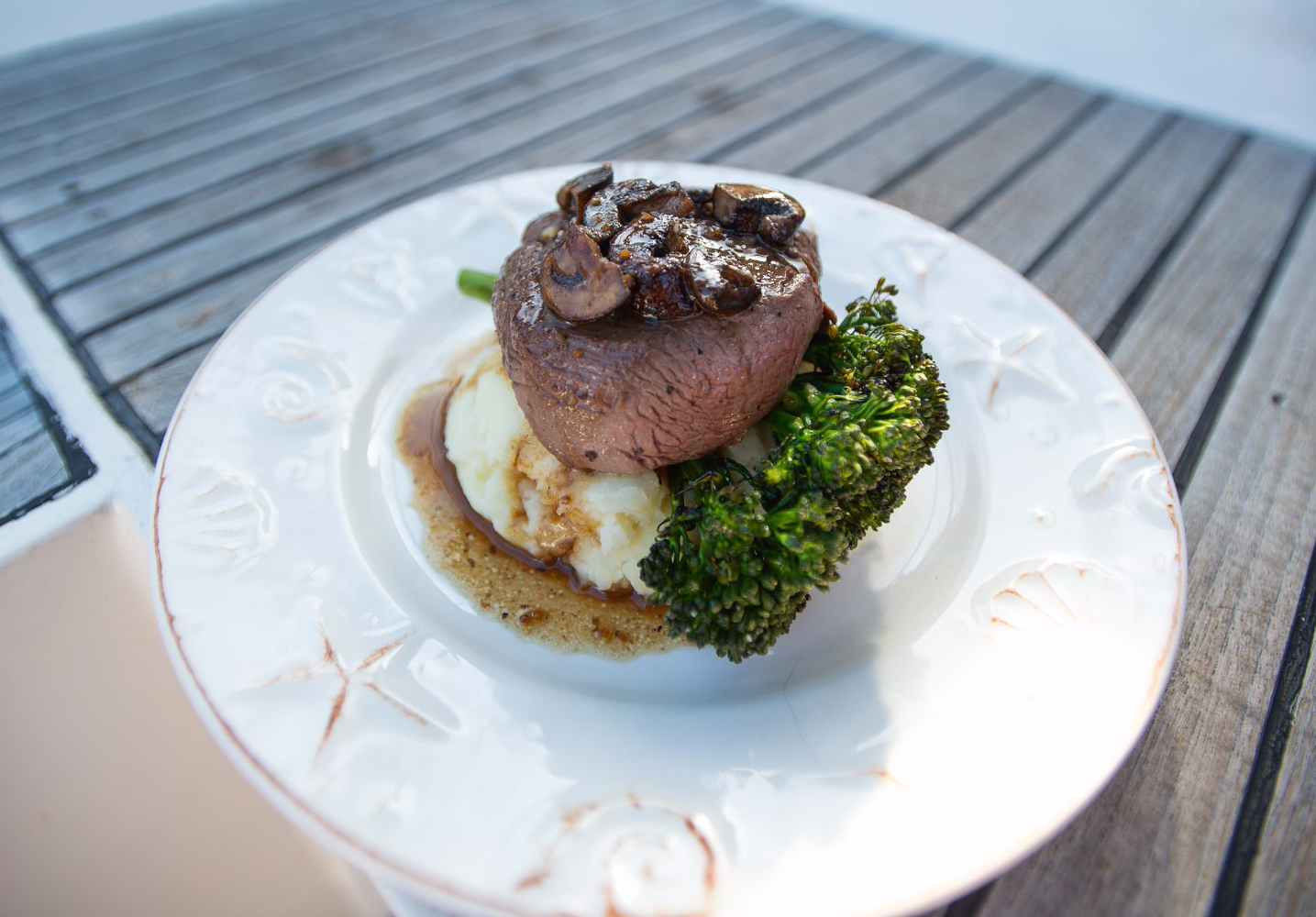 Chris woke up just in time to watch me plate our dinner. We usually don't buy meat aboard Avocet as an attempt to be environmentally responsible but this was a celebration of our first time anchoring without the help of Jon and Shannon. For dinner I had made petite filet mignon with a baby bella mushroom red wine reduction served on a bed of brocollini and home made garlic mashed potatoes. Naturally, a movie followed dinner and our film of choice for the evening was Captain Ron. As we quoted every line, I served dessert which was a chocolate cake served in a ramekin, topped with whipped cream and a chips ahoy- for class, of ccourse. We were truly stuffed like pigs and so tired from our long day, we slept like babies nestled in our bed while the sound of the waves and gentle rocking lead us into dream land.
I sprang out of bed at 6:00 a.m. when a wave from a passing ship rolled through and aggressively rocked the entire boat. Chris jumped up like a guard dog and did a perimeter check, weather check, and looked to see if anyone joined us in the anchorage. All was well and we were still alone so back to sleep we went… at least we tried, anyways. We were both wired and excited for the day. I rolled out of bed and into the galley where I started the coffee and prepared breakfast. While eating breakfast in the cockpit the wind decided to flip, making our favorite anchorage not-so-great. Luckily, we could motor right next door to Scorpion anchorage which is also the main landing for the Gherini Ranch on the island.
The weather was chilly, prompting us to dress warmly as we stuffed our dry bags and packed our picnic basket into our dinghy. Chris managed to jerry rig our oar with a splint using the scrap wood from Potato Bay and gaft tape, it worked like a charm! We beached Little Wing in front of a live audience curtesy of Island Packers who use Scorpion Ranch as a drop off site for day trip tourists as well as campers.
We pulled the cameras out of the big dry bag and put our jackets in their place since the sun had made a very welcomed appearance once again. The large group of people from Island Packers covered the shore wearing their borrowed life jackets, zinc covered faces, and dragging yeti coolers in tow. We wandered over to the welcome center where I struck up a conversation with a very nice State Park Ranger who shed some insight on the history of Scorpion Ranch.
In the late 1800's a number of ranches were located in various places around Santa Cruz Island. The easternmost ranch was Scorpion Ranch, which was a major out ranch and had an important role in providing food for the rest of the island. The most recent owners of Scorpion Ranch, before the acquisition of the east end of the island by the National Park Service in 1977, were the Gherini family. Scorpion Ranch was in operation in 1855 mainly raising cattle to supply the high demand for beef on the mainland. 
Taking a break from the history lesson, I asked about the Island Fox which is a small fox that is found on six of the eight Channel Islands. There are six subspecies, each unique to the island it lives on, reflecting its evolutionary history. Island foxes are generally docile, show little fear of humans, easily tamed, and most importantly about the same size as our boat cat Cleo. According to Mr. Ranger, the island fox was almost extinct in 1980's due to golden eagles and other environmental impact ,but because of their repopulation efforts in the early 90's there are approximately 3200 island foxes running about the island. We thanked the Ranger for his time and continued on our way.
Remnants of the old ranch were scattered about in front of the welcome area. A large rusting tractor engine took the center of attention amongst the various other ancient ranching tools. As we followed the trail we were drawn to the visitors center which was previously the ranch kitchen, now set up as a mini hands-on museum to show a glimpse of what ranch life was like back in 1855.  Once I soaked in all the bits of history, I signed our names in the National Park Registry book as "SV Avocet" from Channel Islands Harbor, CA.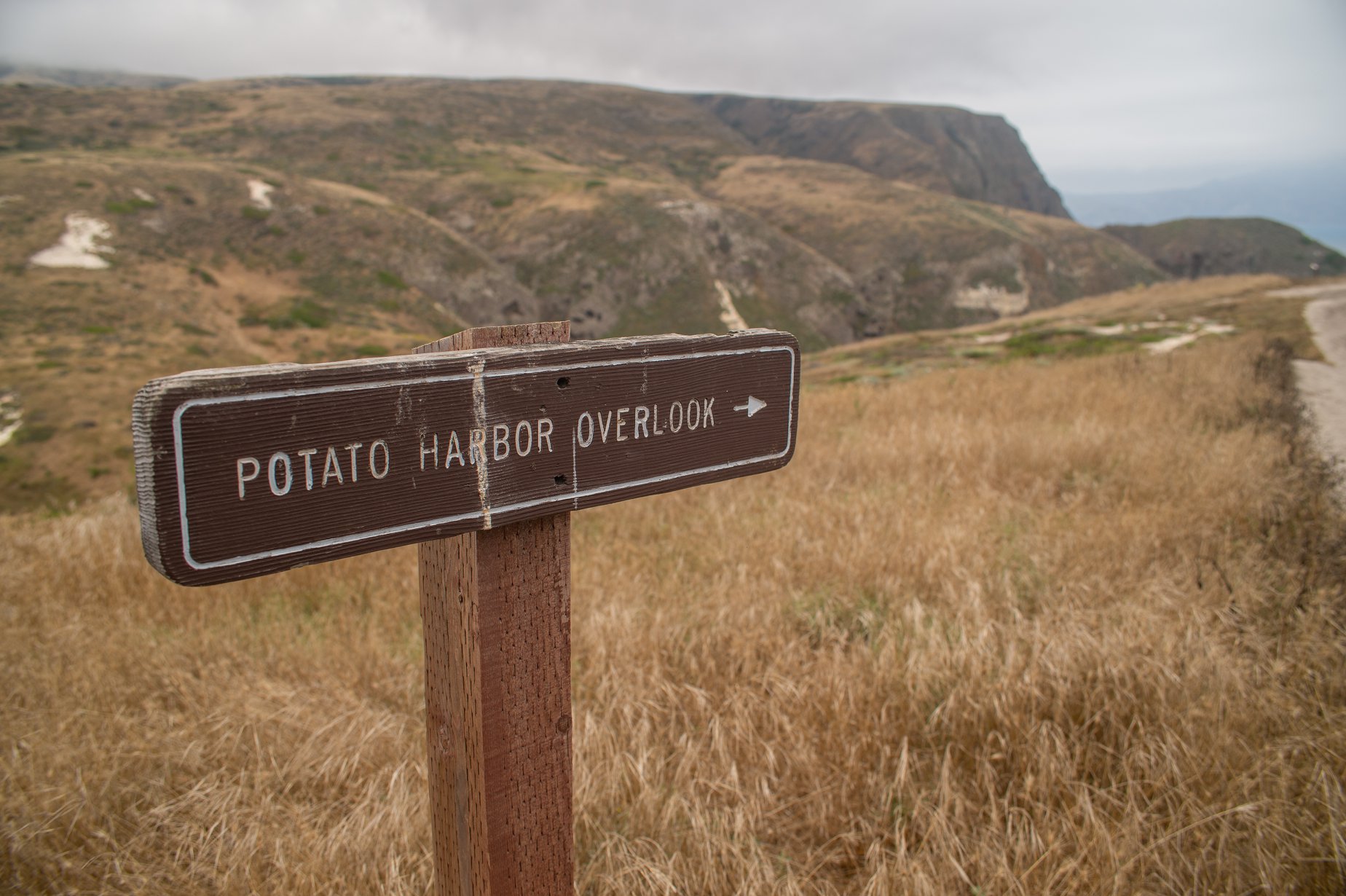 After studying the trail map Chris and I decided to hike the Potato Harbor trail which, ironically, would give us a nearly birds eye view of the bay. Potato Harbor Trail is a 4.9 mile lightly trafficked loop trail that features beautiful wild flowers and is good for all skill levels. However, after the first 20 minutes we both stopped to catch our breath and realized how out of shape we are now in comparison to when we lived in North Lake Tahoe. Looks like we need to hike more!  This was only one of the many trail options accessible from Scorpion Ranch, and we can not wait to return and hike them all.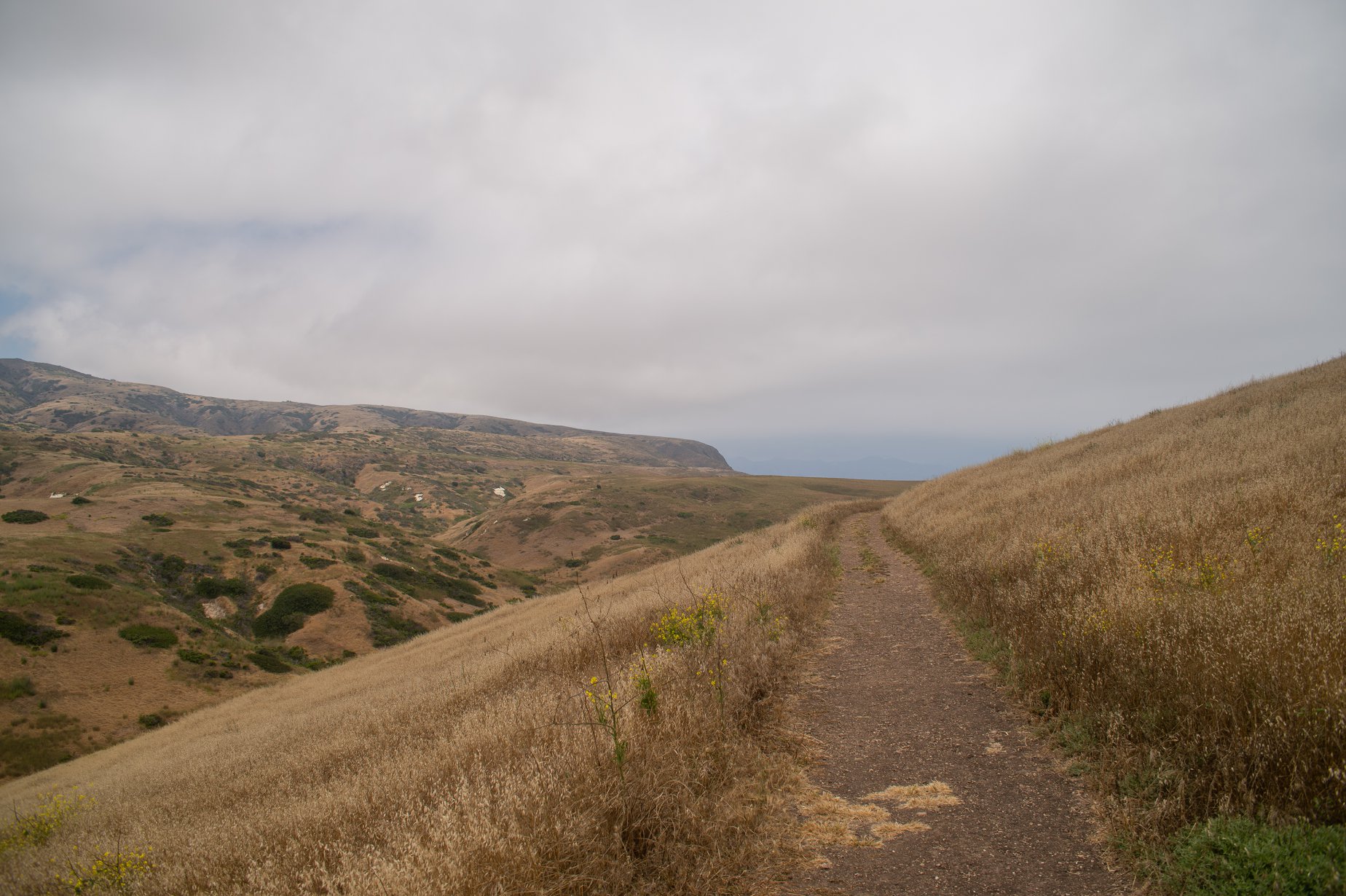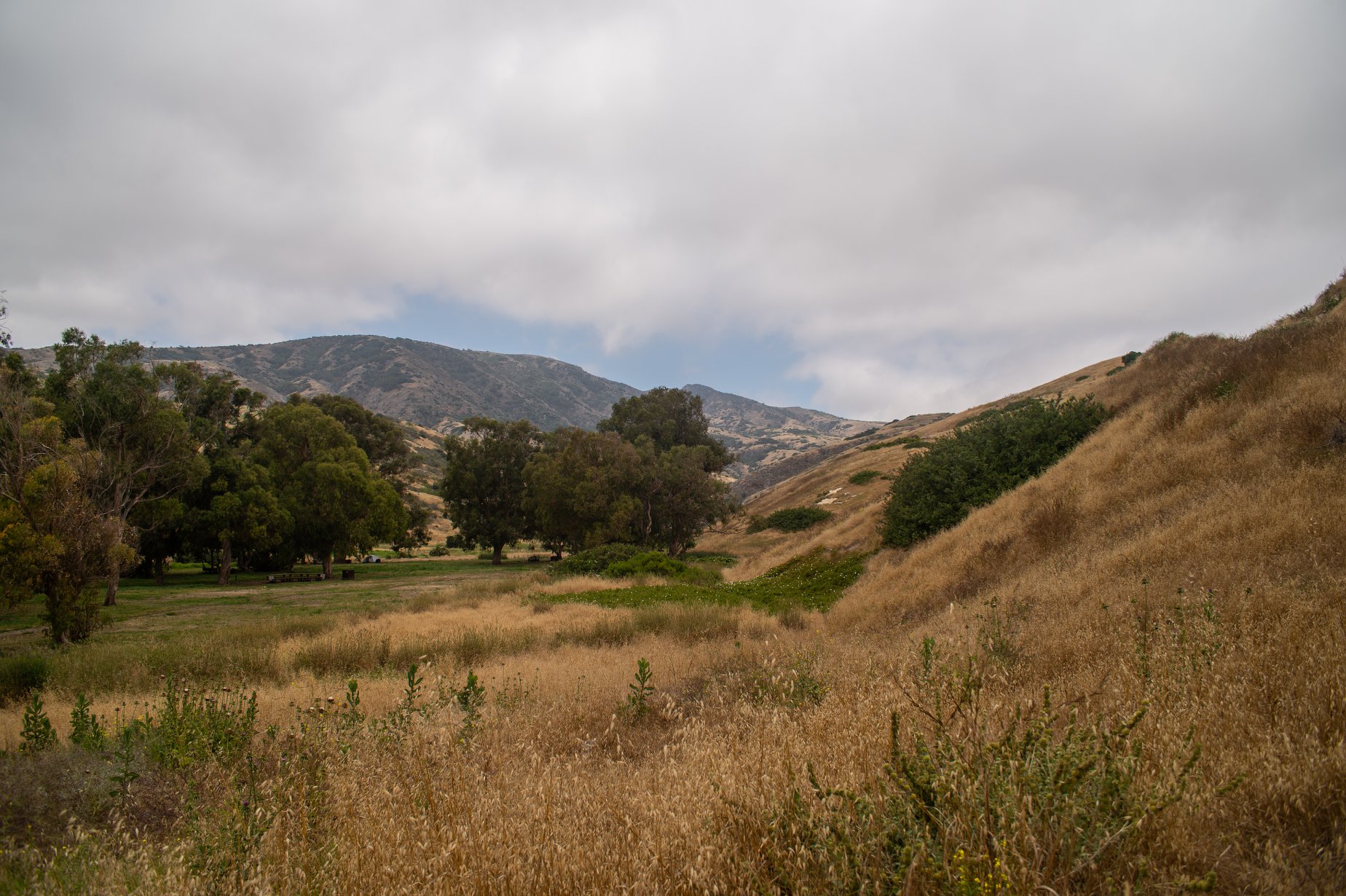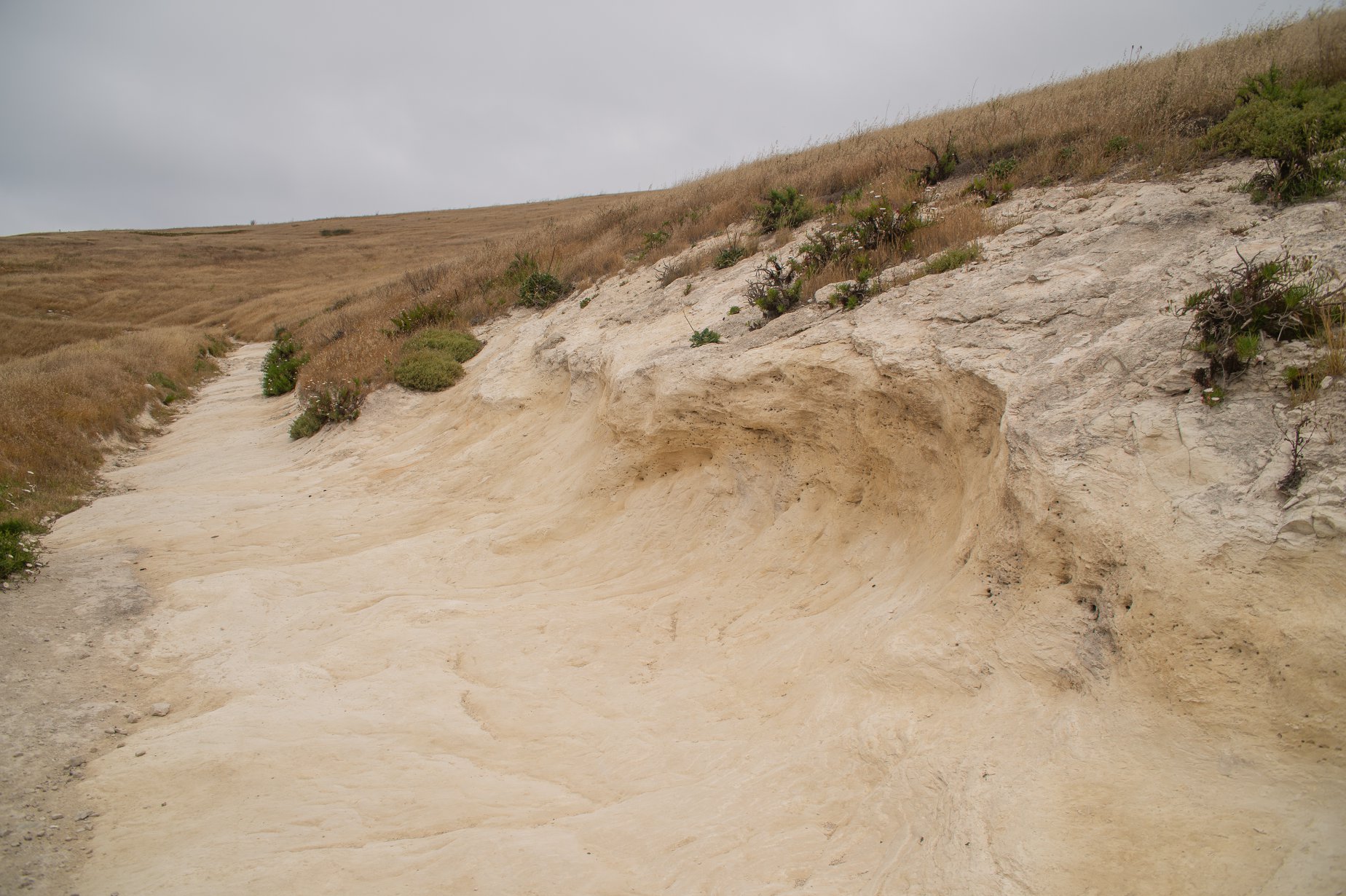 There were still mustard flowers left over from the super bloom decorating the hillsides and wind whistled through the cattails giving us an excuse to stop and catch our breath while taking in the views. The golden hills stretched on forever, only ending where the ocean met the land. We finally made it to our destination and looked over the bay that our boat was anchored in the day prior. The only living creatures floating in the waters below were pelicans, but none of which the sad, dying one which upon further examination I believe to be classified as dead due to the large amount of ravens hopping around the place it was resting. "It's the ciiiircle of life!" Chris sang, as a reminder to stop thinking about it. We hydrated and once more caught our breath before hiking back to the shore where our picnic basket full of goodies was waiting for us.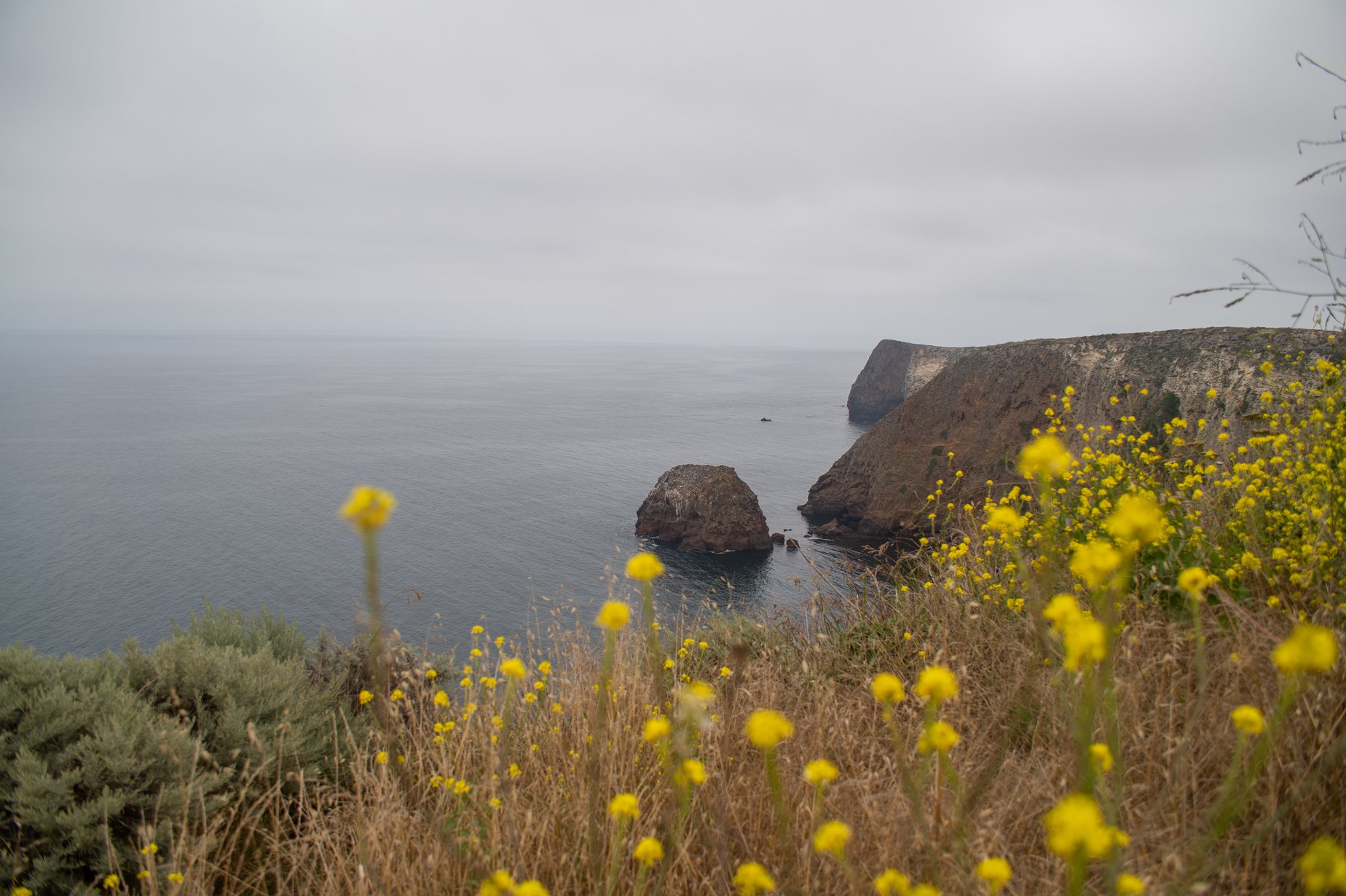 When we returned to Little Wing, there was a small group of people casually eating lunch around our dinghy as if there were no other places along the 200 yard stretch of shoreline. They looked at us funny as we approached and proceeded to unveil our picnic basket that was covered by our empty dry bag and beach blanket. We said our "hellos" then walked to a spot below Little Wing where we laid the blanket down and I opened the basket presenting the contents of our lunch. The looks from Little Wings "babysitters" grew stranger and (I think) a bit envious as I pulled out a cheese board with a delectable and dainty charcuterie spread, paired with hot tea from our thermos to warm us up under the cloud cover. We watched Avocet bob on anchor while we ate cheese and discussed how we as humans take the earth for granted and how our poor ocean is the buffer, swallowing all of our mistakes and choking in the process.
We packed up our belongings as well as some trash left behind from Little Wings babysitters, then rowed back to Avocet for the final time this trip. We pulled anchor at 4:00 p.m. with the wind in our favor. Once we cleared the surrounding rocks we set sail and headed due east for Channel Islands Harbor. It felt so good to not run the engine, no sounds besides the waves, the wind, and the occassional "You caught the wind now boss!" We were flying, reaching a hull speed of 6 knots sustained occasionally peaking at 8.
It was a cold sail home, so I huddled by the companionway (my spot) in a blanket with a hot cup of tea and began writing this very blog. Just when I thought I couldn't get more inspired, a massive pod of dolphins emerged jumping through the waves and heading west. I know that kind of movement, growing up in Santa Cruz it became second nature to learn the behaviors of sea creatures such as dolphins, birds, seals and even sharks. "They are either swimming from something, or swimming with something" I told Chris, and not more than 2 minutes later a small family of Grey Whales breached about 200 yards off the port side of our bow. Fun fact: Gray Whales were nearly hunted to extinction by whalers in the 1800's around the Channel Islands, and have been protected from exploitation by the International Whaling Commission since 1946. As a result, current populations are considered close to their pre-exploitation numbers.
Autopilot kept us on course while I wrote my heart out in this blog, and Chris napped below deck. I would look up every few minutes to check for passing ships and more whales but nothing stood (or swam) between us and our homeport. I was amazed at how quick we passed Anacapa Island, it only took an hour! This passage was the first in a while where we were able to shut off our engine and have the wind to push us for the full duration of the sail- which was ironic since Chris spent the last month doing a huge rebuild on our Perkins 4.108.
After a quick 3 hours of constant wind and medium swells we arrived home safely in our slip. It was 7:45 p.m. yet it felt like midnight. Our bodies were exhausted from our adventures, yet we were already planning out our next return to the Island. It has been 2 days since we have returned, and I am honestly stunned at the amount of gorgeous photos we captured and can not wait to review the videos too! As always, thank you so much for reading our blog and following our journey as the crew of SV Avocet. Fair Winds, ~ Marissa